Check out here how to celebrate Christmas in Orlando and the best things to do in this time of the year! We created an information guide to enjoy both 24th and 25th of December: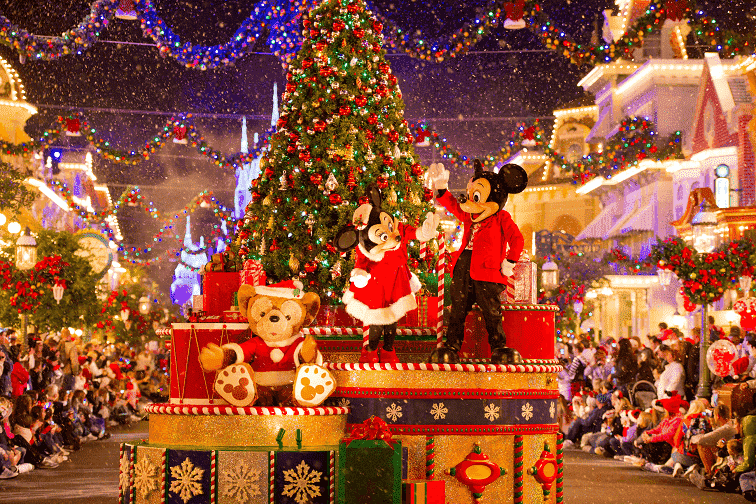 After reading this article, check out our tips about how to save a lot of money on your trip to Orlando. It is the most accessed article on our blog and will help you with all the trip planning. There are several unmissable tips that will save you A LOT of cash and set up your entire trip to Orlando.
Orlando restaurants at Christmas
Orlando restaurants are our first tip of what to do at Christmas in Orlando. Many Disney hotel restaurants have special menus, but they are quite expensive. Some parks restaurants have special dishes on 25th december, but many of them continue with their same menus. For those who need to save money, the most affordable options are traditional Orlando restaurants, which already yield a nice meal for you and your family that day.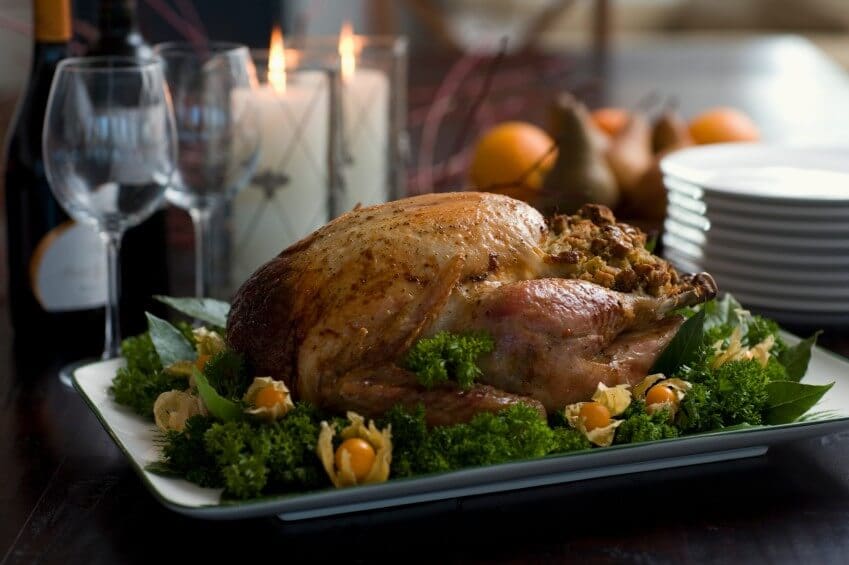 And try to visit them at alternative times, to get fewer queues at restaurants. If you prefer to have dinner at the hotel, remember that supermarkets sell ready-made and individual dishes for a very cheap price, which can be super worth it, if you prefer.
Christmas Parties and Celebrations at Disney Parks
Christmas at Disney is without a doubt the most amazing way to celebrate this event in the city, as they have super cool and special parties. Walt Disney World in December is magic, for children and adults. Everyone loves it. If experiencing Christmas is already a magical moment, imagine spending time with Mickey, Donald Duck, the Princesses, the enchanted princess, the characters and all the Disney magic.
All Disney parks have special Christmas celebrations, with parades and amazing events, which we'll detail so you can choose which one is the coolest for you:
1. Christmas Celebrations at Magic Kingdom park
In addition to the stop we mentioned, there are other cool things to enjoy at the Magic Kingdom, the biggest and most famous park in Orlando, at Christmas.
You can see the ABC parade, a major TV station, which usually has several celebrities and singers performing. It rolls in one day between November and December, recording everything to air on American TV.
There is also a special track on the The Jungle Cruise attraction, which happens only at this time. It is very cool for children!
Disney also has special Christmas nights at this park, which you have to buy a separate ticket and can only enter in the park later; it has special fireworks shows, as well as the distribution of cookies and hot chocolate in the restaurants. There are also shows at Cinderella's castle, with characters from films such as Frozen, who "freeze" the castle!
2. Christmas Celebrations at Epcot park
At Epcot in Orlando, another beautiful park in the Disney complex, you can enjoy a Christmas choir. It is called Candlelight Processional, and it takes place in the United States pavilion, in a kind of arena, at selected times and days between November and December.
It is often narrated by celebrities and typical Christmas carols. It's super cool and traditional! At Epcot, it is also worth enjoying the Christmas decorations,  so you can take lots of pictures. There are themed gardens and a huge Christmas tree between World Showcase and Future World.
3. Christmas Celebrations at Hollywood Studios park
At Disney's Hollywood Studios park, there are also beautiful Christmas attractions and shows. The main attraction and the coolest to enjoy this time of year is the Jingle Bell, Jingle bam!, a show of projections and lights with effects, which takes place in front of the Chinese Theater.
In this Christmas show, you will be able to see Christmas stories and tales projected live in the theater, accompanied by lots of effects and music – and, of course, by Mickey, Minnie and the whole gang. At Hollywood Studios it is also possible to enjoy a beautiful Christmas decoration, and take the opportunity to buy souvenirs, which we will talk about later.
4. Christmas Celebrations at Disney Springs
It is worth checking out the Christmas celebrations at Disney Springs, the great Disney entertainment center. It is a place that brings together restaurants, shops and several open-air spaces where artists perform – an excellent tip of what to do in the city.
This time of year, in addition to singers and bands with Christmas playlists, you will also be able to see more than 15 different types of Christmas trees! It also has a beautiful night show made of drones, which transmits in the sky images such as Christmas trees, doves and stars – it is really impressive.
At Disney Springs you can also meet Santa Claus, on selected days and times, so check the Disney calendar before you trvel.
– Disney Christmas Souvenirs
Our last tip for you to make the most of the Christmas season at Disney in Orlando is to take a time (and money) to buy souvenirs. They have amazing products related to their movies, characters and parks, and at this time of the year they become even cuter as they are all Christmas themed.
It's really worth buying some of them, from Mickey and Minnie Christmas ears to house items. There are also traditional souvenirs, such as keychains, magnets and snow globes, just as cases for cell phones, tablets and computers, headphones, paintings and clothes.
At Disney Springs, there is a store just with Christmas products, which is open all year but especially at this time it is full of options to buy. Other than that, you can find Christmas souvenirs in any store inside the Disney complex, whether in the parks or in the hotels.
We recommend that you set aside a good amount of money, because you will definitely want to take at least one Christmas souvenir from Disney World.
Christmas Parties and Celebrations at Seaworld park
SeaWorld Park in Orlando has a special Christmas celebration called Sea World's Christmas Celebration. The event takes place on weekends, usually from late November to late December, which is the standard holiday season in Orlando.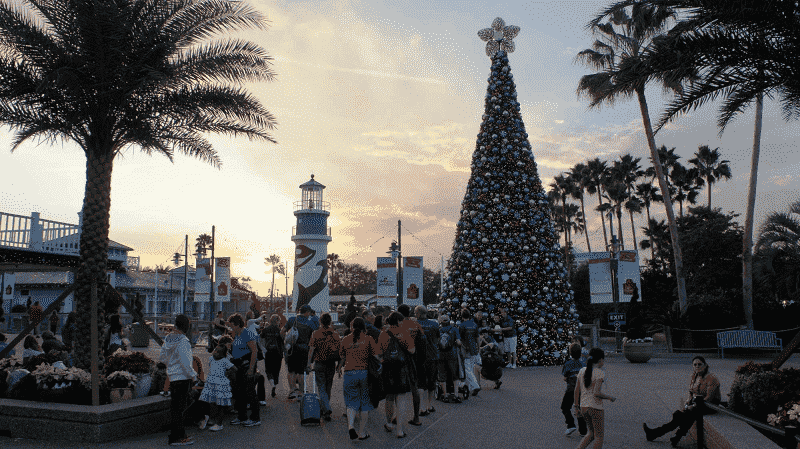 Sea World creates a Christmas with typical decorations, and amazing shows with trees full of lights and lots of Christmas music, many of them in the water, which makes it all even more impressive. There are still some appearances of Santa Claus.
Christmas Parties and Celebrations at Islands of Adventure park
At the Islands of Adventure park in Orlando, at the Universal complex, there is also a very famous Christmas celebration in Orlando that is the Grinch Christmas. The event takes place during the month of December and is based on the famous movie How The Grinch Stole Christmas. This is basically a musical show that retells the world famous story of the grumpy Grinch who in the end turns out to be nice.
The event is also included in the regular ticket to the Islands Of Adventure park. It takes place in the Seuss Landing area, which is all decorated and themed about the Grinch movie. As Islands of Adventure is a well-visited park, it's worth stopping by to check it out.
Christmas Parties and Celebrations at Universal Studios
At Universal Studios, one of the most visited parks in the city, Macy's Parade at Universal Studios takes place in December. This is a very famous parade that originally takes place in New York, and ended up becoming an attraction for tourists in Orlando as well.
This parade features the most diverse balloons and floats from the famous Macy's Thanksgiving Day Parade. It has Christmas decorations, music, a Santa Claus that interacts with the public and, at the end, trees full of lights. The parade takes place after the 25th, until New Year's, and is one of Orlando's main Christmas attractions.
Christmas Parties and Celebrations at Legoland
Those who are going to spend Christmas in Orlando with young children, especially those up to 12 years old, can go to Legoland Park. It has the Christmas Bricktacular party, with Lego dolls and incredible Christmas constructions.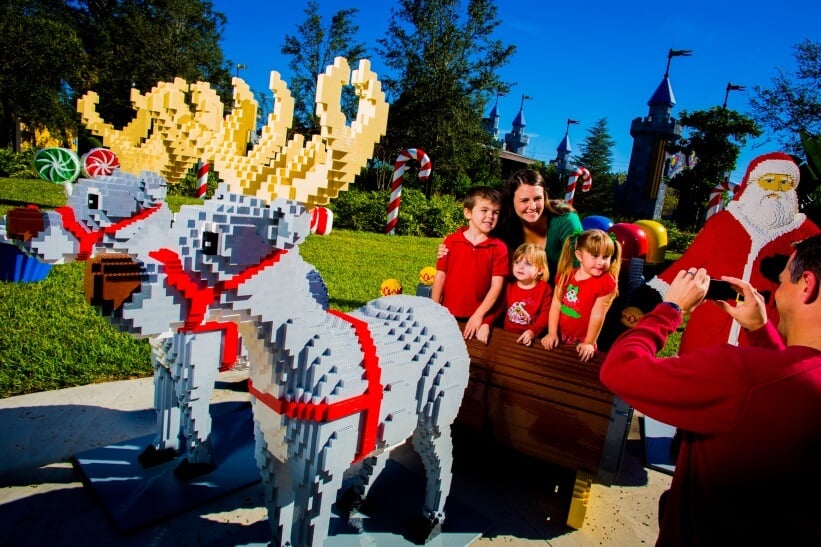 As it is aimed at the little ones, we recommend you to go only if you have free time in your travel itinerary, and if you have at least one little child.
Other options to enjoy Christmas in Orlando
Apart from the traditional options in the city, which are Orlando's theme parks and restaurants, a very cool place to go at Christmas that few people know about is the Gaylord Palms. It is a resort hotel that promotes ICE in December! at Gaylord Palms, which is a holiday party. It happens every day with an area full of ice and snow structure all themed, it's very cool.
They offer some Shrek and Madagascar musicals and shows. The characters are recreated with a ton of ice and the scenarios are beautiful, so kids and adults really enjoy it. In addition, it has huge ice toys where children can play and even slide. A place that is very beautiful and full of colors.
Tips to make the most of your trip to Orlando
Now that you've seen everything about how to celebrate Christmas in Orlando, a great tip that makes the difference on your trip is to choose the location of your hotel. Orlando is a big city, and it's so much better to stay in a region close to the main tourist spots.
See our article best areas to stay in your trip to Orlando to learn about the best regions to stay there and how to get a great hotel for an excellent price (and find good deals). You will stay in the best region, close to the parks and outlets, and enjoy even more your trip!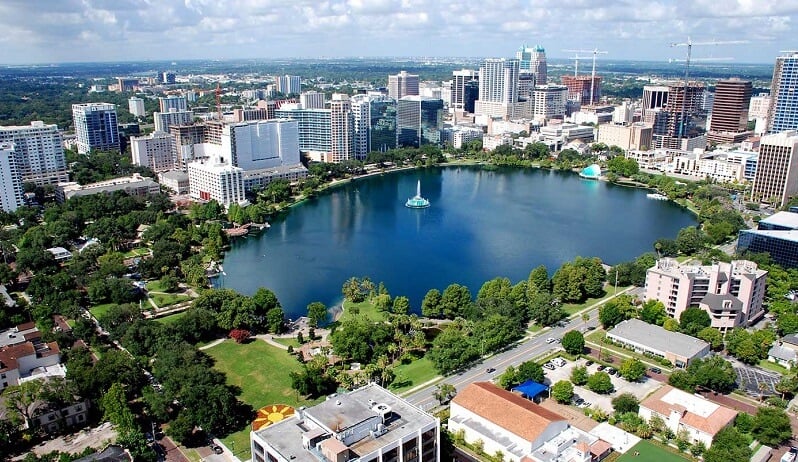 Orlando's parks, outlets and tourist spots are very far apart, which is why the tourists always choose to rent a car in the city. With a car, you will be able to enjoy your trip even more, visiting everywhere and shopping with peace of mind.
If you want, see our article how to rent a great and cheap car in Orlando, where we give you every information that you need to know about this subject, with tips about how to find unique prices using comparators. It 's much cheaper than people think, and it is worth it because Orlando is definitively a city to explore by car.
How can I use my phone in Orlando?
Being able to use your cell phone on your trip is something extremely useful. With it working, you can search about all the spots, access the discount coupons and park apps, check the weather and even use the GPS, saving the rent of this equipment for the car. Besides, of course, being connected to the various social networks!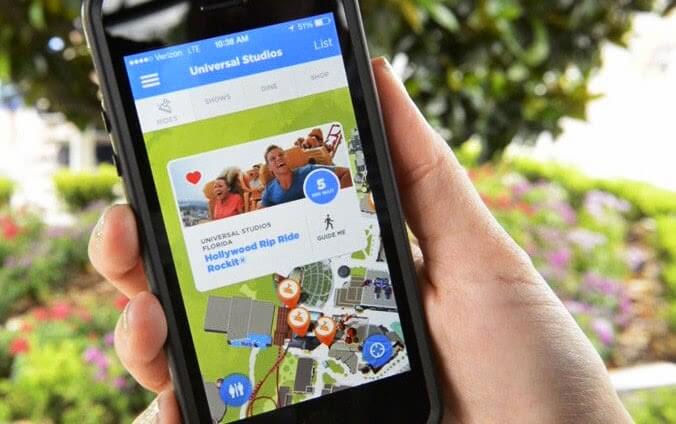 We have selected the best tips about how to use your phone in Orlando, in which we indicate the cheapest way to use it all day long and anywhere in the entire country. With the mobile internet, you can search everything about how to celebrate Christmas in Orlando!
Where is the cheapest place to buy Orlando tickets?
Many people don't know where (and even when) to buy Disney and Orlando tickets. We've done a lot of research and find out where is the cheapest place to buy Orlando parks tickets. We always buy our tickets there! It's where you'll find the best prices and where you can buy all the tickets, for all the parks and attractions at once, in the same place.
Don't forget about the Travel Insurance for Orlando!
A very important tip is to have an International Travel Insurance before traveling to Orlando. No one should travel without it, so you can avoid major problems abroad! It ends up being cheaper than people think, and in our article of International Travel Insurance for Orlando you check everything you need to know about it: which are the best insurance companies, and tips for hiring excellent coverage for a lower price, saving a lot.
Must-see articles from Orlando: