Find out all about the Walt Disney World Parks in Orlando and the Disney complex. Here you will see everything about each one of the parks, their main attractions, general information, queues, apps and a lot of tips! If you already want to go straight to the website to buy your park tickets, just click here; but don't forget to read all about them: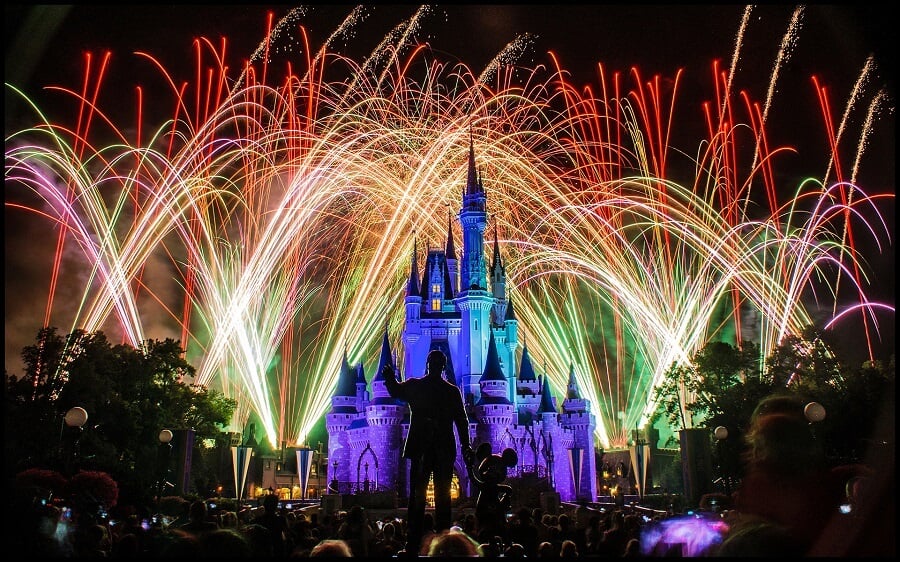 After reading this article, check out our tips about how to save a lot of money on your trip to Orlando. It is the most accessed article on our blog and will help you with all the trip planning. There are several unmissable tips that will save you A LOT of cash and set up your entire trip to Orlando.
All Disney Parks:
If you are in doubt about which Disney parks are worth visiting in Orlando, we have prepared this guide for you to understand the main characteristics and differences between each one. If it's possible, we recommend you to go to all the 4 parks and the 2 aquatic parks, as they all have many attractions and cool things to do. But now let's understand a little more about Disney parks: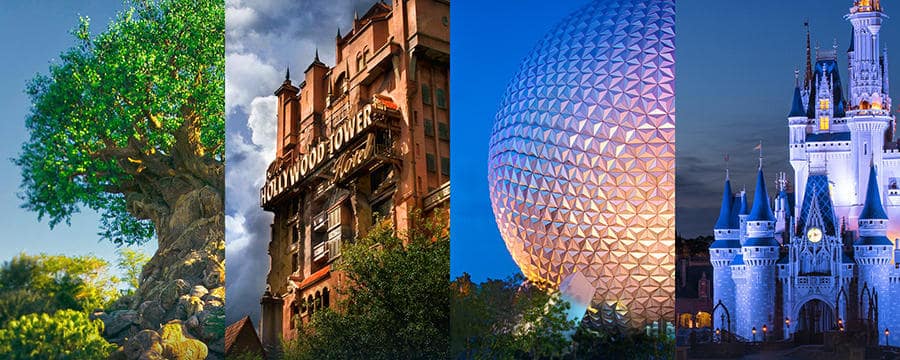 The Walt Disney World complex has six theme parks (two of them are water parks and open only when it's summer). The four main Disney parks in Orlando are Disney's Magic Kingdom, Epcot Center, Disney's Hollywood Studios and Disney's Animal Kingdom. The two water parks that are Blizzard Beach and Typhoon Lagoon. In order of visitation, the main Disney Orlando parks are:
Disney's Magic Kingdom
Disney's Epcot Center
Disney's Hollywood Studios
Disney's Animal Kingdom
Disney Blizzard Beach
Disney Typhoon Lagoon
Walt Disney World Orlando Complex
The Walt Disney World complex is made up of the six parks we just talked about, as well as several Disney hotels and the Disney Springs, which is an entertainment area with several restaurants, bars and shops, as well as a cinema and bowling. It is a really huge and charming Disney world. To understand where each of the Disney parks is, see the map below, which shows the entire Walt Disney World complex in Orlando.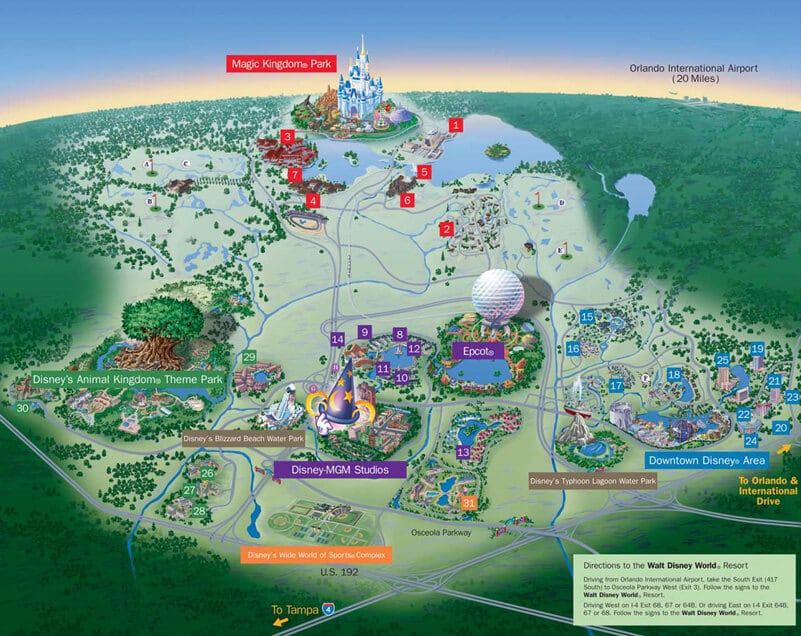 For those staying in hotels within the Disney complex, it is much easier to reach Disney parks. But there are also several excellent regions in Orlando to stay right next door, paying less. The choice of the hotel is due to the price and the comfort: if you stay inside Disney you have bus transportation to all parks and to Disney Springs 24 hours, every day; if staying outside the complex, the daily rate is much cheaper, but you pay more with gas and parking. Now, let's talk now about each of the Disney parks in Orlando.
1) Magic Kingdom Park
Disney Magic Kingdom Park is the main and most famous park in Walt Disney World and in the world. It is where you will find all the Disney characters like Mickey, Goofy, Pluto and all the princesses and cartoon characters. In the Magic Kingdom Park is the famous Cinderella castle, known all over the world and where the incredible Disney fireworks show, which takes place every day at the close of the park, and is the greatest attraction in Orlando. The Magic Kingdom is undoubtedly Disney's main park and the first on our list.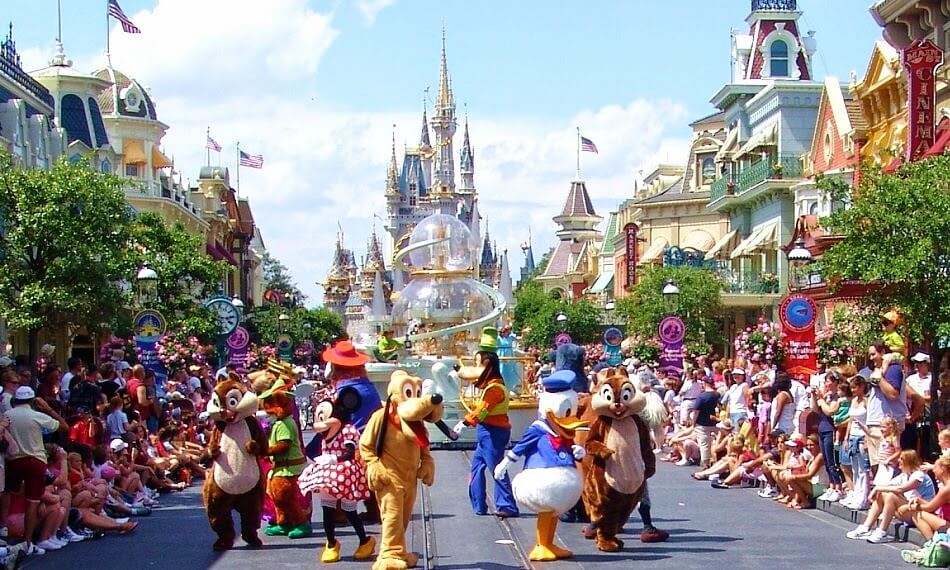 Like all Disney parks, Magic Kingdom is divided into areas. There is New Fantasyland, which is a new area with some attractions as the Beauty and Beast Castle, the Little Mermaid Castle and many other very cool things. It also has an attraction of Pirates of the Caribbean, another one of Monsters SA and Lilo & Stitch. The park also has several roller coasters, such as Splash Mountain and Space Mountain, and several cool stops that run throughout the day. It is a park for everyone! It is also quite large and, as we said above, the main and most famous. So, take at least one full day to visit it and make the most of it.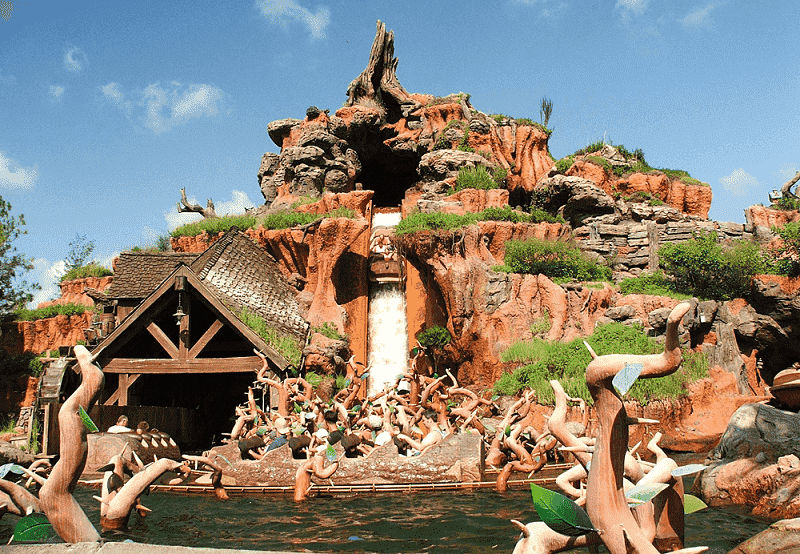 Main Attractions of Disney Magic Kingdom Park:
Space Mountain, Splash Mountain, Big Thunder Muntain RailRoad, Haunted Mansion, Pirates of The Caribbean, roller coaster of the 7 dwarfs, Fantasyland, Fireworks, Concerts and Theaters.
Address to put on GPS:
1180 Seven Seas Drive – Lake Buena Vista, FL 32830.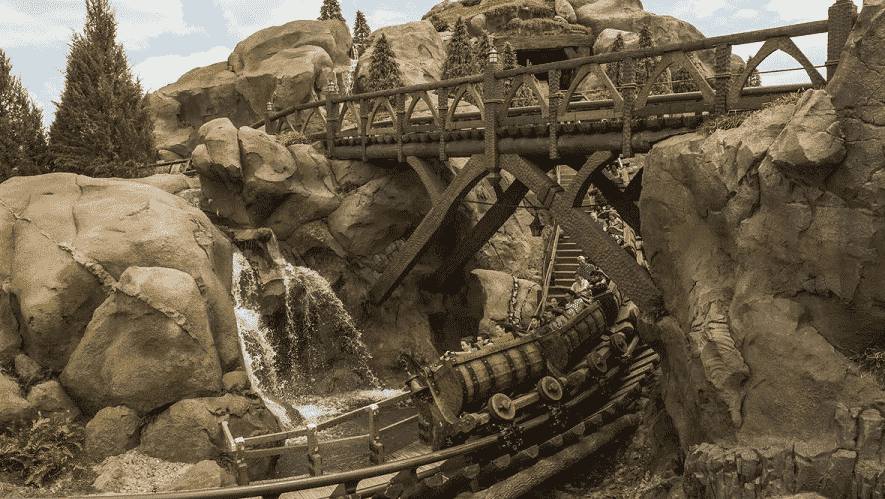 2) Disney Epcot
Disney Epcot is considered the park of the future. With technological toys and attractions, it is the park of dreams for those who like technology, space and curiosities about the future. The first area of ​​Epcot is responsible for the futuristic fame, and have attractions, souvenir shops and food options. It's where you'll find the famous SpaceShip Earth, inside the "Epcot Ball". It has even received the title of the second most photographed tourist spot in the world, just behind the Eiffel Tower.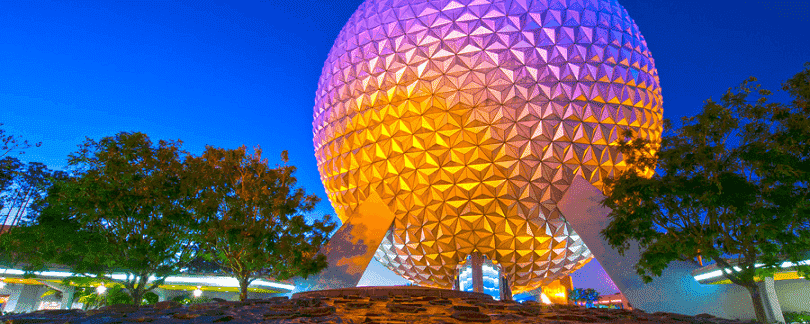 At Epcot you will find options for children and adults, with toys ranging from the most aimed at children to some more radical ones. The Epcot Center Park also has a thematic area with which it is a replica of the countries, called the World Showcase. It makes you feel like you're taking a tour of the world. There are 11 countries in total, including Mexico, France, China, Germany, Italy, Morocco and others. They are small "cities" within the park of Walt Disney World with attractions from each of these countries and restaurants with typical foods.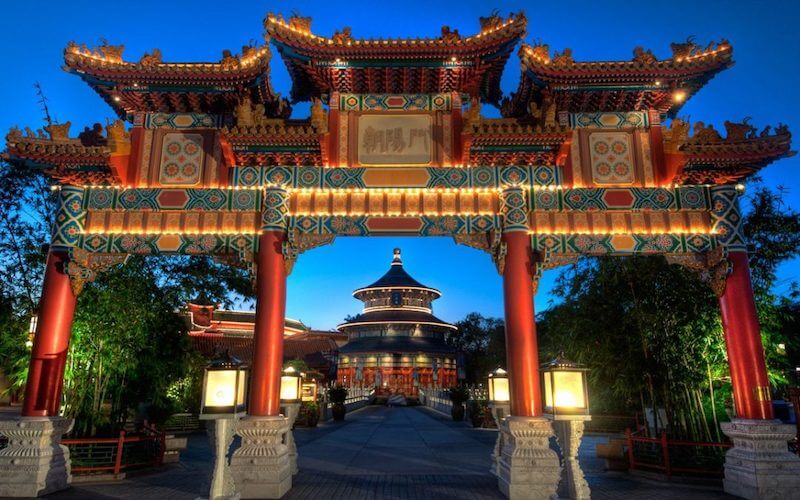 It is a park more focused on adults, but it stands to reason that it has several cool attractions for children, such as the famous Frozen one, in the Norwegian pavilion, and the Finding Nemo one, which is very quiet and even babies can go. Other highlights of the park are the Soarin simulator, the fast and radical Test Track, The Land and the Mission Space, a space rocket takeoff simulator. We recommend that you take a whole day to enjoy Epcot Park, and enjoy the presentation of fireworks around the country lake, which usually runs at 9pm.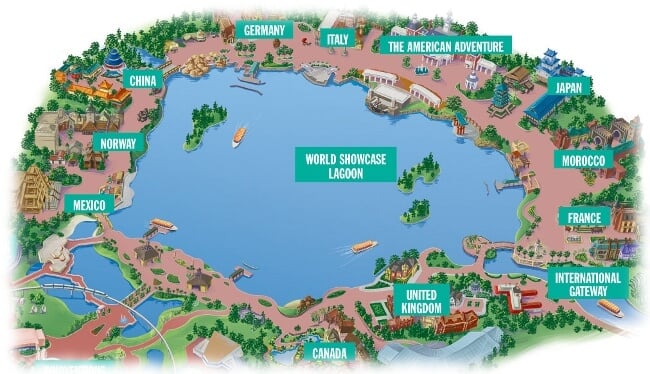 Main Attractions of Disney Epcot Orlando Park:
Soarin Around The World, Mission: Space, Spaceship Earth, Frozen Ever After and countries at World Showcase.
Address to put on GPS:
200 Epcot Center Drive – Lake Buena Vista, FL 32830

3) Hollywood Studios
Disney Hollywood Studios is the park that tells the story of cinema and the whole story of Walt Disney and its classics. There you will find the Ghostbusters' car, Aladdin, Beast, Pocahontas or the friendly Woody from Toy Story. Disney Hollywood Studios has really cool musicals for children, like the one of the Little Mermaid and the one of Beauty and the Beast, which are beautiful. Not to mention Aerosmith's Roller Coaster, which is the most radical of all Disney parks. The big highlight now a days are the Star Wars attractions, which include day shows with special effects, an amazing night fireworks show, a simulator and meetings with characters from the movies. Be sure to visit this park.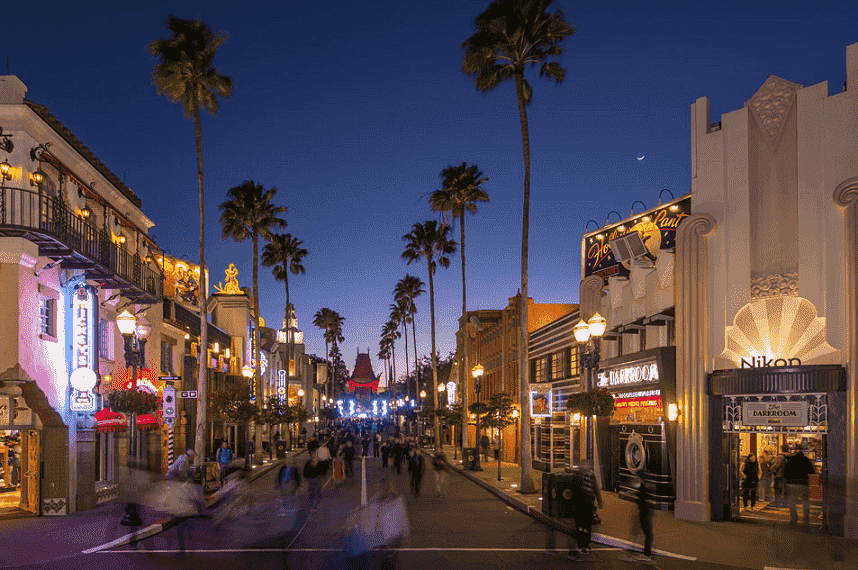 It's also at Disney Hollywood Studios that the famous Tower of Terror is located, which is an abandoned hotel that you take on an elevator that plummets up there.
Depending on the shows you want to attend, it is good to plan well: shows have fixed hours and it is good to check them out so you don't lose them. And at the end of the day, in addition to the Star Wars fires, there is the incredible Fantasmic Disney show, which is a must see and one of the main attractions of Orlando. Some people say that, for children, it is the most fun of the Disney parks in Orlando.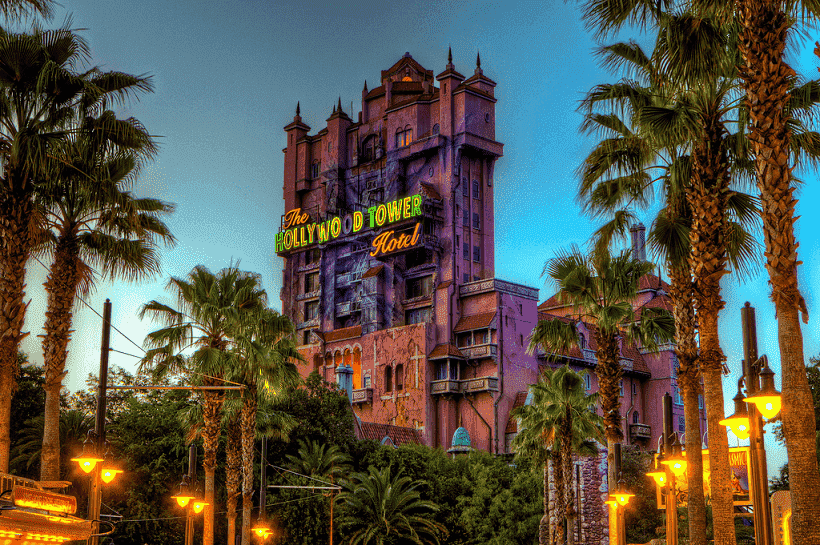 Main Attractions of Disney Park Hollywood Studios Orlando:
Rock'n'Roller Coaster Featuring Aerosmith, The Twilight Zone Tower of Terror, Star Tours – The Adventure Continues, Toy Story Midway Mania, Fantasmic Show.
Address to put on GPS:
351 South Studio Drive – Lake Buena Vista, FL 32830.
4) Disney Animal Kingdom
Disney's Animal Kingdom Park is the largest of all Disney theme parks – five times larger than the Magic Kingdom. The concept of this park is totally different and it explores animal life. At Animal Kingdom Park, all attractions are related to animals and wildlife. It is a safari park where you will take pictures with animals, go on a jungle safari and have fun with some toys. There is the Kilimanjaro safari, the Everest roller coaster, an attraction from the movie "A Bug's Life" and an evening show called Rivers of Light.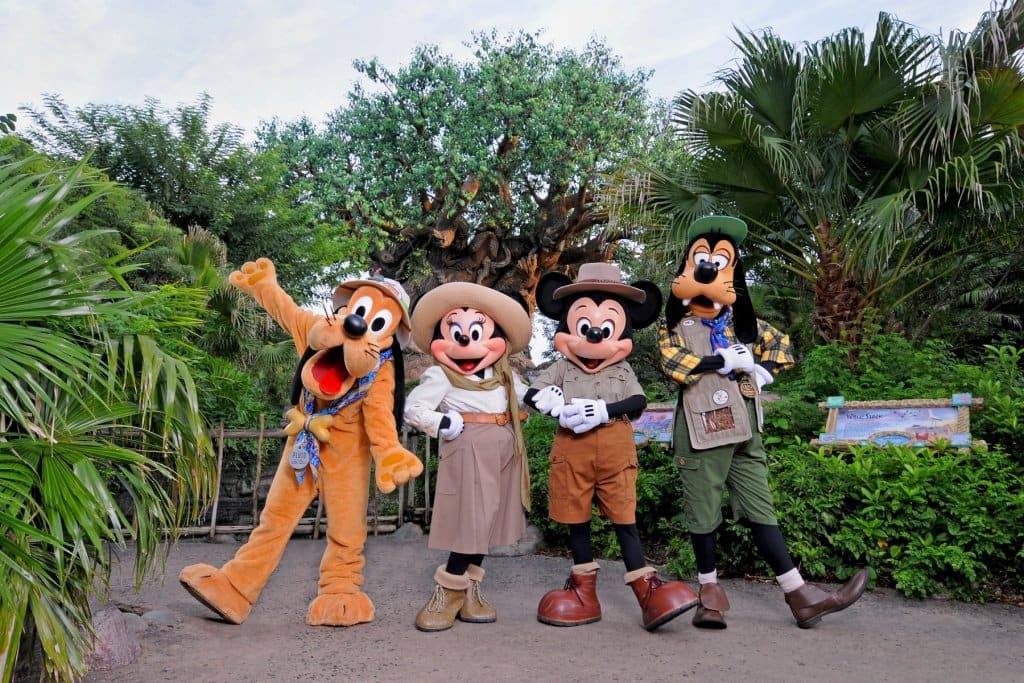 Here there is a Lion King musical that is considered one of the best in the world. It is the Disney park in Orlando with fewer attractions, so take the opportunity to arrive early as you will be able to see everything and get out of there around 5 p.m. – still having time to go shopping or visit Disney Springs. Because it is a park with a different concept from the others, many people end up leaving it out of the script.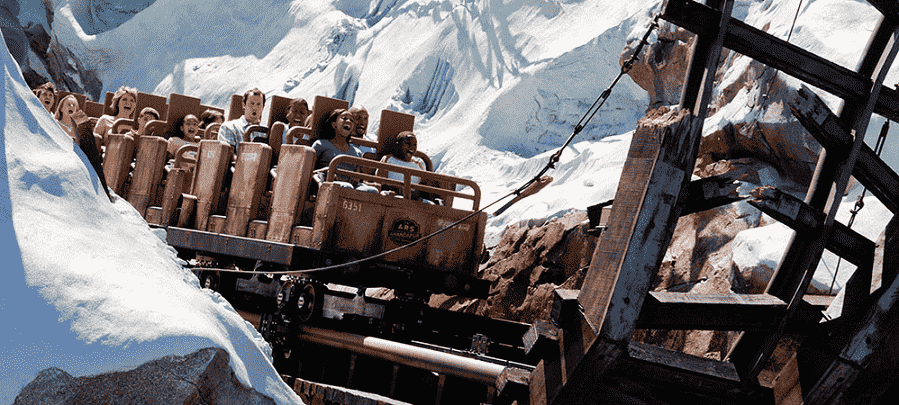 Main Attractions of Disney Animal Kingdom Orlando Park:
Kilimanjaro Safari Expeditions, Rivers of Light, Festival of The Lion King, Kali Rivers Rapid and Flights of Wonder.
Address to put on GPS:
551 Rainforest Road – Lake Buena Vista, FL 32830.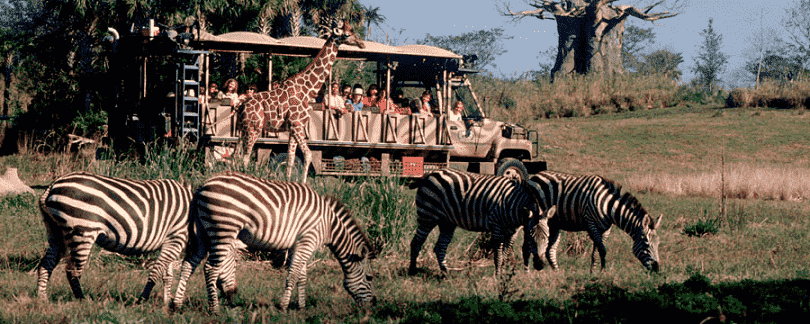 5) Disney Blizzard Beach water park
As we already said, Disney has two water parks which are Disney Blizzard Beach Park and Disney Typhoon Lagoon Park. Blizzard Beach is the smallest, being more indicated for families with children, and even having some attractions that adults can only enter if to take care of their child, who will enjoy the attraction. Its looks like a ski resort, so you can even use cable cars to move by the park. In fact, it is in this park that Slush Gusher is located, one of the tallest water slides in the world.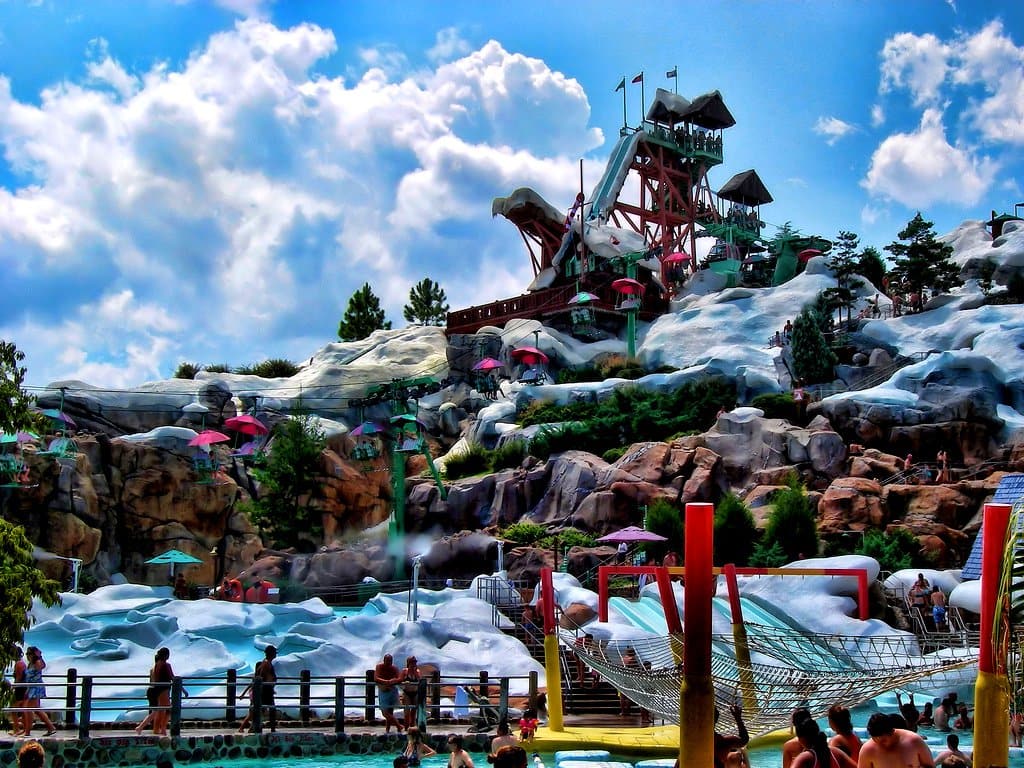 Blizzard Beach is an excellent Disney park to enjoy and relax, have a calmer day from the rush, and sunbathe. This park closes in the coldest months of the year, so check it out before including this tour in your itinerary. Among its main attractions, there is the Summit Plummet, which is a mega radical water slide with a drop of 35 meters high; Tobbogan Racers, which are 8 very cool slides where you can race with your friends or fellow travelers, and Melt-Away Bay, a bay where you can relax with floaters.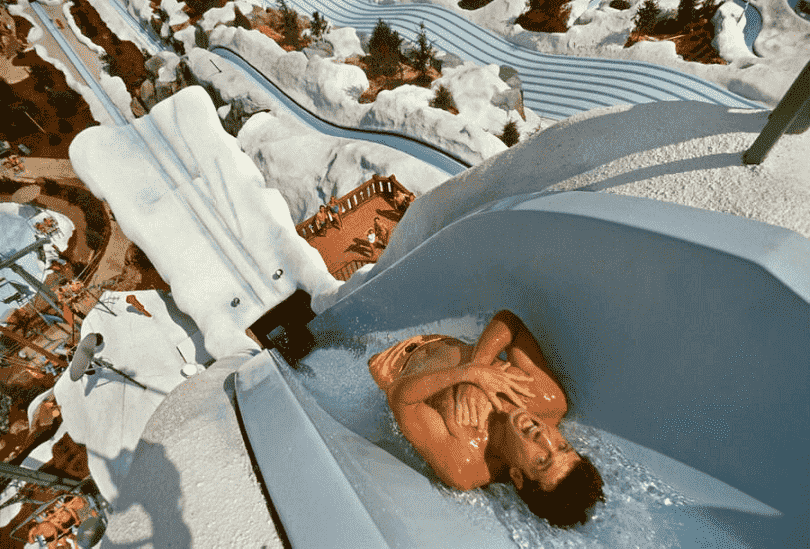 Main Attractions of Disney Park Blizzard Beach Orlando:
Ski Patrol Training Camp, Summit Plummet, Slush Gusher, Snow Stormers, Toboggan Racers, Cross Country Creek.
Address to put on GPS:
1534 Blizzard Beach – Dr Lake, Buena Vista, FL 32830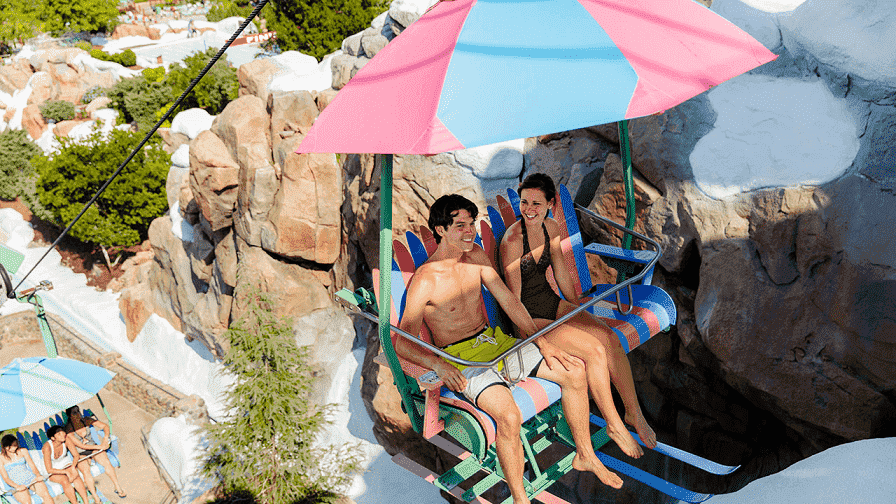 6) Disney Typhoon Lagoon water park
Disney Typhoon Lagoon Park is the largest, oldest and most popular Disney water park, and also one of the most diverse you'll find out there. The theme of this park is constructed like a typhoon passed and left a beach upside down – its symbol is a ship that was "stranded" on the top of a mountain. Typhoon Lagoon has several different attractions, always with water, including an aquatic roller coaster.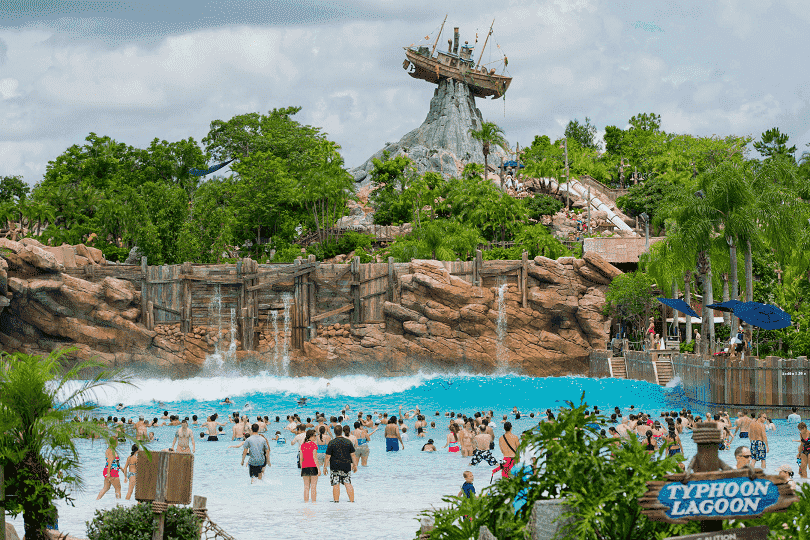 This park also has a swimming pool with giant artificial waves, in addition to other options more drawn to the family side, with slides, floater rides and the famous souvenir shops. Some highlights are the slides Storm Slides and Humunga Kowabunga – a good tip for those who want adventure. Kowabunga is a closed toboggan run, and its interior is all dark. You don't see anything all the way, and because there are three toboggans next to each other, you can even bet a race with your friends or whoever is with you in the park – it's really fun!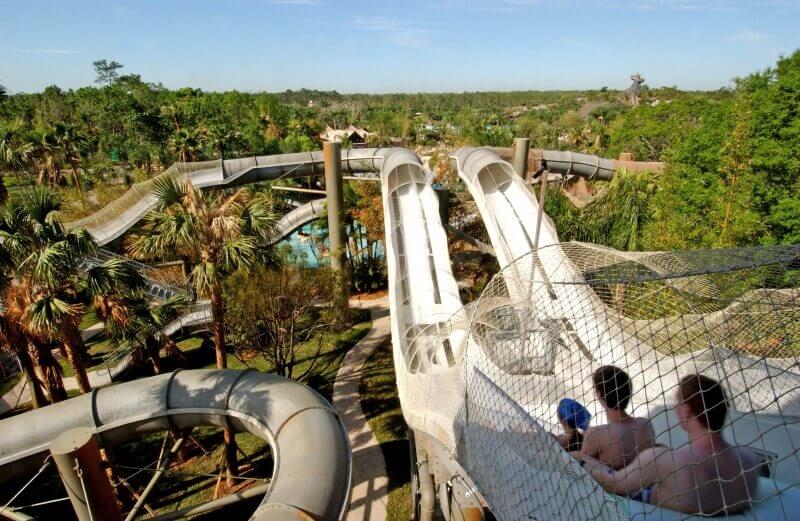 Main Attractions of the Typhoon Lagoon Park in Orlando:
Surf Pool, Shark Reef, Crush'n'Gusher, Castaway Creek, Mount Mayday.
Address to put on GPS:
1145 East Buena Vista Boulevard, Orlando, FL 32830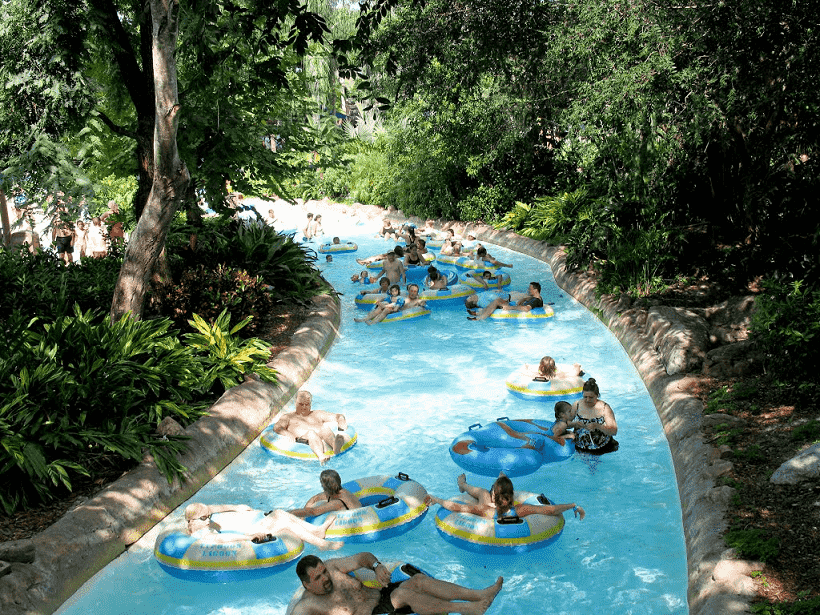 Tips for Disney parks in Orlando
There are several park options at Walt Disney World Orlando, and you'll need a full day to get to know each one of them. Do not try to visit more than one park on the same day, as the price of each one is high, and it is not worth it to visit it quickly. Also, see the attractions of each park beforehand and choose to visit at least the most unmissable ones, according to your preferences. A tip is to arrive early and go first to the most popular attractions, because the parks start to fill up after 10am. Don't forget to use sneakers and very comfortable clothes, and drink plenty of water to walk under the sun.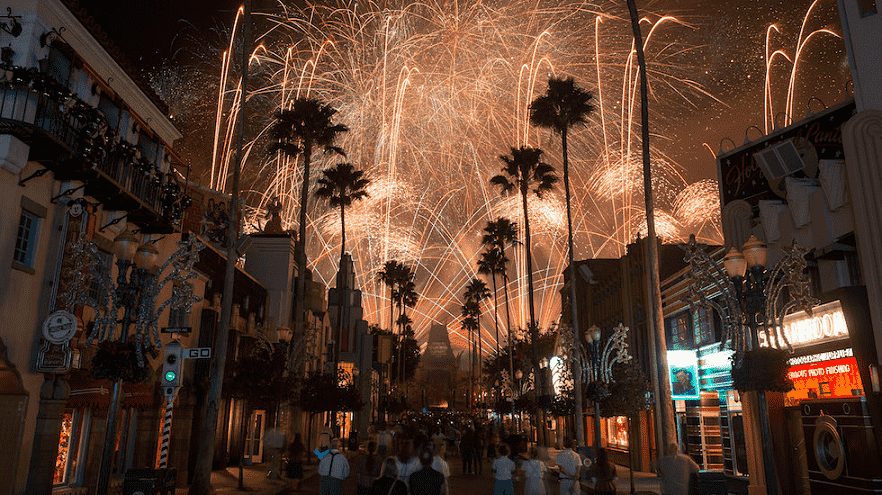 Disney app and FastPass + to skip queues
A tip to get along in all Disney Parks in Orlando is to use the Disney Experience App, which is amazing because it shows the entire map of the park, where the attractions are, the waiting time in lines, bathrooms and restaurants. It also allows you to make reservations at restaurants and plan your entire day at the parks.
And be sure to use Disney FastPass + too, which is a Disney system that permits you book the exactly time you want to go to an attraction and skip the normal queue. You get to the attraction at the scheduled time and go straight to a separate queue called "FastPass", wich is way shorter. These are two things that will make all the difference on your trip!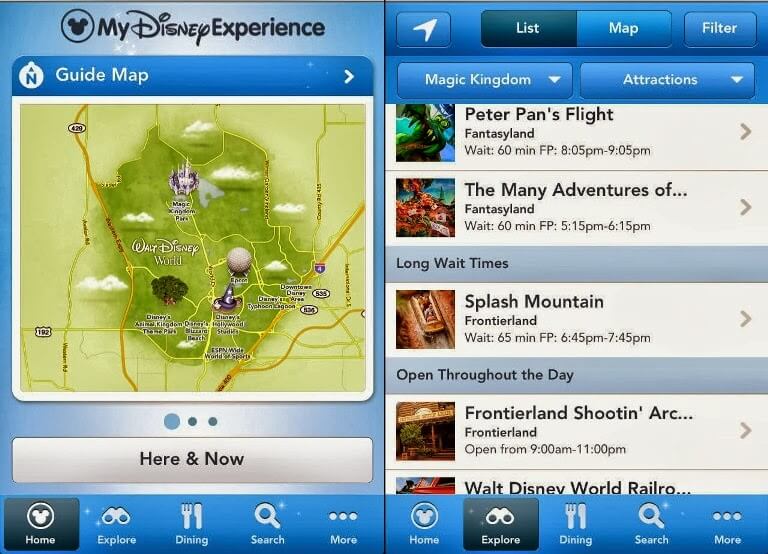 Inside parks there is WiFi in some areas, but we recommend you to be able to use your cell phone at the entire Orlando, to plan everything all day long. The cell phone helps a lot: you can use the park apps, the discount coupon apps, the GPS for the car (you save about US$ 100 for not having to rent it), search addresses and stay connected with everyone through apps, posting your photos on social media. If you want to, see our tips about how to use your phone in USA. It's super cheap and you'll be able to use your cell phone all day long, anywhere you want.
Tips to save a LOT of money on park tickets
Orlando's complexes and parks offer ticket combos that are very worthwhile for those looking to save money. We have already saved something like US$ 180 per person. For those who wants to know at least three Disney parks, it's better to buy a ticket for the four parks, instead of three, as the difference is very small. And it's worth visiting all four of Diney's parks. The 5-day ticket is even cheaper – the more days you buy, the cheaper the ticket is per day. It's one of the greatest tips of our article where is the cheapest place to buy Orlando parks tickets.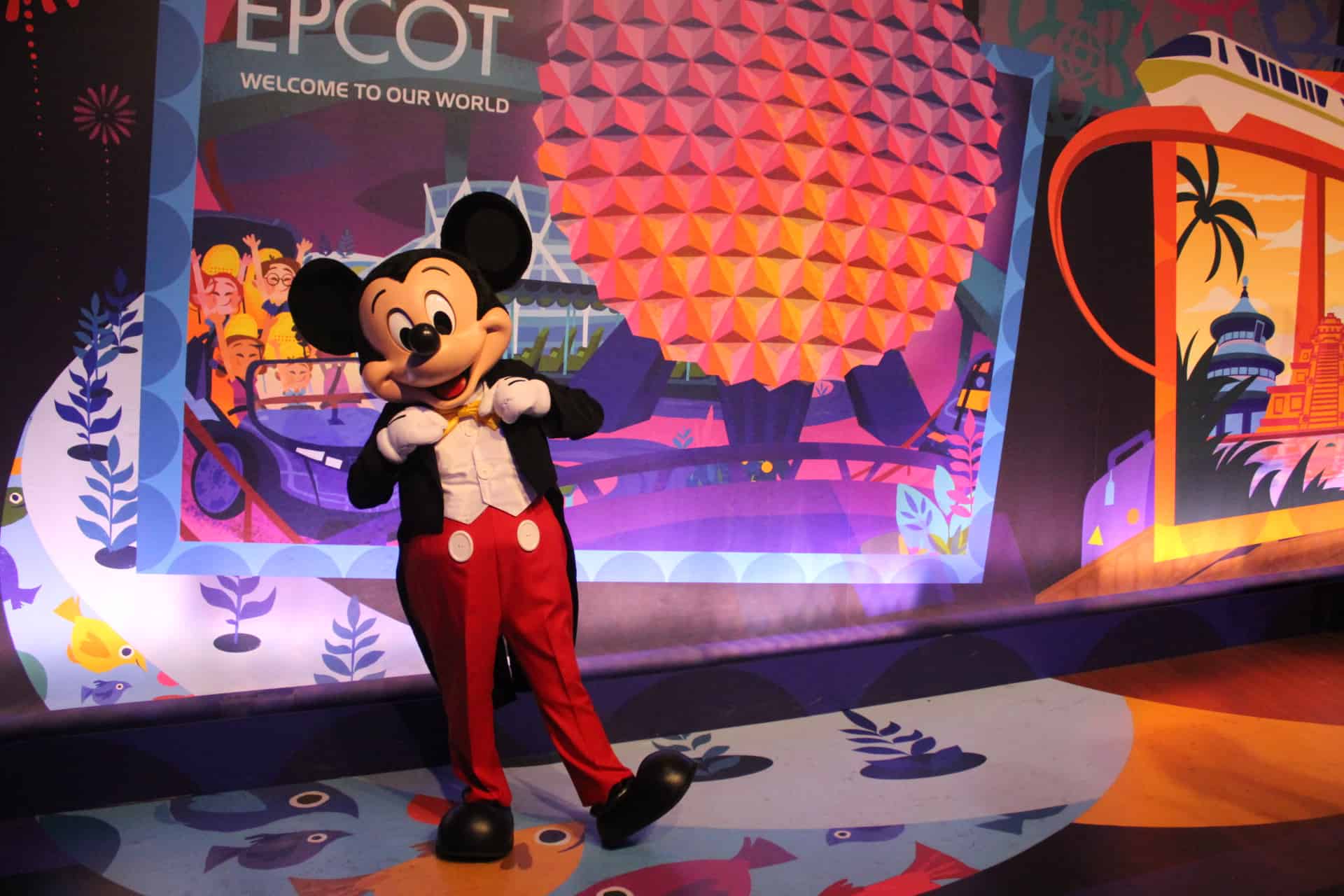 When buying Disney tickets, you will have to choose the number of visit days and one of these three options: 1) Basic, to enter a park per day (if you leave, you will no longer be able to enter); 2) Hopper, to enter and leave as many times as you want in any park, every day within the chosen period; and 3) Hopper Plus, to have extra access to the two Disney water parks – in this case, if you buy the Hopper Plus 4-day ticket, for example, you are entitled to 4 days of normal parks plus 4 days of water parks. If you want to guarantee your tickets, just click here.
Tips to make the most of your trip to Orlando
Now that you've seen everything about Walt Disney World Parks in Orlando, a great tip that makes the difference on your trip is to choose the location of your hotel. Orlando is a big city, and it's so much better to stay in a region close to the main tourist spots. See our article best areas to stay in your trip to Orlando to learn about the best regions to stay there and how to get a great hotel for an excellent price (and find good deals). You will stay in the best region, close to the parks and outlets, and enjoy even more your trip!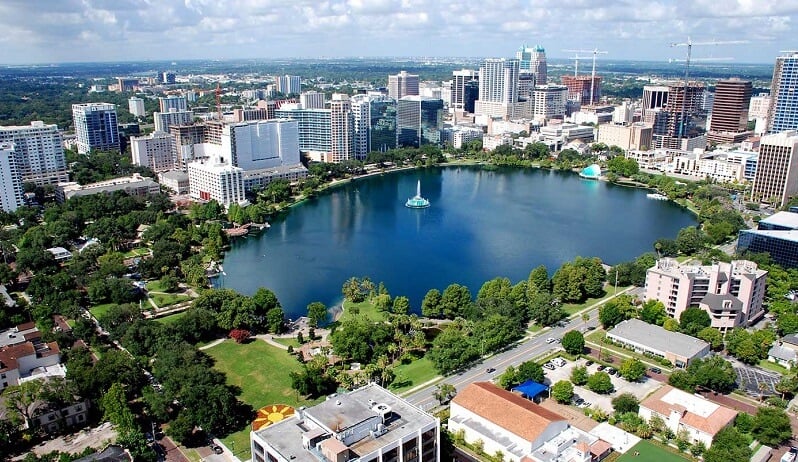 Orlando's parks, outlets and tourist spots are very far apart, which is why the tourists always choose to rent a car in the city. With a car, you will be able to enjoy your trip even more, visiting everywhere and shopping with peace of mind. If you want, see our article how to rent a great and cheap car in Orlando, where we give you every information that you need to know about this subject, with tips about how to find unique prices using comparators. It 's much cheaper than people think, and it is worth it because Orlando is definitively a city to explore by car.
Where is the cheapest place to buy Orlando tickets?
Many people don't know where (and even when) to buy Disney and Orlando tickets. We've done a lot of research and find out where is the cheapest place to buy Orlando parks tickets. We always buy our tickets there! It's where you'll find the best prices and where you can buy all the tickets, for all the parks and attractions at once, in the same place.
Don't forget about the Travel Insurance for Orlando!
A very important tip is to have an International Travel Insurance before traveling to Orlando. No one should travel without it, so you can avoid major problems abroad! It ends up being cheaper than people think, and in our article of International Travel Insurance for Orlando you check everything you need to know about it: which are the best insurance companies, and tips for hiring excellent coverage for a lower price, saving a lot.
Must-see articles from Orlando: