Discover the incredible SeaWorld theme park in Orlando, which is a worldwide famous park that exist since 1973. You'll see dolphins, whales, fish of all types and species, sea lions, seals and even sharks! Below, we give you several tips about the park, but if you already want to guarantee your park ticket, just click here.
After reading this article, check out our tips about how to save a lot of money on your trip to Orlando. It is the most accessed article on our blog and will help you with all the trip planning. There are several unmissable tips that will save you A LOT of cash and set up your entire trip to Orlando.
General information about SeaWorld Orlando
SeaWorld is an interesting park for people of all ages, as it has more extreme rides and more easy rides, as well as lots of shows – don't forget to grab a map and information leaflet as soon as you arrive at the park, to see all the show hours! Not everyone knows it, but SeaWorld is also part of the same group as Discovery Cove Park, Aquatica Orlando Park and Busch Gardens Orlando. So you can buy combos and go to different parks for a cheaper price!
Not to mention SeaWorld San Diego, on the west coast of the United States, which is also one of the most visited attractions in all of California. In general, an important tip for anyone who is going to spend a day at SeaWorld park in Orlando is to take a backpack with extra clothing, as the probability of you getting wet at the attractions is high. Bring a towel and don't forget, of course, to apply sunscreen, as you are in Florida and the sun in the region is always strong.
SeaWorld main attractions
SeaWorld park is not just about shows and animal experience. There you will also find very extreme rides, such as giant roller coasters that go over the water and wet visitors. It also has quieter attractions, for those who prefer something quiet or are traveling with children, and restaurants and shops to visit. See the top attractions of SeaWorld in Orlando:
1. Turtle Trek at SeaWorld
SeaWorld's newest water park attraction in Orlando is Turtle Trek. It is a theater with a movie screen, in which you enter a room with state-of-the-art technology and a beautiful 360-degree 3D movie is projected around the room. At Turtle Trek you will get to know the life of sea turtles and manatees, learning everything about each of the species. It is a new attraction that is very worthwhile, even for being quieter and more peaceful, ideal for those traveling with children.
2. Flamingo Paddle Boats
This attraction is a kind of pedal boat that rides on the central lake of SeaWorld park in Orlando. It has a flamingo theme and is great for relaxing during the day. Tours on Flamingo Paddle Boats last 20 minutes and cost an extra $6 per person.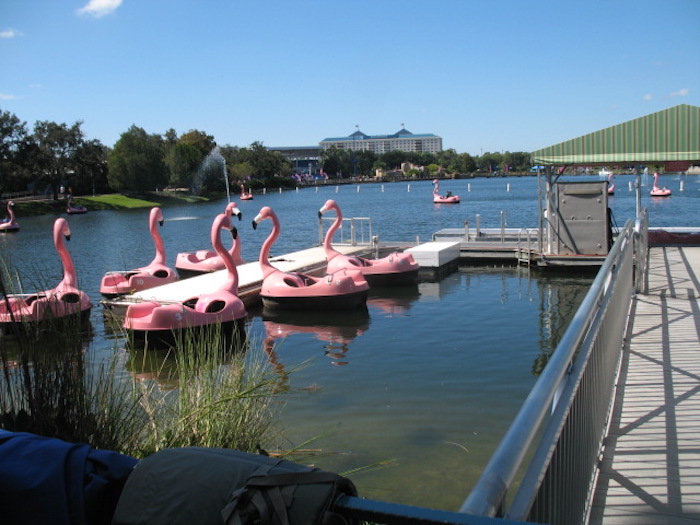 3. Journey to Atlantis at SeaWorld
Journey to Atlantis is a famous attraction at SeaWorld. It is a "boat" that travels through several closed scenes and also walks in an open part, in addition to having a stretch with speed and a super drop of 18 meters high into the water. It has calm stretches and roller coaster tracks.
4. Dolphin Cove at SeaWorld
The Dolphin Cove in Orlando is the ideal place for those who love dolphins, and is one of the attractions of the park where tourists get up close to the animals. There you can come into direct contact with several bottlenose dolphins, which swim and go to the shore to receive affection. It's worth it for those traveling with family and children.
5. Mako roller coaster at SeaWorld Orlando
Mako in Orlando is SeaWorld's newest roller coaster. It's currently the tallest, fastest and longest roller coaster in town, and it's pretty extreme. Inspired by the Mako shark, its path is 1451 meters long, and reaches 61 meters in height, in other words, ideal for those looking for an adventure. Mako travels at 118 kilometers an hour, and is considered a hypercoaster, a roller coaster that reaches extreme speeds, has steep drops and ups and downs that give the feeling of zero gravity and weightlessness. Go early, because during the day there are usually long lines.
6. Manta roller coaster at SeaWorld
Manta is one of Orlando's most famous roller coasters. Here, visitors go on an adventure that simulates a swim on the seabed, and you go lying down, which increases the feeling of freedom even more. The toy passes close to the water and has several loopings, turns, descents and quite radical ascents. It has a drop of 35 meters passing very close to the water. The Manta roller coaster passes through a giant aquarium with fish, rays and octopuses, and you have fun and get butterflies in your stomach in the most extreme hours and then relax with this incredible view of marine life.
7. Kraken roller coaster at SeaWorld
Kraken is one of the city's largest floorless roller coaster by extension, and has seven loops. It's those roller coasters where your feet are loose and you're sitting in a chair. One of its highest points is 45 meters above the ground, giving an incredible view of the city of Orlando, and it reaches 120 kilometers per hour. Kraken is a must-see and worth it, and to go, children must measure at least 1.37 meters.
8. Ice Breaker roller coaster at SeaWorld
SeaWorld Park in Orlando is gearing up to unveil its newest roller coaster, the Ice Breaker. It's an attraction of just 90 seconds, but with a top speed of 83km/h, and is expected to "throw" travelers four times along its 838m course, back and forth. At the highest point of the roller coaster, visitors will be "thrown backwards" and taken backwards to a peak 93 meters high, tilted at 100 degrees! Despite all that, it will be a child-friendly roller coaster and something the whole family can enjoy.
9. Wild Artic at SeaWorld
Wild Artic is a helicopter simulation where you travel over the entire North Pole, meeting and exploring a frozen world full of marine animals such as walruses, whales, polar bears and cute penguins. It's so real that you even feel the cold! A quieter ride for you to take a break and continue your marathon at SeaWorld Orlando Park. Children must measure at least 1.06 meters to go.
10. Sky Tower at SeaWorld Orlando
Sky Tower is an incredible 120 meters tall tower opened in 1973. From it, in a 6-minute ride, visitors can enjoy a great view of the park and the entire city of Orlando. To go, you must measure at least 1.22 meters, and it's worth it for those who aren't afraid of heights. The photos there look very beautiful.
11. Antartica: Empire of Penguin at SeaWorld
The Antarctica Empire of the Penguin in Orlando is an incredible attraction at SeaWorld Park. It recreates the environment that is the penguins' natural habitat, with mountains, lakes, aquariums and lots of ice. All the structure were built for visitors to embark on this adventure and feel in the skin of a penguin. The temperature of the place is also very cold, so that the reality is even greater. Through visual and sound elements, the idea is to recreate the day-to-day life experienced by penguins in the South Pole.
12. Sea Carousel at SeaWorld
The Sea Carousel is a really cool attraction for little kids who are at SeaWorld to have a lot of fun. It is a kind of carousel "on the bottom of the sea", with various animals and fish where children can walk and enjoy.
13. Pacific Point Preserve at SeaWorld Orlando
Our latest tip at SeaWorld Orlando is the Pacific Point Preserve. It is a part of the park where you can see sea lions and seals up close. The site has several sea-worn rocks and mimics the California coastline.
14. Infinity Falls at SeaWorld Orlando
It is a very fun and lively rafting tour. You pass rapids, fountains that shoot jets of water into the air, waterfalls and incredible themed environments of tropical ruins. After ramps and curves, the raft passes through the highest drop in the world, leaving everyone drenched. At the end, you can dry yourself in a giant dryer, available at the park for a small fee.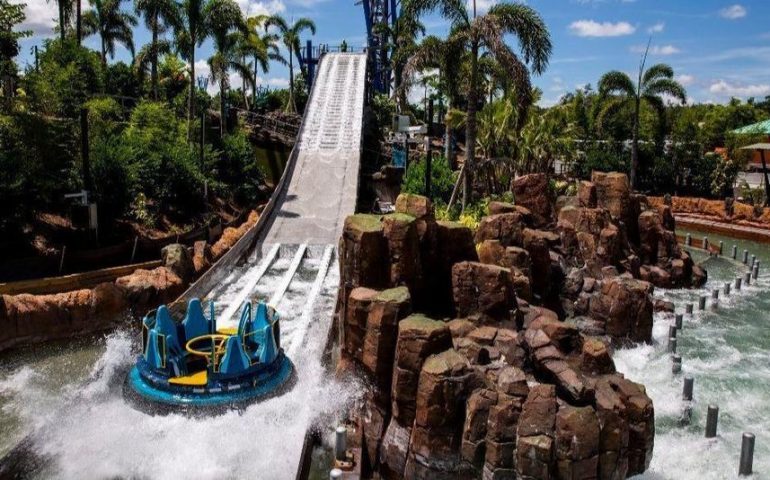 15. Sesame Street Land at SeaWorld Orlando
The Sesame Street themed area is great for the whole family to have fun together, especially the kids. It has interactive experiences and environments that recreate the scenarios of the old television show. You can walk on Sesame Street, in Abby Cadabby's garden, visit Garibaldo's nest, sit at stop 123 and even visit shops with the most beloved characters on the show. Every day, Sesame Street Land features exciting parades featuring Sesame Street characters and lively dancers. Also take the opportunity to take lots of pictures with Elmo, Garibaldo and Come-Come, who walk through the park.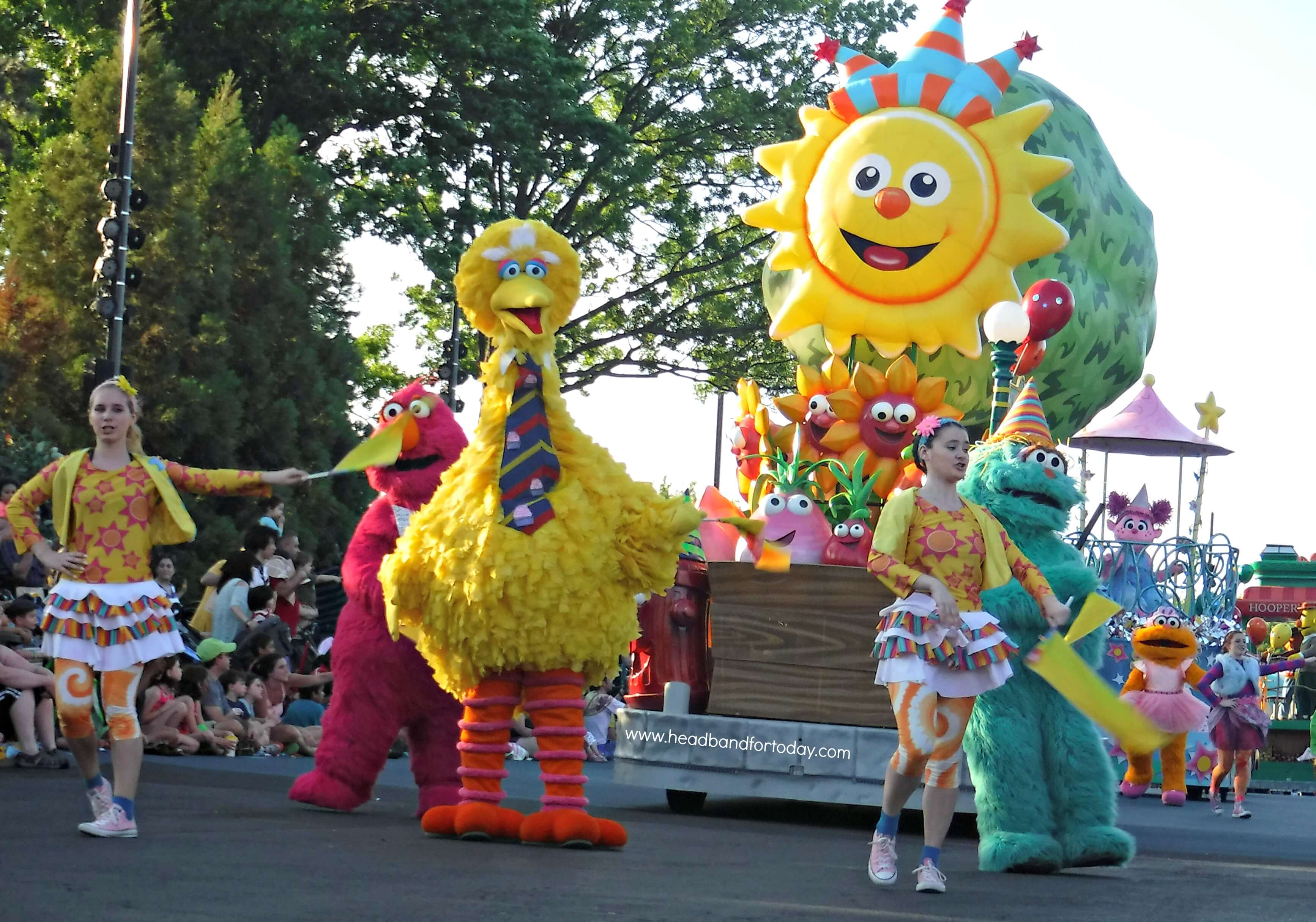 How does a ticket to skip lines at SeaWorld Orlando attractions works?
SeaWorld Orlando park has a number of incredible and popular attractions. As a place that receives thousands of visitors daily, the coolest attractions end up with long lines, which can take up to an hour. However, it is possible to bypass these queues with a special ticket, which is offered on the website we recommend. With it, you can stay all day in the park and enter specific attractions without waiting. In addition to all this, by purchasing this ticket you receive exclusive gifts directly at your home. The attractions valid for this ticket are Mako, Manta, Kraken, Antartica, Journey to Atlantis, Wild Artic and Turtle Trek, in other words, it's worth it.
What animals can I see at SeaWorld?
SeaWorld park rescues many animals to treat when they are found around Orlando. Did you know, for example, that the park has a pilot whale? It is an animal that can measure up to eight meters, but it has a different body from the Orcas – who made SeaWorld famous. The park has become more environmentally conscious in recent years, so it has stopped bringing whales to the park and doing shows with them. But even so, you might still be able to see the whales that were there before their policy change.
At SeaWorld you can also see sea lions, dolphins, penguins, manatees, sea turtles and more. There are even some lesser known species, such as the pygmy sperm whale, which can be up to four meters long; the Dwarf Sperm (which is smaller) and birds such as herons, iraúnas and the Canadian Crane (which resembles an ostrich and measures up to 1.20 meters).
Shows and performances at SeaWorld Orlando park
SeaWorld park has several shows. One is the Ocean Discovery show, where you learn more about Orcas whales, also known as killer whales. It lasts 30 minutes and shows what the whales' habitat is like, their adaptation and behavior in different situations and much more.
On Dolphin Days, you can watch a beautiful and exciting presentation with friendly dolphins, who do choreography according to the rhythm of the music. In this attraction, guests learn about the importance of dolphins in the world and can even see the beautiful interaction of the animals with their trainers.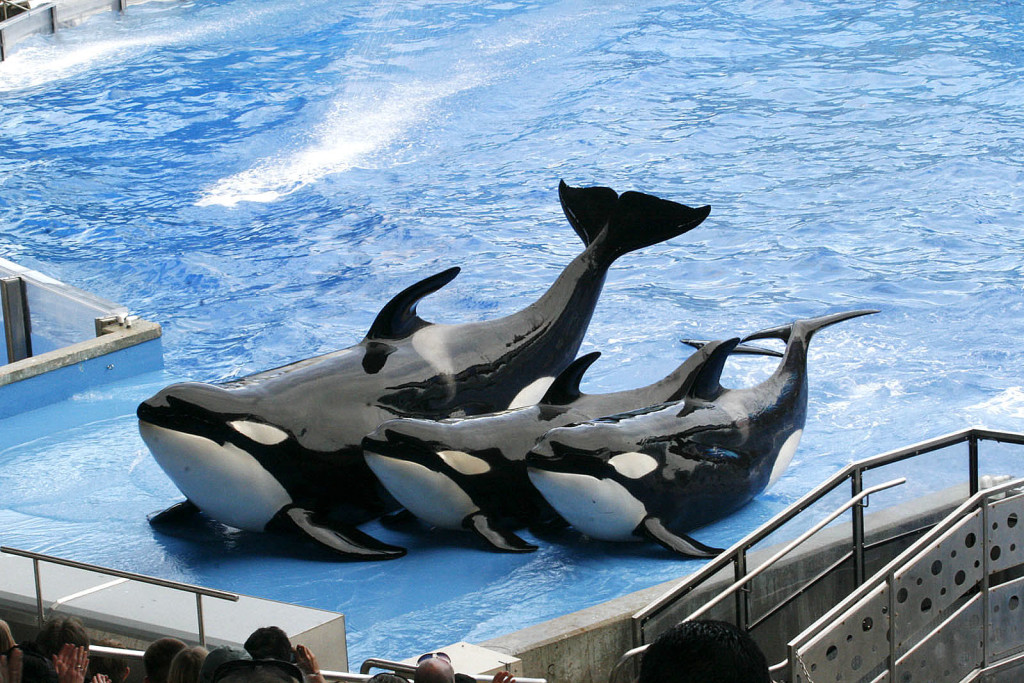 "The Sea Lion High: The New Class" show takes place at the Sea Lion and Otter theater and provides a very fun interaction between visitors and sea lions. The famous sea lions Clyde and Seamore return to school and live many funny adventures, including special effects in the water. At the Pets Ahoy show, you'll see dogs, cats, ducks, pigeons and pigs showing off spectacular training techniques. Finally, there is the Sesame Street Party Parade, a lively Sesame Street themed parade, with music, colorful floats and characters from the show.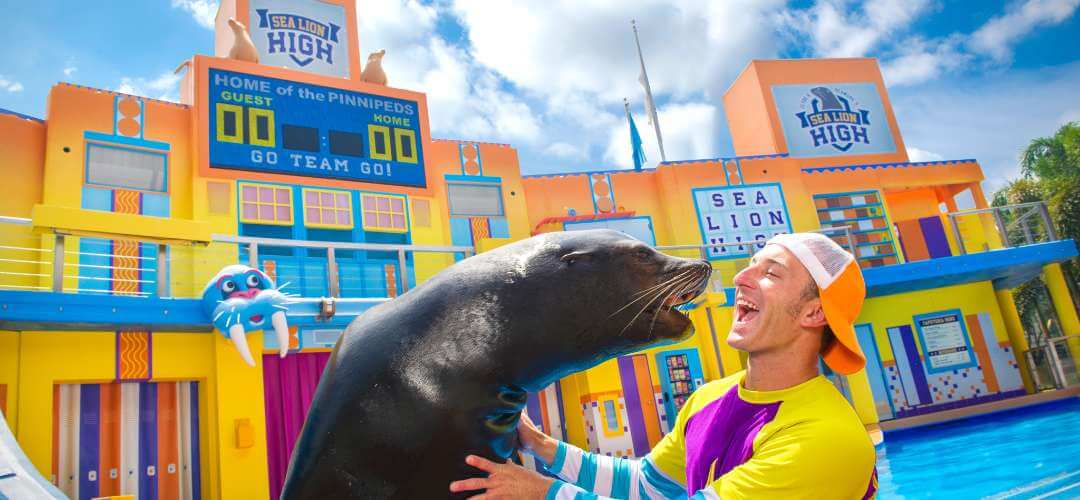 Electric Ocean: summer nights at SeaWorld
At the end of June, summer starts. To celebrate the hottest days, the SeaWorld Orlando park hosts the Electric Ocean event, where it creates a different schedule and lets visitors stay in the park until late nights between Fridays and Sundays. The Electric Ocean at SeaWorld Orlando park is amazing because it allows visitors to enjoy attractions, such as roller coasters, at night. On these selected days, the park only closes its doors at 9:30 pm.
But the coolest thing are the extra attractions of the park during the event: exclusive shows are made in the late afternoon, with dolphins, sea lions, acrobatics, lights, fireworks, ballads (including for children to enjoy) and other things. The event is completely free, which means that you don't need to pay anything other than the entrance ticket to the park to enjoy it.
Where to eat at SeaWorld Orlando?
You will probably take a break from your day, at some point, to enjoy a lunch, an afternoon snack, or just some rest. And SeaWorld is full of options for that! We'll name a few of them below:
1. Voyager's Smokehouse
Voyager's Smokehouse is the ideal place and the perfect restaurant to eat some good meat inside the SeaWorld park. You can taste delicious dishes here. The place is comfortable and inviting, and has several options of meat, chicken, salads and more, including a special children's menu.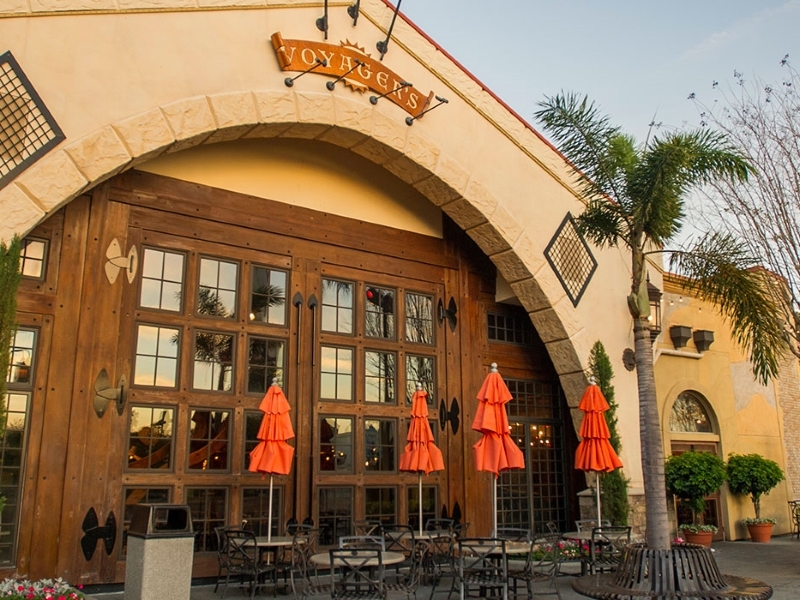 2. Sharks Underwater Grill and Bar
Sharks Underwater Grill is considered one of the most famous park restaurants in the United States. What is most striking about the Sharks is the decoration and the fact that, on the walls and in various parts of the restaurant, fish and sharks swim calmly while you have lunch or dinner (the tanks are the same as the Shark Encounter, an attraction located next door ).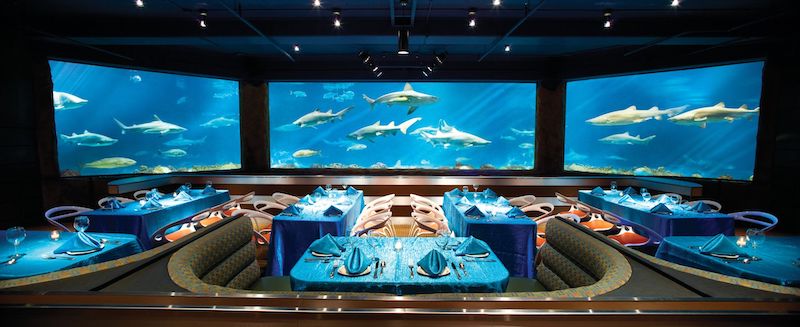 The Sharks Underwater Grill has in its menu several dishes based on fish and seafood, salads and desserts – nothing too elaborate, but worth knowing for a unique experience. To drink, the Sharks Underwater Grill offers a drink list, with wines and various cocktails, as well as juices and soft drinks. Reservations are required if you don't want to wait for a table to vacate – you can book via the website or Seaworld Guest Service.
3. Seafire Grill
With Mediterranean decor, Seafire Grill offers innovative dishes with flavors from around the world. It offers a delicious continental breakfast and lunch. And you can choose from chicken, fish, sandwiches, pasta and more. The Seafire Grill also has a children's menu with chicken strips and salads.
4. Spice Mill
Burgers, sandwiches, grills and other very tasty American dishes are on the Spice Mill menu. This restaurant has a very cozy atmosphere, well decorated, and you dine with the sound of jazz. It is located on the edge of the park's large lake, and has a free patio for you to eat outdoors.
5. Expedition Café
Expedition Café is a cafeteria that resembles a market and sells snacks from different parts of the world, as well as drinks and desserts. It has an Antarctic-themed decor and the cuisines available are from countries involved in the exploration of the region. Try tasty American, Asian and Italian dishes.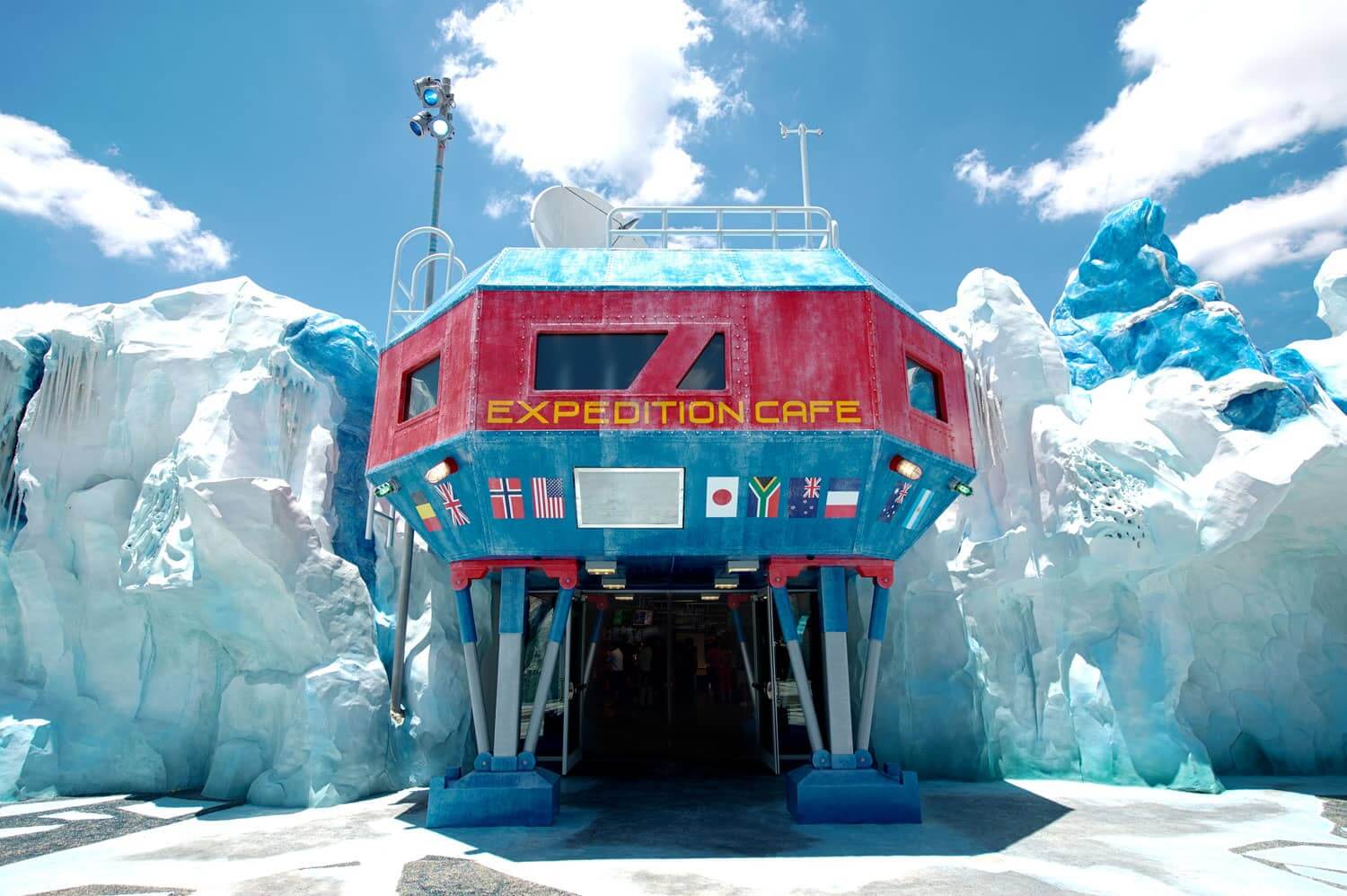 Orca Whale Lunch at SeaWorld
The Up-Close Dine With Shamu lunch/attraction allows you to eat alongside whales and even learn more about them in a unique experience. It is a lunch that takes place daily around 12:30 pm in a restaurant next to Shamu Stadium. While you eat, the whales are swimming freely. The food is served buffet-style and you can dine at your leisure – there are plenty of salads and hot, fresh, organic dishes, as well as classic American hot-dogs and mac'n' cheese. And there are also dessert options!
After about half an hour of lunch, a presentation with the SeaWorld trainers begins, and then everyone goes to the more open part to see the animals up close. Experts talk about whales, their food, basic characteristics and even do some tricks. It is possible to clarify doubts with the professionals and, then, the experience is over. The food, after all, is not a big deal, but lunch is worth it for those who like orcas and marine life. The price is $15 for children ages 3-9, $29 for adults (10 years and older), and reservations are required to attend this lunch.
Seven Seas Food gastronomic event
Seven Seas Food takes place on weekends between February and May, and brings international traditions to visitors, with street food and musical performances by very talented artists. There are several flavors sold in culinary markets, including craft beers, exclusive wines and savory and sweet appetizers that delight the palate of visitors. The shows are also very diverse, with live rock, country, gospel, among others.
Craft Beer: event for beer lovers
SeaWorld announced in 2018 a new food festival, which takes place annually at the end of the year and has beers as a highlight: the SeaWorld Craft Beer Festival. It has more than 100 beer labels, all craft and from different regions of the state of Florida, as well as international ones, which are served in the park.
With the drink, visitors also have more than 20 options of snacks available, which harmonize with the beers. To enjoy this event in Orlando, you must pay an amount in addition to the normal SeaWorld park ticket, which is US$40 (for 8 samples, including drinks and snacks) or US$54 (for 12 samples). And pay attention to the dates on which the event takes place, because only on them will you be able to enjoy these delights.
Tips to make the most of your trip to Orlando
Now that you've seen everything about SeaWorld theme park in Orlando, a great tip that makes the difference on your trip is to choose the location of your hotel. Orlando is a big city, and it's so much better to stay in a region close to the main tourist spots. See our article best areas to stay in your trip to Orlando to learn about the best regions to stay there and how to get a great hotel for an excellent price (and find good deals). You will stay in the best region, close to the parks and outlets, and enjoy even more your trip!
Orlando's parks, outlets and tourist spots are very far apart, which is why the tourists always choose to rent a car in the city. With a car, you will be able to enjoy your trip even more, visiting everywhere and shopping with peace of mind. If you want, see our article how to rent a great and cheap car in Orlando, where we give you every information that you need to know about this subject, with tips about how to find unique prices using comparators. It 's much cheaper than people think, and it is worth it because Orlando is definitively a city to explore by car.
How can I use my phone in Orlando?
Being able to use your cell phone on your trip is something extremely useful. With it working, you can search about all the spots, access the discount coupons and park apps, check the weather and even use the GPS, saving the rent of this equipment for the car. Besides, of course, being connected to the various social networks!
We have selected the best tips about how to use your phone in Orlando, in which we indicate the cheapest way to use it all day long and anywhere in the entire country. With the mobile internet, you can search everything about SeaWorld theme park in Orlando!
Where is the cheapest place to buy Orlando tickets?
Many people don't know where (and even when) to buy Disney and Orlando tickets. We've done a lot of research and find out where is the cheapest place to buy Orlando parks tickets. We always buy our tickets there! It's where you'll find the best prices and where you can buy all the tickets, for all the parks and attractions at once, in the same place.
Don't forget about the Travel Insurance for Orlando!
A very important tip is to have an International Travel Insurance before traveling to Orlando. No one should travel without it, so you can avoid major problems abroad! It ends up being cheaper than people think, and in our article of International Travel Insurance for Orlando you check everything you need to know about it: which are the best insurance companies, and tips for hiring excellent coverage for a lower price, saving a lot.
Must-see articles from Orlando: