Discover our travel guide through the Florida Keys, a collection of more than 1,500 incredible islands in the south of Miami. For those who like paradisiacal places and breathtaking landscapes, the islands of the Florida Keys are the perfect place. Check out more information about them:
After reading this article, check out our tips about how to save a lot of money on your trip to Orlando and how to save a lot of money on your trip to Miami. They are the most accessed articles on our blog and will help you with all the trip planning. There are several unmissable tips that will save you A LOT of cash and set up your entire trip to Orlando or Miami.
How to get to the Florida Keys?
Florida Keys is 25 km away from Miami. The islands are all interconnected by huge bridges, which run from the mainland to Key West, the last island. The most impressive thing from there is the trip, because to explore the islands you spend 4 hours driving on top of bridges that pass by the sea – and the view is really incredible.
Main islands of the Florida Keys
Although the Florida Keys has more than 1,500 islands, not all of them are occupied. The region is divided into five island groups, basically with the five largest islands in the group. They are Key West, Key Largo, Islamorada, Marathon and Big Pine.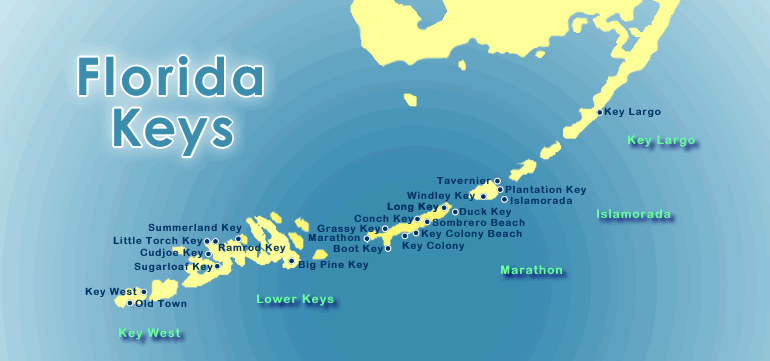 1. Key West island
Key West Island is the largest of all islands, and it is where you'll find more people. It is at the very end of the island route, and is only 150 km from Cuba, by sea. It is to Key West that most tourists go, as it is the largest island, with a better structure, and because it is the last of the islands (since the trip over the bridges that connect the islands is a beautiful tourist attraction in itself) . The city has beautiful beaches to visit and the sunset there is one of the most beautiful in Florida. Key West's nightlife is also the busiest of all the islands, and a good option to enjoy is the bars on Duval Street. Another must-see in Key West is Dry Tortugas National Park, which is a beautiful natural park, with a beach, places to dive and lots of nature.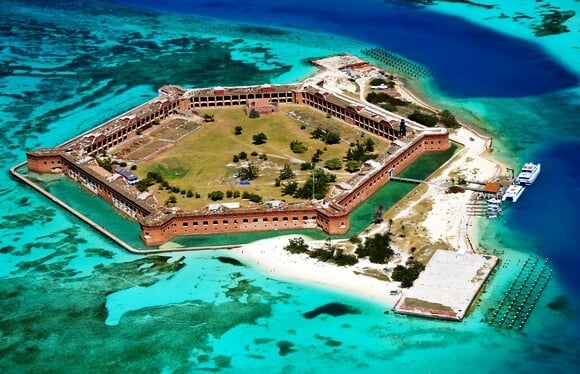 2. Key Largo Island
The first island of the set, for those coming from Miami, is Key Largo Island, which has a fantastic natural beauty and is perfect for those who like to dive. It was there that the ship USS Spiegel Grove sank and became a habitat for beautiful corals and marine species. There is also the John Pennekamp Coral Reef State Park, one of the highlights of the Florida Keys, which has a beautiful beach with places to snorkel. The place also has canoe rentals and tours on boats with glass floors, where it is possible to see marine species. For those who like seafood, in January there is always the crab and seafood festival, which is a party with lots of food and everything at a great price.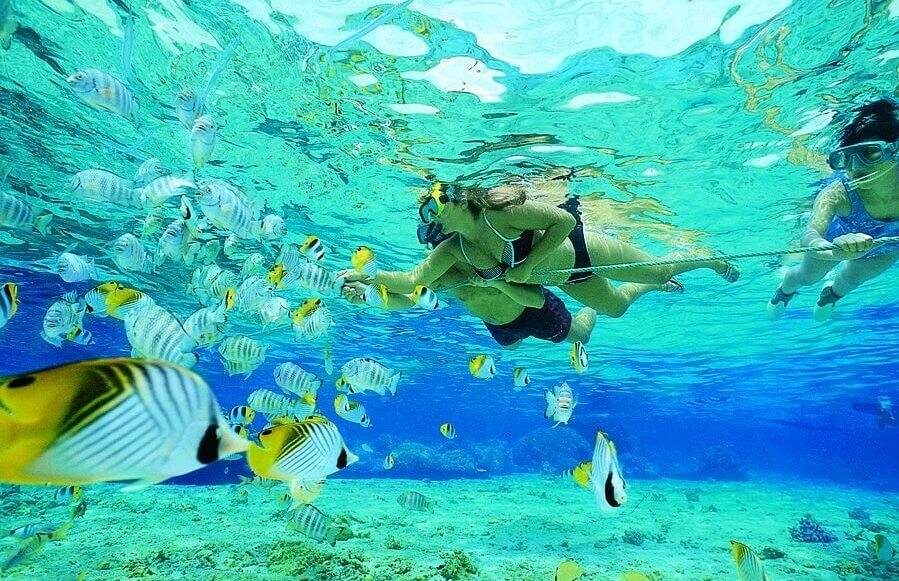 3. Islamorada island
The Islamorada island is known as the "fishermen's island", as it is the best for fishing. Its waters are crystal clear and not very rough, and there you will find the Theater of The Sea, which is a park with sea animals where you can swim with dolphins, rays and even sea lions. The most popular beaches are Anne's beach, which is a quiet beach with picnic tables, and Founders Park, Pool & Skate Park, which is a beach with a children park. For those who like culture, Islamorada offers the History Of Diving Museum, which talks about the history of diving in the Florida Keys.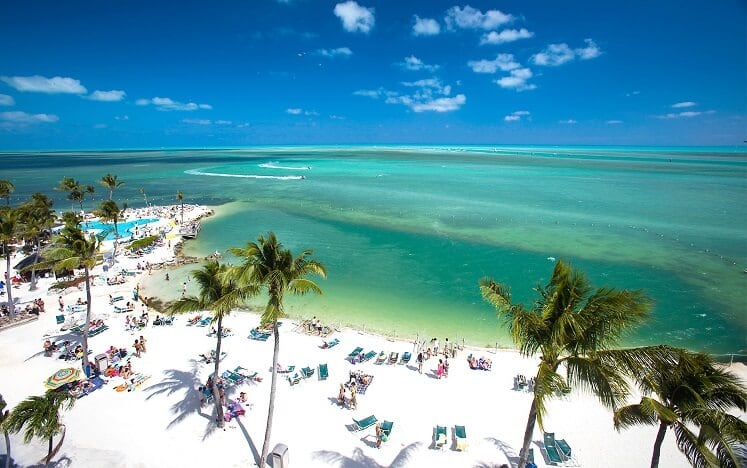 4. Marathon island
Marathon Island is in the middle of the Florida Keys. Like the others, it has beautiful beaches and some tourist points to visit. For those who like birds, there is the Museum Of Crane Point, with several animals and birds of rare species. A very nice beach to enjoy there is Sombrero Beach, which has a volleyball net and structure for those who want to barbecue. For fans of quieter and more deserted beaches, check out Coco Plum Beach.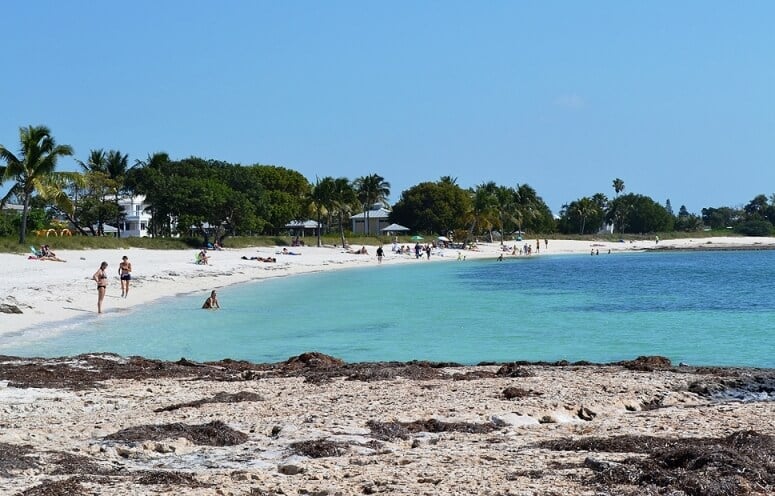 5. Big Pine island
The island of Big Pine is similar to the others and also has an incredible natural park, which is the Bahia Honda State Park. It is a state park with a beautiful beach, which people go for running, cycling, picnicking and sunbathing. There is an entrance fee of around US$ 10, and a good tip is to bring food and drink to spend the day there. It is one of the most beautiful parks in the entire Florida Keys, and a good choice of things to do there, as well as being one of the best places to dive near Miami.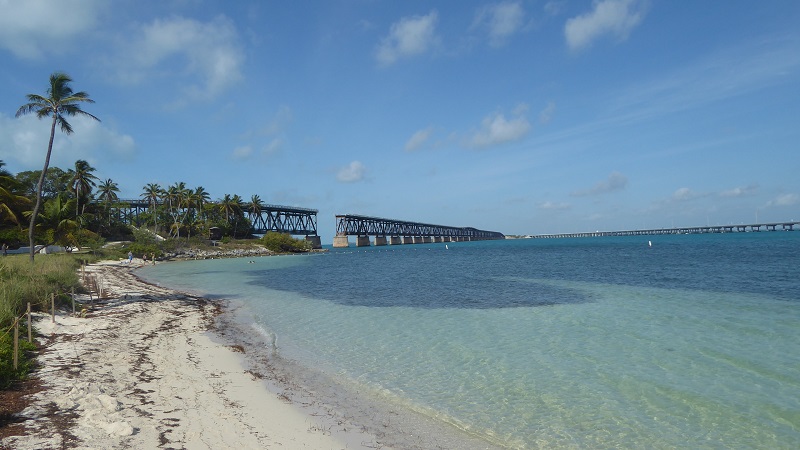 Tips to make the most of your trip to Florida
Now that you've seen everything about Florida Keys: travel guide through the islands, a great tip that makes the difference on your trip is to rent a car. Florida parks, beaches and outlets are very far apart, which is why the tourists always choose to rent a car there. With a car, you will be able to enjoy your trip even more, visiting everywhere and shopping with peace of mind. If you want, see our article how to find cheap car rentals in USA, where we give you all the information that you need to know about this subject, with tips about how to find unique prices using comparators. It 's much cheaper than people think, and it is worth it – you can even explore near cities by car!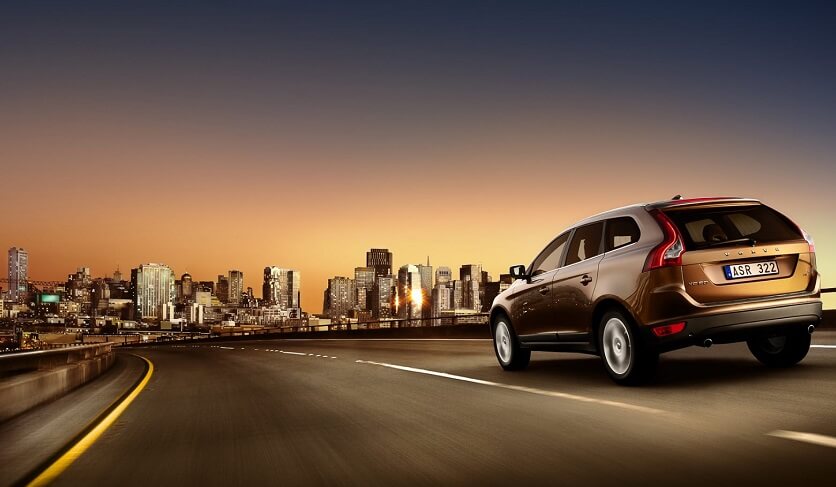 How can I use my phone in Orlando and Miami?
Being able to use your cell phone on your trip is something extremely useful. With it working, you can search about all the spots, access the discount coupons and park apps, check the weather and even use the GPS, saving the rent of this equipment for the car. Besides, of course, being connected to the various social networks!
We have selected the best tips about how to use your phone in USA, where we indicate the cheapest way to use it all day long and anywhere in the entire country. With the mobile internet, you can search everything about Florida Keys: travel guide through the islands!
Don't forget about the Travel Insurance!
A very important tip is to have an International Travel Insurance before traveling to Florida. No one should travel without it, so you can avoid major problems abroad! It ends up being cheaper than people think, and in our article of International Travel Insurance for USA you check everything you need to know about it: which are the best insurance companies, and tips for hiring excellent coverage for a lower price, saving a lot.
Must-see articles from Orlando and Miami: