See the best Miami and Miami Beach travel tips! The city is a paradise for shopping and partying, and there are many tips for enjoying the trip and its main attractions. Check out:

After reading this article, check out our tips about how to save a lot of money on your trip to Miami. It is the most accessed article on our blog and will help you with all the trip planning. There are several unmissable tips that will save you A LOT of cash and set up your entire trip to Miami.
Miami South Beach area
South Beach in Miami is the hottest part of the city, where you will find the main beaches, hostels, bars and clubs. This region is ideal for those who want to go to the beach and enjoy a more eventful night. South Beach is sensational and a very good tip is to try to stay there, because that way you are close to everything. In the main avenue, Ocean Drive, it's all iluminated with neon lights, and it is where you will find Miami's main bars and clubs, the famous Romero Britto art gallery and the famous Miami Ink Tattoo tattoo studio.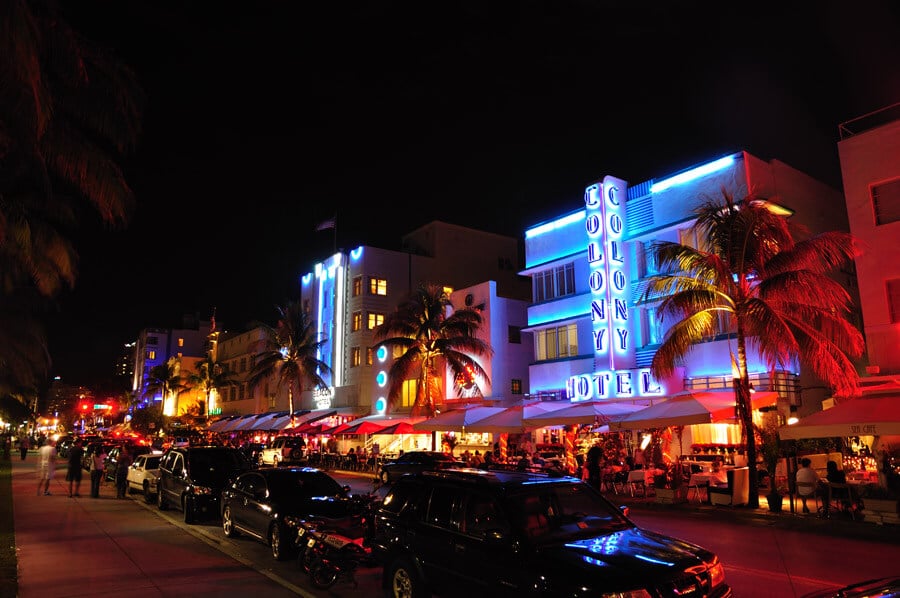 Ocean Drive is quite extensive and the busiest part is located in the south of the avenue. There are dozens of bars very similar. Another popular avenue in Miami is Lincoln Road, which is great for shopping and has the best clothing stores in Miami. Lincoln Road is located between 16th and 17th Streets in South Beach, it is an open air mall. There are several shops, restaurants and bars next to each other. The seven blocks of Lincoln Road Avenue were closed to car traffic in 2006, making the place an even more attractive, super cool shopping center to visit in South Beach.
Coral Gables area in Miami
Coral Gables in Miami is a historic neighborhood in South Miami. It is an incredible place to spend the day and is known for its Mediterranean architecture and style. Walking around Coral Gables you will find mansions, luxurious hotels, fountains, small galleries and super nice shops. Coral Gables is home to the famous Venetian Pool in Miami, which is the largest artificial pool in the United States. A great place to spend the day and cool off from the region's heat, especially in the summer.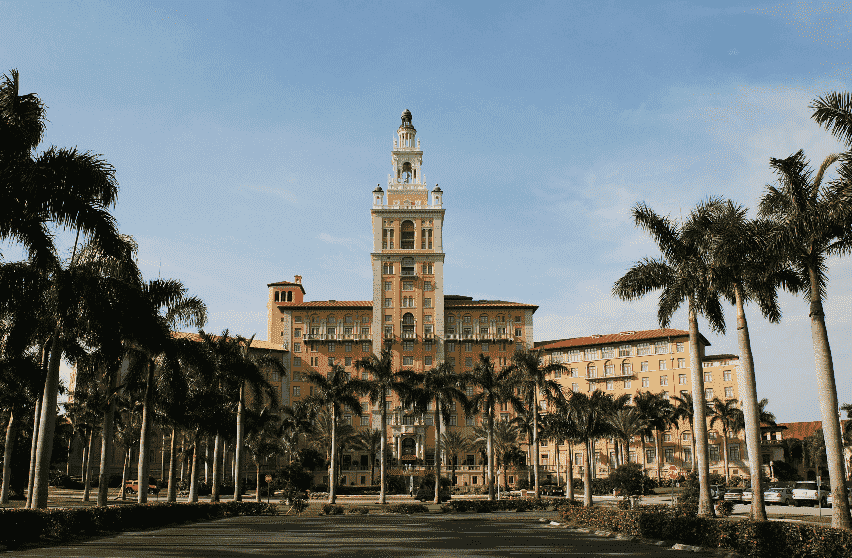 Coral Gables is also great for brides who want to buy their wedding dress in Miami. The Miracle Mile, which is at the heart of Coral Gables, has dozens of boutiques and stores with dresses for prompt delivery or to order. The options are many, and you can spend more than a day looking and experimenting. And for those who like art, you can take the opportunity to see the Miami Art Museum, which is the largest art museum in Miami.
Miami beaches
Miami Beach has paradisiacal beaches and wonderful natural parks, with all that contrast of crystal blue water and intense green plants. It is the most famous one of the beaches in Miami, and cannot be missed in your travel itinerary. It is not the most beautiful one, but the most agitated and well-known.
Further north of Miami there are several cool and even more paradisiacal beaches. You can take the car and, in one day, get to know all of them. A very interesting option is the Hollywood Beach, which is a quieter beach, with crystal clear water, and which usually receives artists and celebrities who live there in their incredible mansions in front of the beach. Further north, there are busier beaches that belongs to the neighboring cities of Fort Lauderdale and Boca Raton.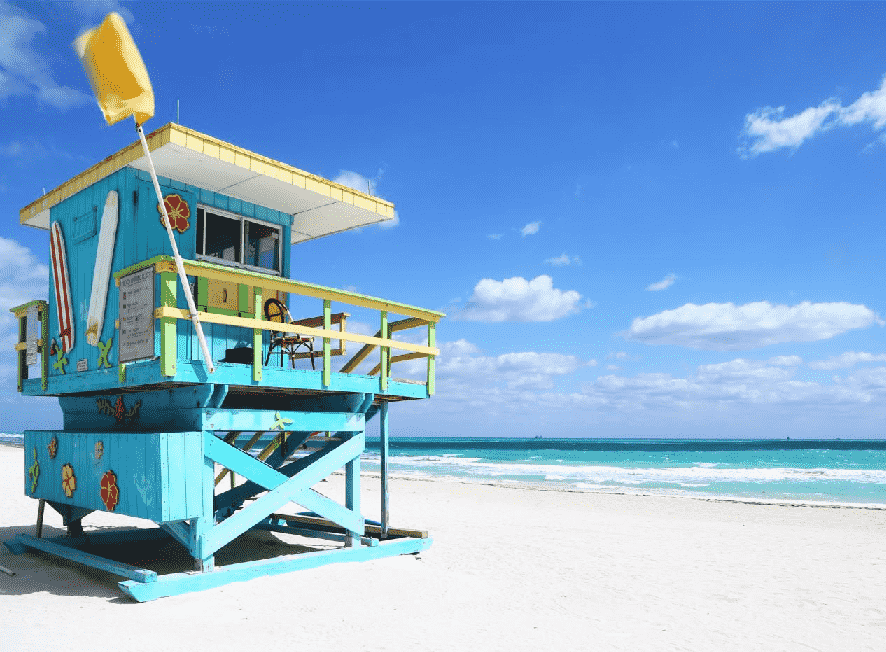 Miami has some of the most beautiful beaches in Florida, so plan on getting to know them all, as it is practically a free trip. It's nice to stop by Walmart or Target supermarkets before going to the beach, and buy several snacks, soda, water and food to take away (and you don't have to buy them at the beach, where everything is much more expensive).
Another cool tip to save money on your trip to Miami is to buy an umbrella and a large beach towel, which are very cheap items in supermarkets, because if you are going to rent one of them on the beaches of Miami, you will pay more than US$ 20 just for a chair and an umbrella, for a day. With this money, you can purchase these items to use throughout the trip. It is a good economy!
Baladas em Miami
The city of Miami has some of the best clubs in the world, and the main clubs and bars are located in Miami Beach. They are very well decorated spaces, with DJs from all over the world performing daily, and very excited people with different drinks in their hands. Among the best nightclubs in Miami are Mango's Tropical (which is a salsa and more latin club), Mansion Night Club, Nikki Beach (which is an open-air club on the beach), SET, LIV and Mynt Lounge  (which is a great club frequented by famous people).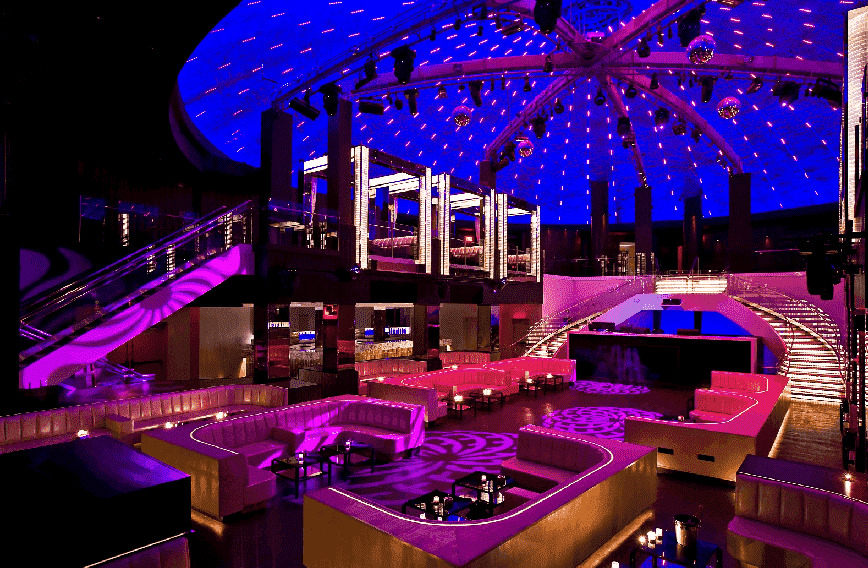 Save 55% of money on attractions using GoCard Miami
GoCard Miami is the main ticket combo in the city. With it you have access to more than 27 attractions and tourist points in Miami and save up to 55% of what you would spend if you bought the tickets separately. It is very worth it and, in addition to saving a good amount of money, you also save a lot of time that would be necessary at each ticket office of each attraction, since you already travel with the tickets to them all in your hands. If you want it, click here on GoCard Miami. Their website is very good and explains everything perfectly. It works per day, so you can buy the option 1, 2, 3 or 5 days, but it doesn't need to be used at days in a row. If you want to buy the 3-day card, for example, you can use it on 3 different days of your choice within a 14-day period (it starts counting from the day you use it for the first time).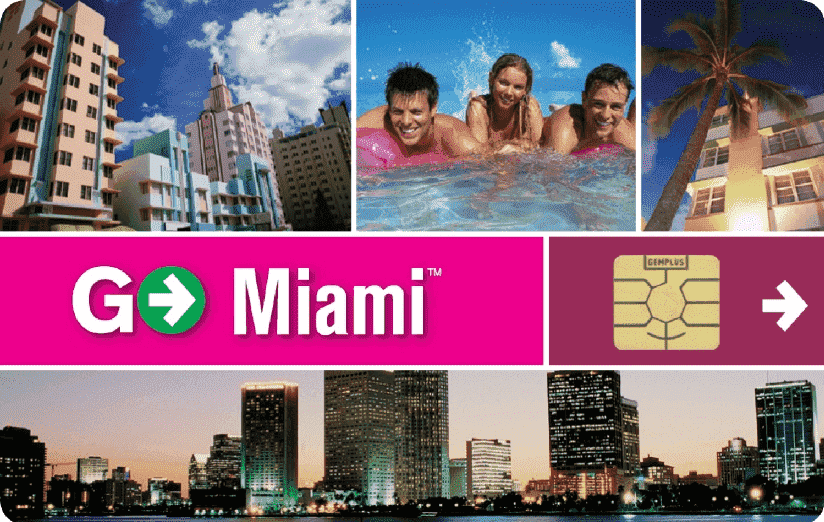 On each day, you can go to as many attractions as you want. The moment you buy it on the website, you already receive the digital card on your cell phone and just show it at the entrances of the venues. The best places included in the card are the Miami Seaquarium, Jungle Island, boat trip through Key Biscayne, boat trip through South Beach, ride on a mini boat through the Everglades (a natural park of alligators), Miami Zoo and Viscaya Museum. Also included are some great remaining attractions in Orlando, such as the Kennedy Space Center (NASA Park), WonderWorks, and Fun Spot Park. They are very good tour options and the card is really worth it and makes your trip much easier.
How to save money on shopping in Miami
– Discount coupons

One of the tips to save money on your trip to Miami that few tourists know is to use the incredible Miami discount coupons. All outlets and malls have discount coupons up to 50% for their main stores, and it worthwhile.
– Outlet Sawgrass Mills and Dolphin Mall
Everyone who goes to Miami wants to shop, and the main place is the Sawgrass Mills Outlet. It is the largest outlet in Florida and has more than 350 stores of different brands. Our tip is to go to this outlet first, to buy everything you need at the lowest price. What you don't find there, you look in the malls and street stores in Miami, after this visit. This outlet isn't at the center of Miami, so you need to have a car or make a plan to go there. Another place that has very good prices (almost as good as Sawgrass) is the Dolphin Mall. It is much closer to the tourist center of Miami.
– Department store

Department stores are quite famous in the United States. They are large stores of clothing and accessories that often have products even cheaper than in outlets. It is the place where you will find clothes VERY cheaper and from all famous brands. The best known stores are Marshalls, Ross and T.J. Maxx. There are stores all over the city. But it is good to know that department stores are outlets and receive products that have already been discontinued. So the value is usually much lower.
How to save a lot of money on travel insurance
An item that is indispensable for a trip to the United States, or any other place in the world, is the International Travel Insurance. It is a super cheap insurance that covers you for any unforeseen events you may have abroad, such as average assistance, dental care and luggage theft. An appointment abroad costs more than US$ 400, and that's why any tourist prefer to be assured with a travel insurance – you can save a lot of money just by making a very cheap insurance.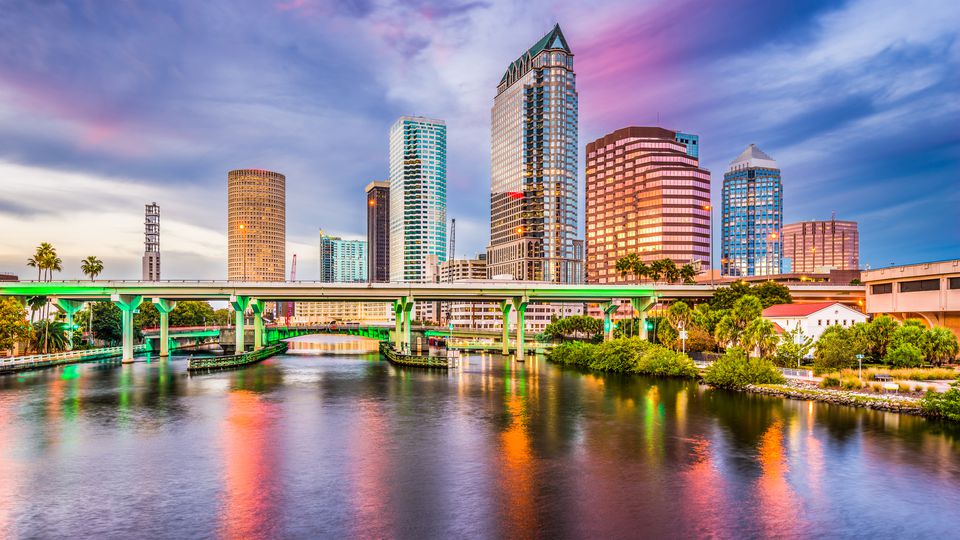 There is a travel insurance comparator that is excellent and searches all travel insurance in all the major companies in the United States. If you want to do the research now, click here on travel insurance comparator. In less than a minute you have the budget for all travel insurance, and you can hire yours. Then, just print out the policy and take it with you on your trip. We recommend the companies Travel Ace, Assist Card, GTA, Green Card and SulAmerica, which are the world leaders. They are extremely reliable and always have the best prices.
How to save money on your hotel in Miami
One of the most important tips to save money on your trip to Miami is to try to save as much as possible on lodging in Miami, which is not as cheap as Orlando. It is where you will spend a good part of your budget.
Location: Staying in Miami Beach is, of course, the most popular option, but there are regions a little further away that are great and much cheaper. The Downtown area (in the Brickell neighborhood) is also very well located, and the hotels are much more affordable. We always stay there and it's 10 minutes away of Miami Beach.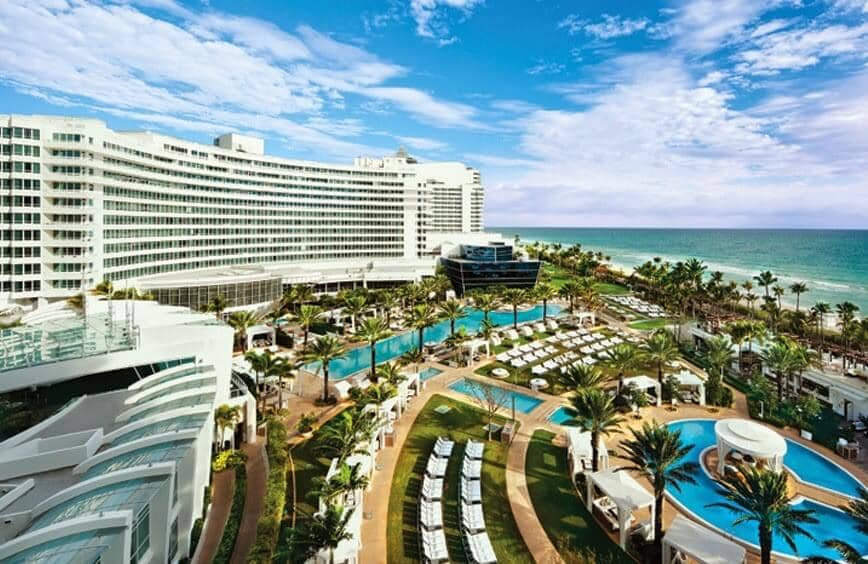 Near cities, like Fort Lauderdale and Boca Raton, are great. Even though they are not in the center of the action, they are beautiful places that will take you only 20 or 30 minutes by car to Miami's main attractions and to Miami Beach. Also look for the north beaches of Miami, which are beautiful, peaceful and have great options for cheap hotels facing the beach.
Use the hotel search: A great tip to find good hotels, with incredible prices, in the region you want and save a lot on accommodation, is to use this Hotel Search Engine in Miami. We always use it, as it is the largest hotel booking site in the world. Not to mention that it has all the hotels in Miami, Orlando and the world in his searches, with unbeatable prices due to the strong negotiation they do. And there you can check the opinion of other tourists who have already stayed in hotels, which helps a lot when evaluating each one.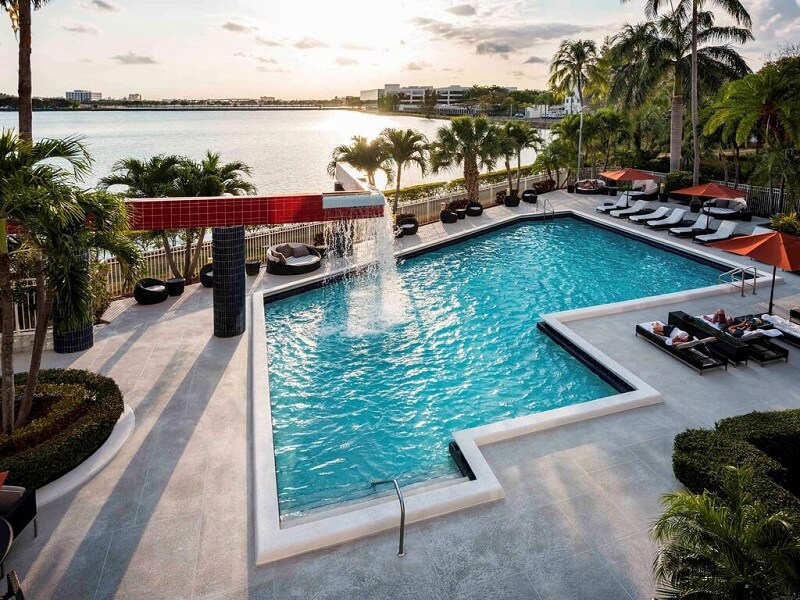 Free cancellation: Another very good tip is that this search engine has a very strong partnership with the establishments and they offer free cancellation in almost all hotels. This is great, because the factor that will save you the most in hosting is the advance. The sooner you make the reservation, the cheaper you pay. So, you can book your hotel now, to guarantee the lowest price, and if you find a better one afterwards (or just don't want to stay in it), just cancel for free.
Hotels we've stayed in over the past few trips:
How can I use my phone in Miami?
Being able to use your cell phone on your trip is something extremely useful. With it working, you can search about all the spots, access the discount coupons and park apps, check the weather and even use the GPS, saving the rent of this equipment for the car. Besides, of course, being connected to the various social networks!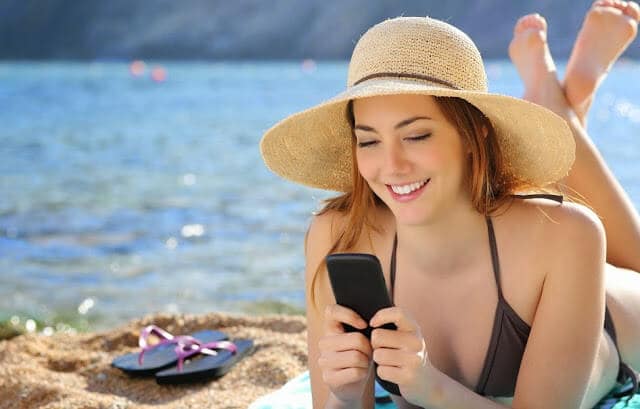 We have selected the best tips about how to use your phone in Miami, in which we indicate the cheapest way to use it all day long and anywhere in the entire country. With the mobile internet, you can search everything about Miami and Miami Beach best travel tips!
Must-see articles from Miami: