See which are the best beaches in Florida, which you can not miss. Like California, Florida has some of the most beautiful beaches in the United States, especially in the Miami waterfront area and close to Key West. See the best beaches below: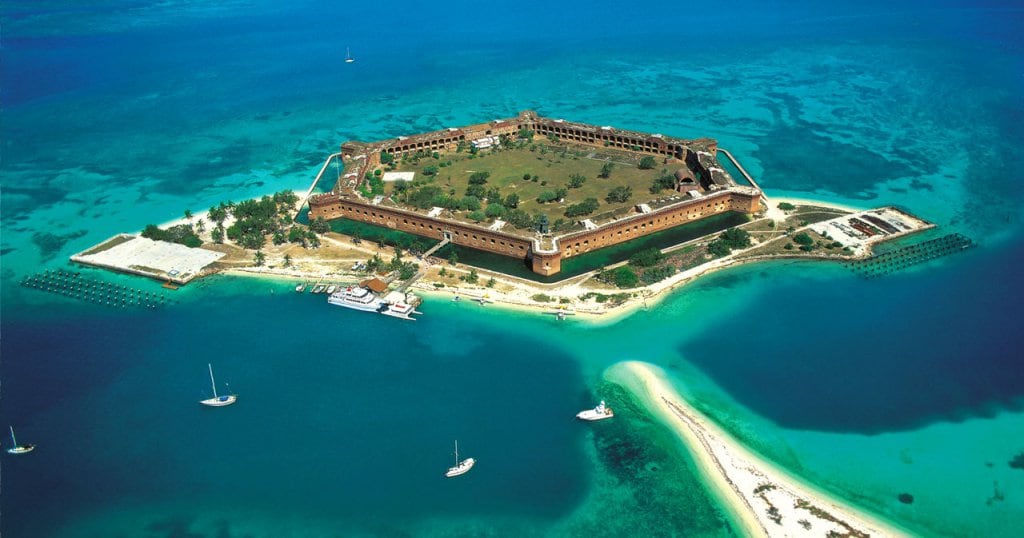 After reading this article, check out our tips about how to save a lot of money on your trip to Orlando and how to save a lot of money on your trip to Miami. They are the most accessed articles on our blog and will help you with all the trip planning. There are several unmissable tips that will save you A LOT of cash and set up your entire trip to Orlando or Miami.
1) Hollywood Beach in Miami
Located at north of Miami, Hollywood Beach is incredible and one of the most famous in the city. With its white sand and calm, crystal clear water, it has a perfect environment to relax and enjoy nature. Of all the Miami beaches we visited, it was the one we liked the most. It is a very beautiful beach, with little movement and a boardwalk for walking and sports.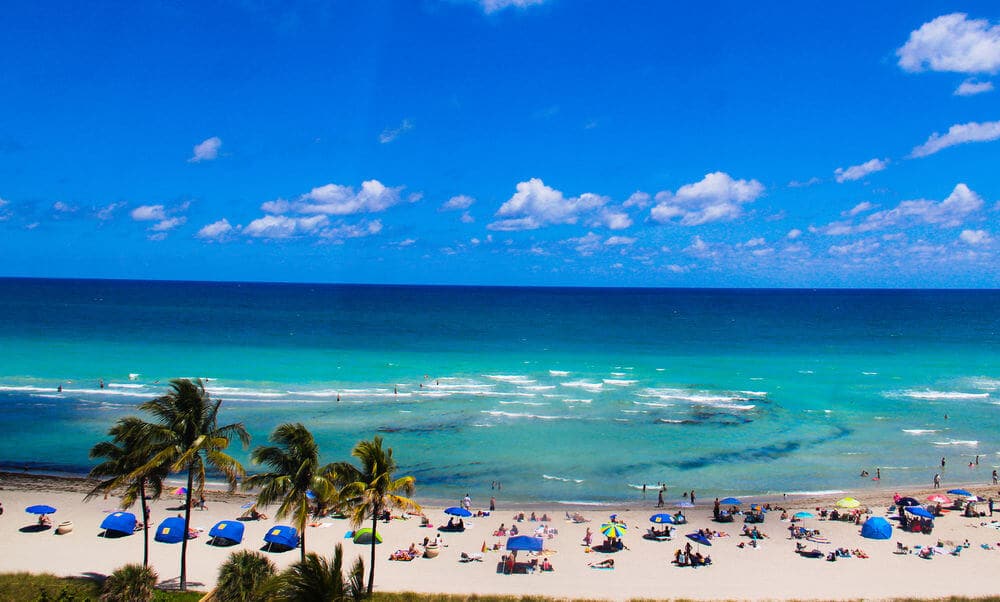 Hollywood Beach, of all the beaches in Florida, is the favorite of the famous people. So don't be surprised if you run into a celebrity in the sand or near Hollywood Beach. The beach is about a 40-minute drive north of Miami Beach and has showers all over the beach.
2) Key West beaches
Key West Island has beaches that are really worth visiting. It is without a doubt one of the most beautiful and impressive places in Florida, with paradisiacal beaches and impressive landscapes! And one of the coolest parts is the drive from Miami to Key West, which lasts about 3h30, because more than half of it is made on huge suspension bridges over the sea, that go connecting several islands, until reaching the last one it's Key West. It is very worthwhile to spend a day or more in the region and discover the beaches of Key West.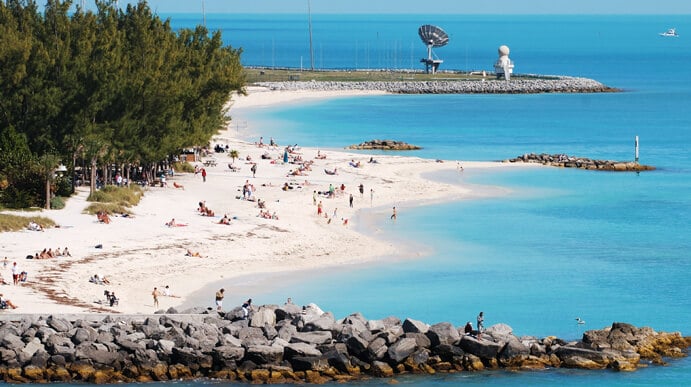 3) Haulover Beach in Miami
Haulover Beach in Miami is a beautiful beach that is miles long, and has only part of it dedicated to nudism. This beach attracts people of all genders and ages, including local residents and tourists. Knowing it is a very nice experience, and it is worth mentioning that it is not mandatory to go without clothes, even in this area of ​​the beach. In other words, you can visit Haulover Beach like any other beach.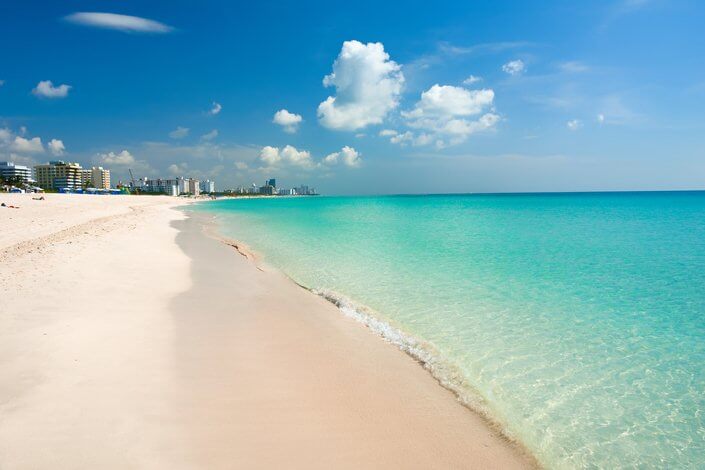 4) Cocoa Beach in Florida
Cocoa Beach is located 90 km away from Orlando and is in a very pleasant city in Florida. The Cocoa Beach in Florida has a perfect structure for those who want to spend just one day there. The city offers campsites for those who want to sleep one night, parking lots with showers and bathrooms for those who are spending the day there and other facilities that help travelers a lot. Without a doubt, it is one of the best beaches in Florida to visit.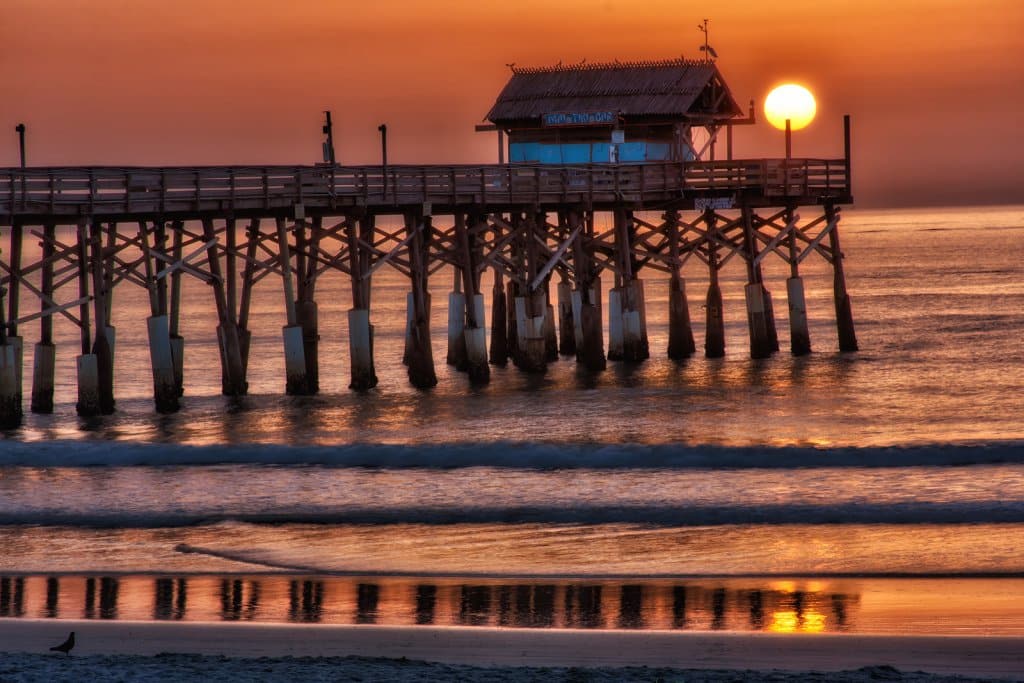 5) Clearwater in Florida
The incredible and little-known city of Clearwater is on the west coast of the state of Florida, just over an hour from Orlando. Clearwater is still not well known by tourists, but it is one of the most beautiful beaches in Florida. Being in the Gulf of Mexico region, the beaches there are very paradisiacal with crystal clear waters and white sands, in addition to the climate that is warm and sunny most of the year. The city is also known for having an incredible sunset, which can be seen from one of its piers, which are scattered on the beach, making it one of the most beautiful beaches in Florida.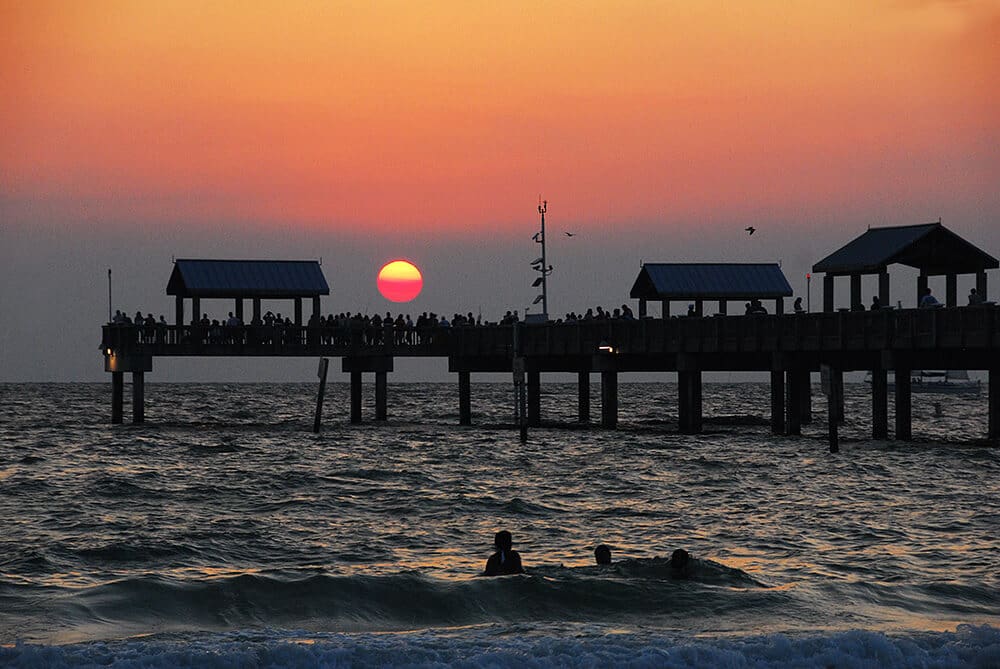 6) Daytona Beach in Florida
Daytona Beach is a tourist town in Florida that is 1 hour drive from Orlando and 4 hours drive from Miami. It is a city much sought after by visitors from all over the world and has many attractions, beaches and places to visit and have fun. The city is also well known for being the headquarters of NASCAR and hosts the main races and championships of the Stock Car, such as the Daytona International Speedway. In addition, Daytona has the most beautiful beaches in Florida, which are a great option to spend the day, soak up the sun and get some rest. If you're in Orlando, spend a few days there to rest from the madness of the parks and relax.
General tips for Florida beaches
It is worth to know all the beaches, as it is a practically no-cost visit (you will only spend to eat).
A nice tip is to go to Walmart, Target or any other supermarket in Miami and Orlando before going to the beach, and buy several snacks, drinks, water and whatever else you want to take and not buy at the beach stalls, which sell everything more expensive. On some beaches that are further away, there are not even stalls selling food, so it is good to have it.
Another cool tip to save money on your trip to Miami is to buy an umbrella and a large beach towel, which are very cheap items in supermarkets, because if you are going to rent one of them on the beaches of Miami, you will pay more than US$ 20 just for a chair and an umbrella, for a day. With this money, you can purchase these items to use throughout the trip. It is a good economy!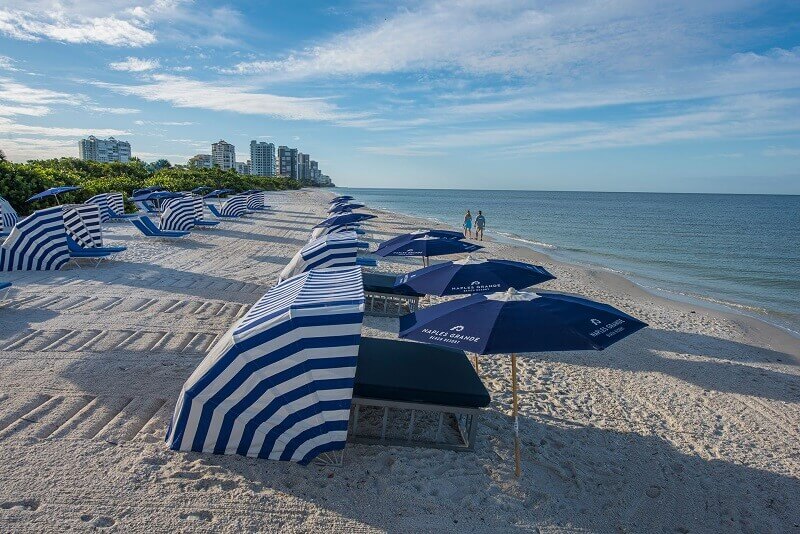 Tips to make the most of your trip to Florida
Now that you've seen everything about the Best Beaches in Florida, a great tip that makes the difference on your trip is to rent a car. Florida parks, beaches and outlets are very far apart, which is why the tourists always choose to rent a car there. With a car, you will be able to enjoy your trip even more, visiting everywhere and shopping with peace of mind. If you want, see our article how to find cheap car rentals in USA, where we give you all the information that you need to know about this subject, with tips about how to find unique prices using comparators. It 's much cheaper than people think, and it is worth it – you can even explore near cities by car!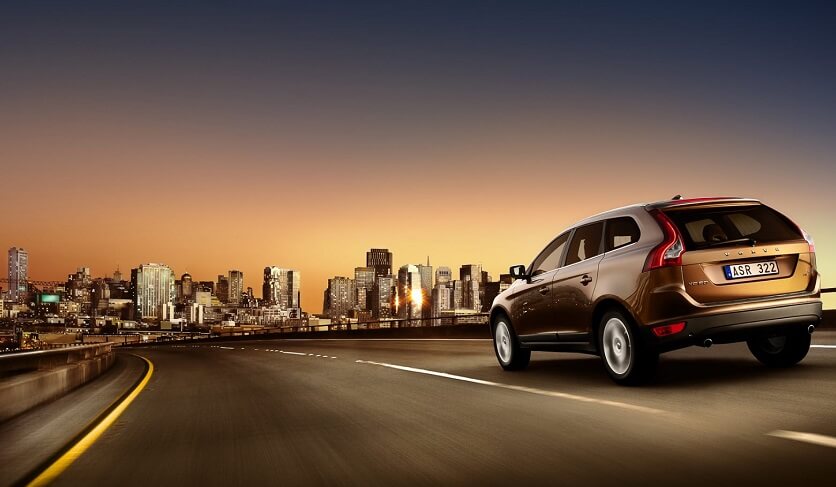 How can I use my phone in Orlando and Miami?
Being able to use your cell phone on your trip is something extremely useful. With it working, you can search about all the spots, access the discount coupons and park apps, check the weather and even use the GPS, saving the rent of this equipment for the car. Besides, of course, being connected to the various social networks!
We have selected the best tips about how to use your phone in USA, where we indicate the cheapest way to use it all day long and anywhere in the entire country. With the mobile internet, you can search everything about the Best Beaches in Florida!
Don't forget about the Travel Insurance!
A very important tip is to have an International Travel Insurance before traveling to Florida. No one should travel without it, so you can avoid major problems abroad! It ends up being cheaper than people think, and in our article of International Travel Insurance for USA you check everything you need to know about it: which are the best insurance companies, and tips for hiring excellent coverage for a lower price, saving a lot.
Must-see articles from Orlando and Miami: