Check out everything about Disney's Hollywood Studios theme park in Orlando: tour tips, must-see attractions, cool restaurants and much more! Here we give you several tips about the park, but if you already want to guarantee your park ticket, just click here.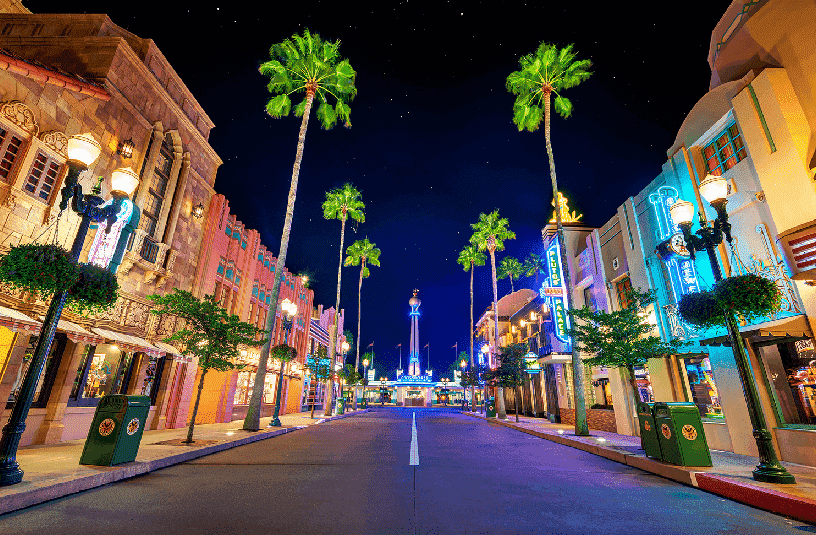 After reading this article, check out our tips about how to save a lot of money on your trip to Orlando. It is the most accessed article on our blog and will help you with all the trip planning. There are several unmissable tips that will save you A LOT of cash and set up your entire trip to Orlando.
Why visit Hollywood Studios park?
Disney's Hollywood Studios Park in Orlando is one of the most incredible parks in Florida, dating back to the hit Disney Studios movies. Therefore, its main attractions are Pixar characters, such as Toy Story, Star Wars movies and other feature films – but also the history of Walt Disney and how everything was created. It is one of the Disney parks in Orlando that are part of the Walt Disney World complex, along with Magic Kingdom, Animal Kingdom and Epcot.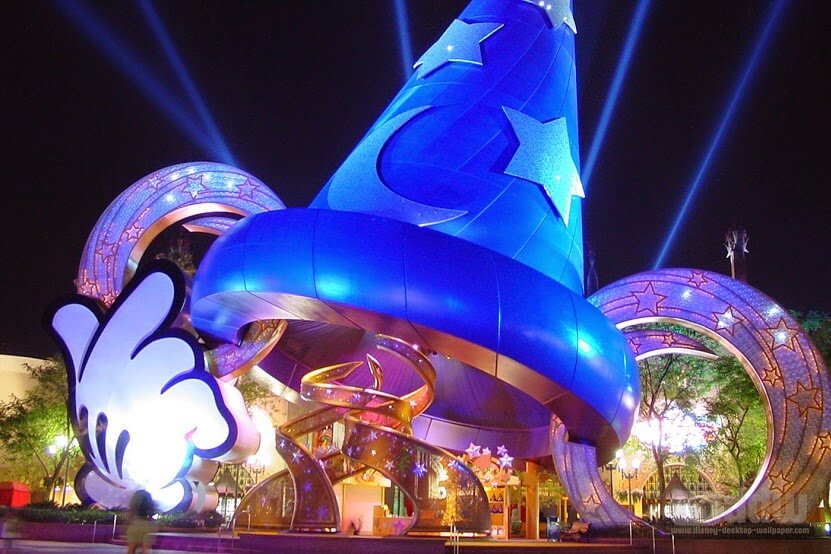 In the past, the park was called MGM Studios and its main symbol was a giant Mickey hat (pictured above), which was near the entrance, but has since been eliminated. Today, under the name Disney Hollywood Studios, it undergoes a huge overhaul that will change most of the attractions, keeping only the Twilight Zone Tower of Terror, the Rock 'N' Roller Coaster and a few other old toys.
Hollywood Studios ends up not being visited by tourists who don't have time to go to all Disney parks, but we guarantee it's worth it, as it's full of really cool attractions. Among the 4 Disney parks, it is one of the ones with the most options for attractions for adults, in addition to children's toys – that is, it is good for all ages.
Hollywood Studios Park Area Division
Hollywood Studios is not that big compared to the other parks, and it doesn't usually get that crowded, so it's easier to plan and see all of its attractions. The park is divided into 8 areas: Hollywood Boulevard (entrance), Echo Lake, Commissary Lane, Grand Avenue, Star Wars, Toy Story Land, Animation Courtyard and Sunset Boulevard; according to the map below: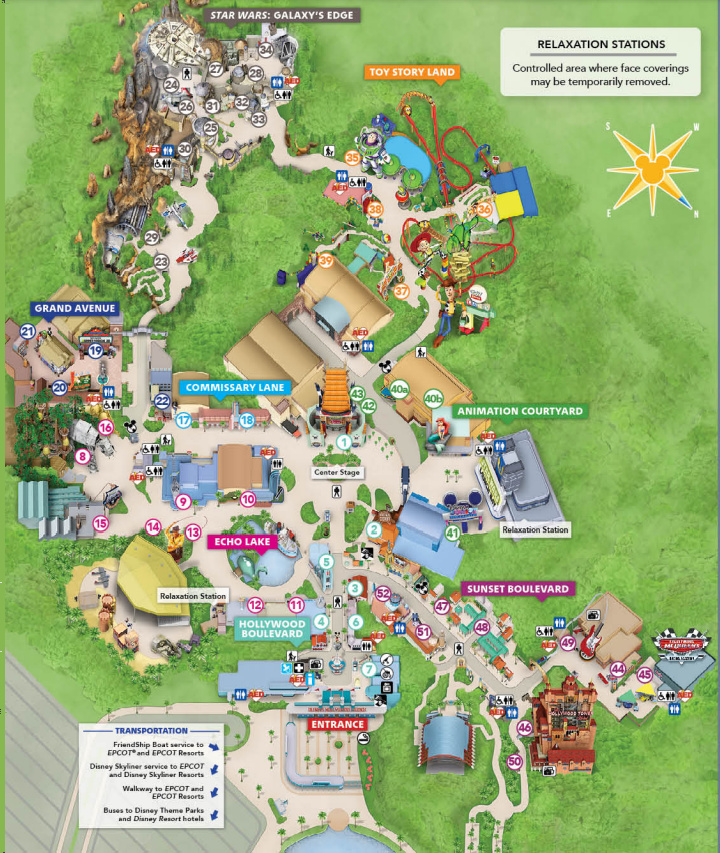 Hollywood Studios main attractions:
Below, we list the 8 must-see attractions of the park, which are those that you cannot miss during your visit. Therefore, we recommend that you prioritize them during your tour:
1) Fantasmic Show
The Fantasmic at Hollywood Studios is an amazing show with fireworks and water jets, which lasts about 25 minutes and takes place every night. The main component is Mickey Mouse, and in the show he tries to defeat all the villains of the main Disney movies, and has the help of princesses and other good characters. The soundtrack recalls the greatest hits of all time, and the luminous laser and water effects will impress anyone.
Tip: arrive early to get a good seat, as it is usually crowded. There are even two sections at two different times a day, for everyone to see.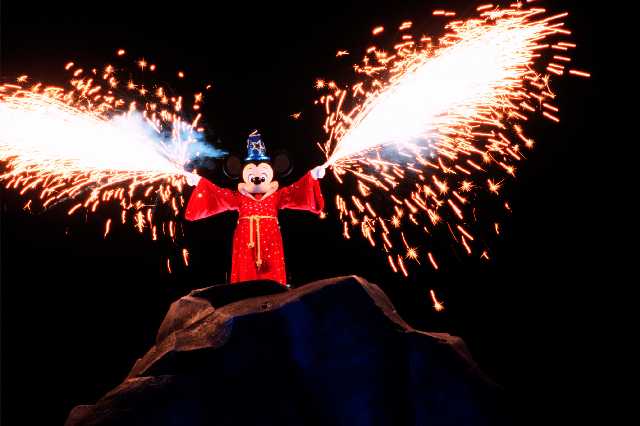 2) Beauty and the Beast Musical
Musicals are also a strong point of this park, and delight people of all ages. The main one is Beauty and the Beast, a show based on the movie Beauty and the Beast and follows the style of Broadway musicals, with about 20 minutes.
It tells the story of the movie itself, with all the original music and main characters. It has a lot of cool effects, a lot of dancing and choreography and the costumes are beautiful, it's a very colorful and beautiful show.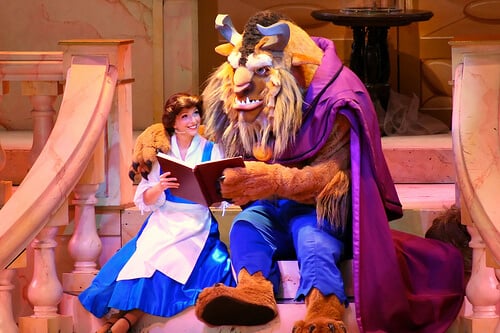 This show takes place at different times throughout the day, but we recommend that you go around mid-afternoon, or after lunch. This is the moment that gets a little tired after having spent the morning walking around the park, and it is also not recommended to go to any extreme attraction, so it is worth enjoying these 20 minutes to digest.
If you like this attraction, you will also like: the Little Mermaid musical, which is amazing and follows exactly the same line as the other one. It's a show with all the characters from the movie and the original soundtrack. However, it appeals to young children, who are fascinated by the effects and colors.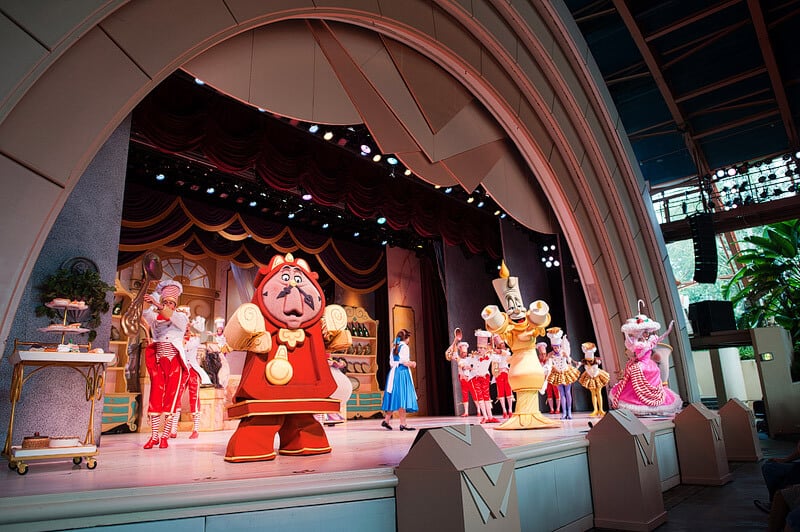 3) Frozen attraction
The Frozen attraction, called First Time in Forever: A Frozen Sing-Along Celebration, is also something of a musical and an amazing show that tells the story of the movie. In approximately 25 minutes, the film's songs play on a big screen and the entire audience is encouraged to sing along with the actors who play the characters. For those with children who enjoy the movie, it's almost a mandatory stop.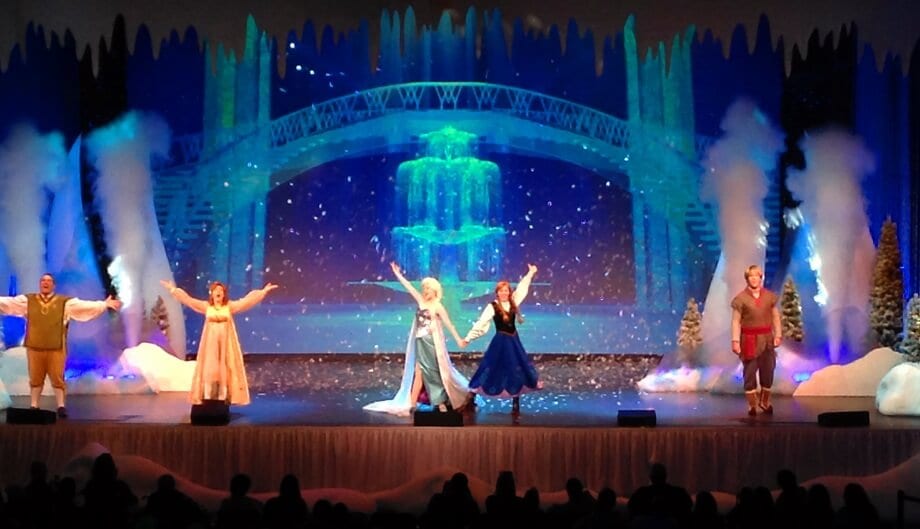 4) Tower of Terror
The "Twilight ZoneTower of Terror" is one of the most famous rides in the entire park, and that's why it's one of the attractions worth using the FastPass for (if you don't know what that is, find out below in the paragraph "Tips to avoid queues" , use of FastPass and Single Riders"). It simulates a haunted hotel, which has several stories inside. The toy queue, which is usually huge, is very interactive and is already telling guests about the place's secrets.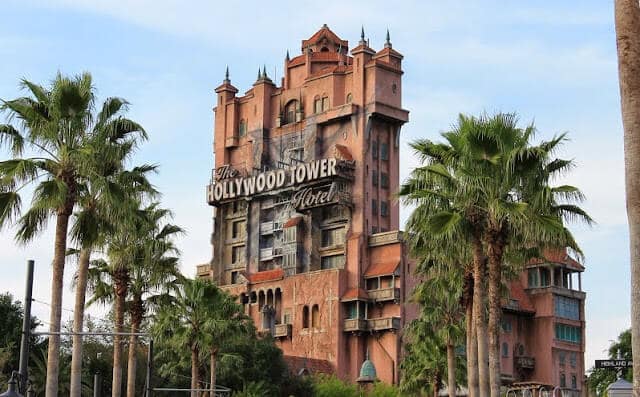 The toy itself is an elevator that falls and rises several times, making tourists scream a lot. It is an exciting and very radical attraction, especially for those who like free-fall elevators.
5) Aerosmith roller coaster
The Rock 'n' Roller Coaster Starring Aerosmith is an incredible high-speed roller coaster, set to a special soundtrack recorded by Aerosmith himself. She is certainly one of the most exciting rides at Disney Hollywood Studios Park and all Orlando parks.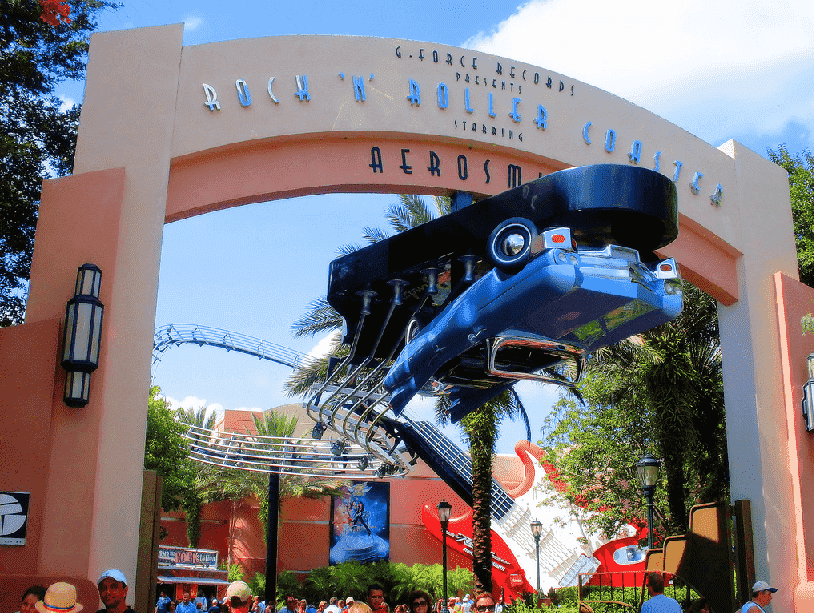 The roller coaster goes from 0 to 97 kilometers per hour in just 3 seconds, and has more than one loop. It's closed off so you can't really tell what it's like, just go and experience the fun. However, the car upside down on top of the tracks that are actually the guitar strings already gives an idea of ​​what visitors can expect.
6) Mickey and Minnie's Runaway Railway
Mickey and Minnie's Runaway Railway is one of the park's newest attractions, a new Mickey Theater that brings together the very best in Disney complex technology. Aimed at people of all ages – and therefore great for families to relax from the parks walks together – it broadcasts an animated short film with classic Disney characters, in a glasses-free 2D experience.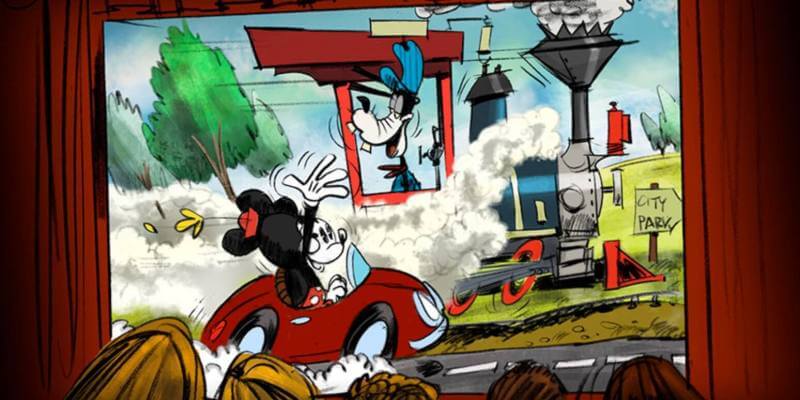 7) Toy Story Area at Hollywood Studios
In 2018, Disney Hollywood Studios opened the "Toy Story Land" area for fans of the toys and the movie. The area currently has three attractions, and in our opinion, all of them are worth it!
Slinky Dog Dash: It's a quieter roller coaster for kids that mimics the dog spring from Toy Story.
Alien Swirling Saucers: a kind of crazy cup, which keeps spinning.
Toy Story Mania: the only attraction that already existed before the opening of this area; is a kind of 4D arcade for you to throw baseballs and hit targets, competing with the people in your cart.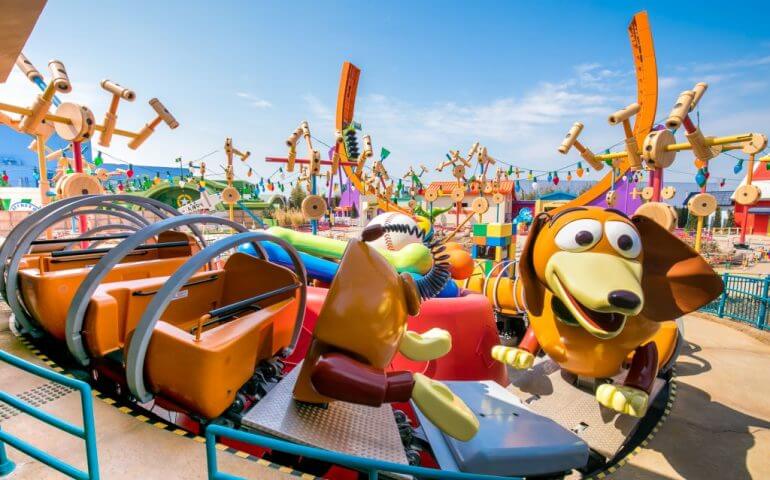 For those who want to take even more of the Toy Story theme, you can have a meal at Woody's Lunch Box, which serves fast food-style snacks and sweets in boxes that look like Andy's lunch box. And, to complete the experience, if you're lucky, you can find the characters from the movie walking around this area of ​​Hollywood Studios: Buzz, Woody, Jessie, the Sergeant and the little green soldiers, who love to stop to chat and take pictures with visitors.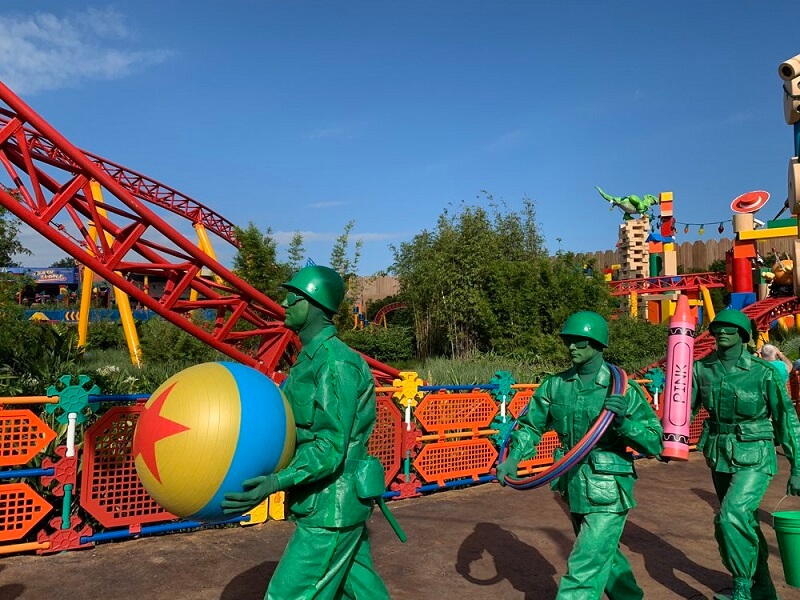 8) Hollywood Studios Star Wars area
Disney bought the rights to the Star Wars movie and opened an area in the park exclusively dedicated to the classic, Star Wars Galaxy's Edge. There are four attractions and dozens of themed shops and restaurants! The decoration of the area, in itself, is a spectacle on its own! The attractions are:
Star Wars: Rise of the Resistance: Currently, one of the most famous and popular attractions within Disney. It's a hyper-realistic simulator, in which you get in a kind of group cart, and ride inside an intergalactic spaceship, in addition to joining the Resistance (Rey, Poe and Finn) to battle the First Order and get rid of the great villain Kyolo Ren and General Hux of the First Order – all in REAL scale, that is, gigantic!
Millennium Falcon: Smugglers Run: this is a piloting and battle simulator in space, which very faithfully reproduces what we see in the Star Wars saga. Pilot the Millennium Falcon on a thrilling interactive smuggling mission; ride in the famous cabin of the Millennium Falcon on a daring flight; face every curve and finish your mission!
Star Tours: it was the first attraction of the saga released, and it is a simulator developed with the help of the director of the saga, George Lucas. He is unmissable! Once in the queue, you will get in touch with different characters, such as the robots C3PO and R2D2, and as the simulator has variations, you can go more than once in it and enjoy a totally different adventure. The attraction lasts about 7 minutes and is very cool, even for non-Star Wars fans. It is located in the Echo Lake area, "outside" the official Star Wars area.
Jedi Training: is an attraction reserved for participants aged between 4 and 12 years, of both sexes, fans of Star Wars. Every 30 minutes a group of 15 participants is dressed in real jedi outfits, and they are sworn in and given their own lightsaber. Training is done with a Jedi Master, and after preparation, kids can battle the terrifying Darth Vader in a thrilling fight with music and effects.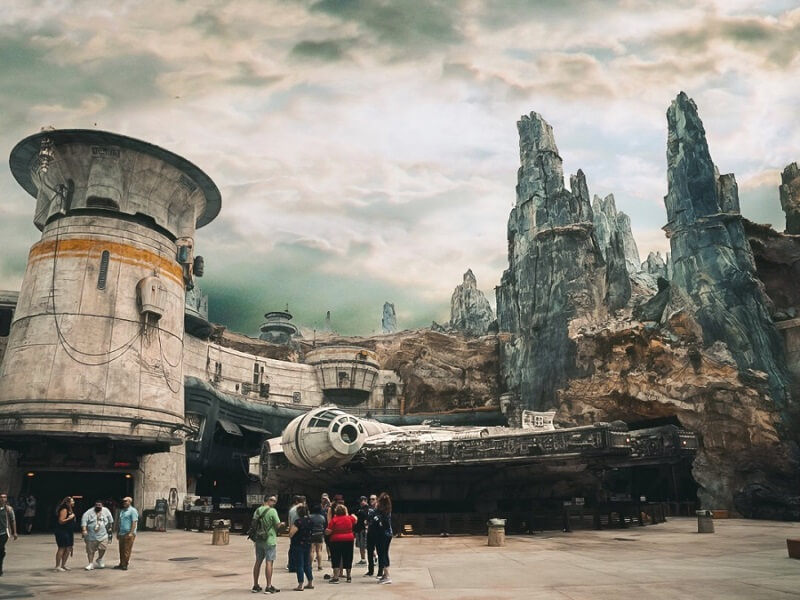 At the end of the day, there's even the Star Wars fireworks show, Star Wars: A Galactic Spectacular, which takes place virtually every day at the park. It's about 10 minutes of the most beautiful fireworks of all types and colors, accompanied by the entire soundtrack of the movies. It's a very emotional moment for fans of the movie, who recognize the songs and enjoy it together.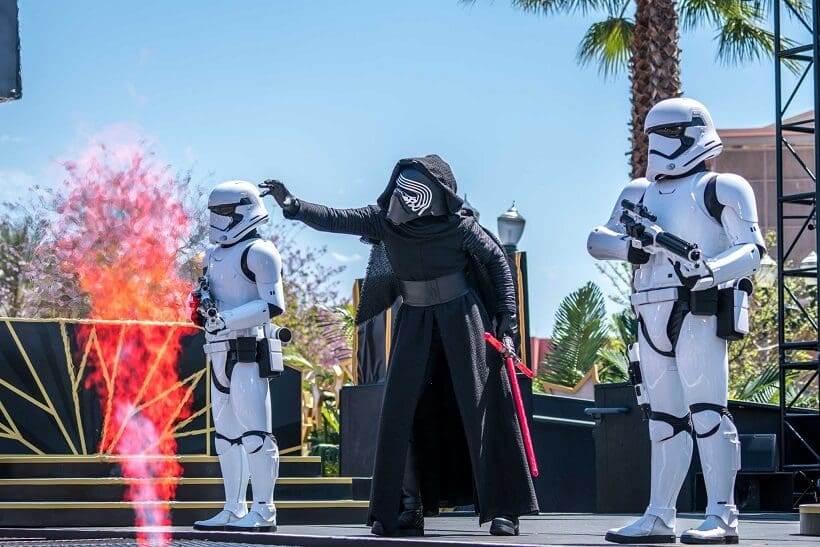 Where to eat at Hollywood Studios: best restaurants
1) Sci-Fi Dine-In Theater
The Sci-Fi Dine-In at Hollywood Studios harkens back to the experience of going to a drive-in movie theater, and watching a movie from inside your car. The place is an amazing themed restaurant: its ceiling imitates a dark sky, which gives the impression of a starry night, and there is a huge screen that shows several scenes from old movies, in addition to clips and advertisements from the 1950s and 1960s. The waiters also wear 1950s-style clothes and skates.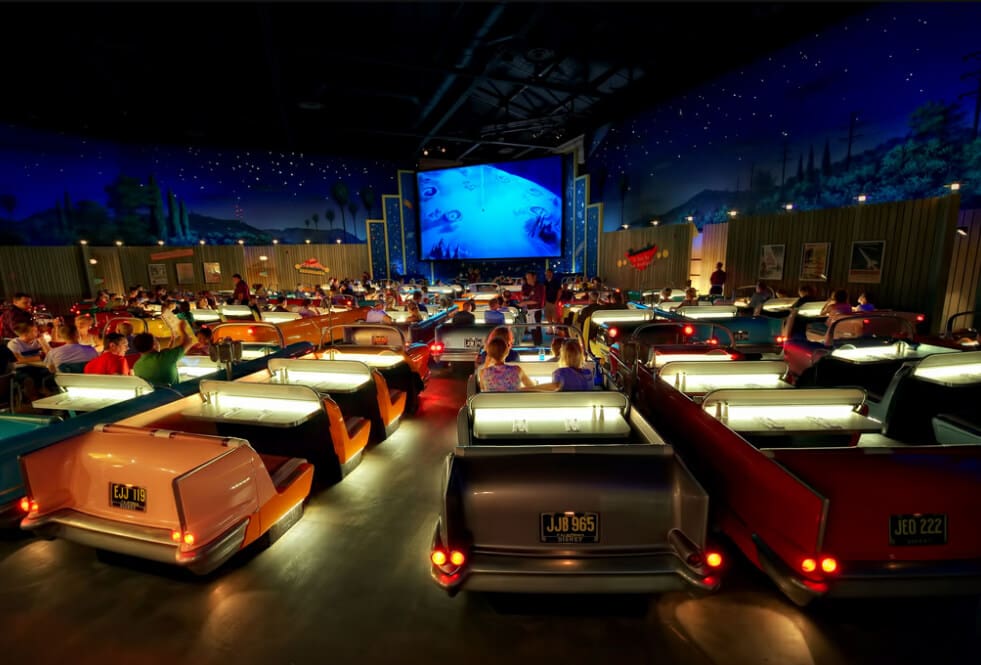 It is highly recommended that you make a reservation in advance for this restaurant, because the place is very popular, especially in high season (you can do it on the Disney website, which is in Portuguese, and the process is very easy and quick).
2) 50's Cafe Prime Time Restaurant
The 50's Café Prime Time is a typical old-fashioned American restaurant, all decorated like those coffee shops of yesteryear – it even has black and white TVs. It's located on Echo Lake and serves American food like hamburgers, milkshakes and salads for about $15 to $36 a person. But you also need to make a Disney restaurant reservation in Orlando.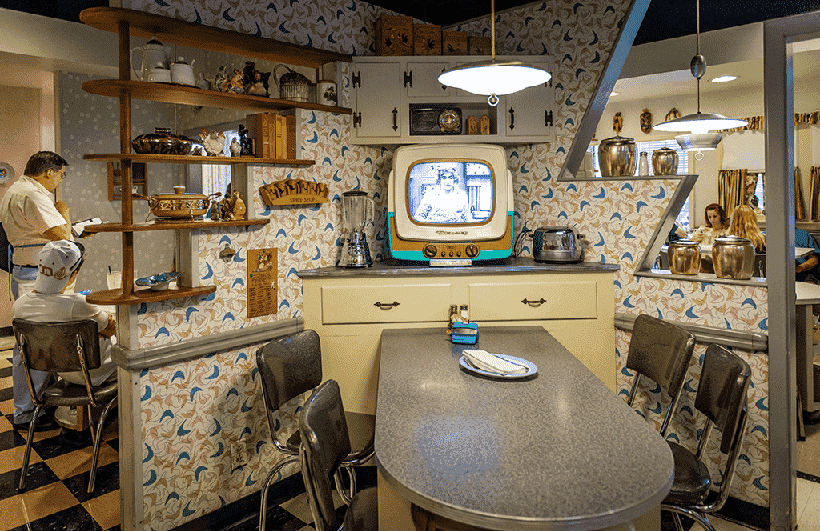 3) Mama Melrose's Ristorante Italiano
Mama Melrose's Ristorante is the typical Italian cuisine restaurant. It is located in the Muppet Courtyard area and its price varies between 15 and 36 dollars per person. The dishes there are all inspired by the flavors of Italy, which include traditional pasta, chicken, seafood and stone oven-baked pizzas. You need to make a reservation in advance.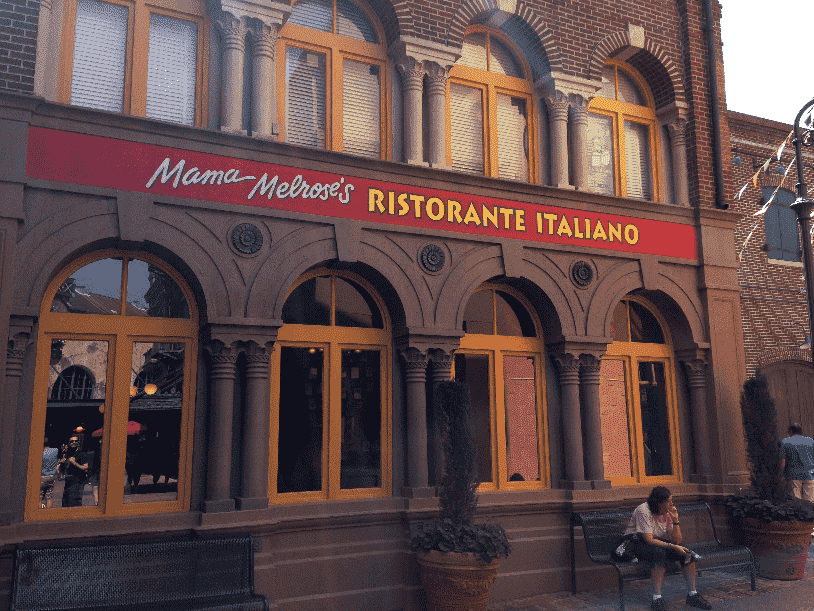 4) Min & Bill's Dockside Diner 
Located on Echo Lake, Min & Bill's is a super cool restaurant because of its decor and style: it's in a huge steamboat, like a real ship! There you can enjoy snacks, stuffed sandwiches, pretzel sausages, Italian sausage, chicken salad and other treats and drinks. It's worth going to it if you're with your family, as it's a lot of fun.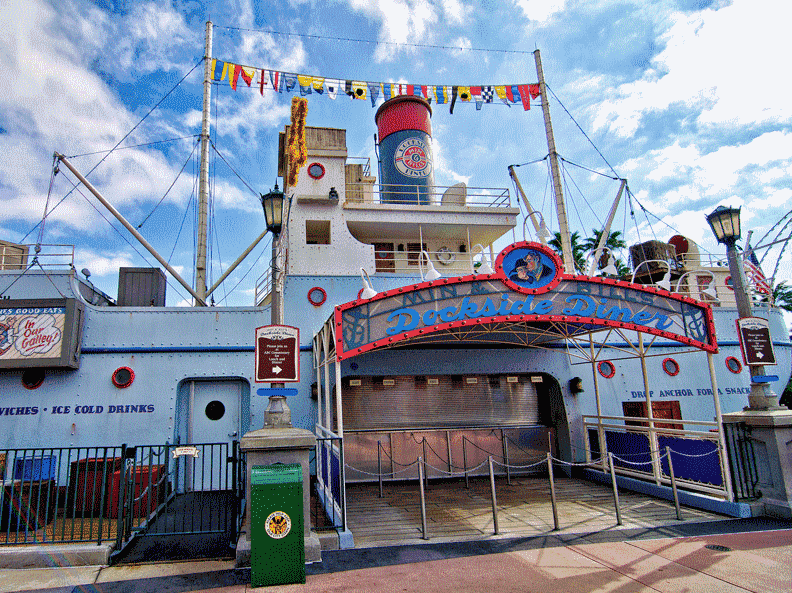 5) Hollywood & Vine 
Hollywood And Vine is a very tasty restaurant, which works as an informal buffet, ideal for families. The restaurant is on Echo Lake, at Hollywood Studios, and there you can eat meat and poultry, seafood, pasta, various desserts and many other options. Reservation is also required.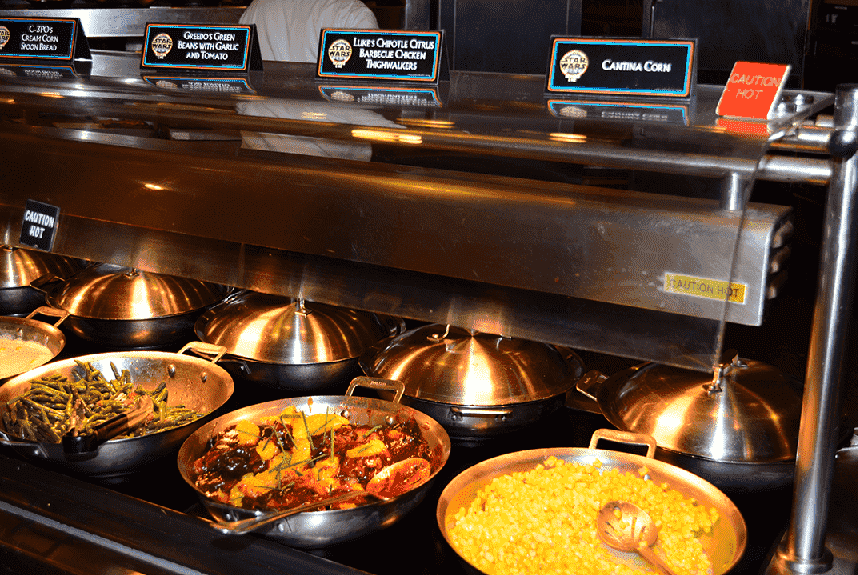 It is worth remembering that there are several carts and kiosks around the park, which sell quick and very good snacks, at much lower prices (from US$ 4 to US$ 15).
Tips for skipping lines, using FastPass and Single Riders
Walt Disney World parks have many attractions, and a tip is to arrive early and go to the most popular rides, because the parks start to fill up after 10 am. We recommend that you go straight, as soon as you arrive, to the Tower of Terror attractions, the Aerosmith roller coaster and especially Star Wars Tours and the Toy Story roller coaster. They are usually emptier in the early hours of the morning, and this is the time for you to enjoy it.
Wear sneakers and comfortable clothes and drink plenty of fluids to last the whole day under the sun, without wasting time with a bad mood.
Leave to buy souvenirs at the end of the walk through the park, as much as the temptation to visit the stores is great!
If you can, use and abuse the Single Riders, which are separate lines for those who are alone and don't want to go with someone they know in a toy car. In Orlando, both in the Disney parks and in the Universal parks, there is the normal line and, next to it, the Single Riders. You save a lot of time when using them, as these lines move much faster and fill holes in groups of friends and families, who need a partner for the toy. At Hollywood Studios, there is a single rider line just for Aerosmith's Rock 'n' Roller coaster attraction, which is really popular.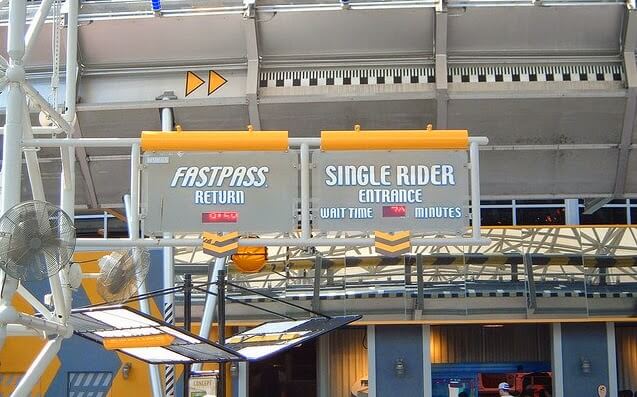 Another tip to get along at all Disney Parks is to use the Disney Experience App, which is amazing because it shows the entire park map, where the attractions are, the waiting time in lines for toys, restrooms and restaurants. And in it you schedule the Disney FastPass+, which is the system to "skip the line" at attractions, with which you program the time when you will visit each toy. It's great and you save a lot of time!
You can book them even before your tour starts, through the Disney app. Disney's FastPass skip-the-line is worth using, especially on the Aerosmith Rock'n Roller Coaster, The Twilight Zone Tower of Terror elevator and the new Toy Story and Star Wars attractions. At shows and performances, it's nice to get the FastPass for Fantasmic and the Beauty and the Beast musical Beauty and the Beast.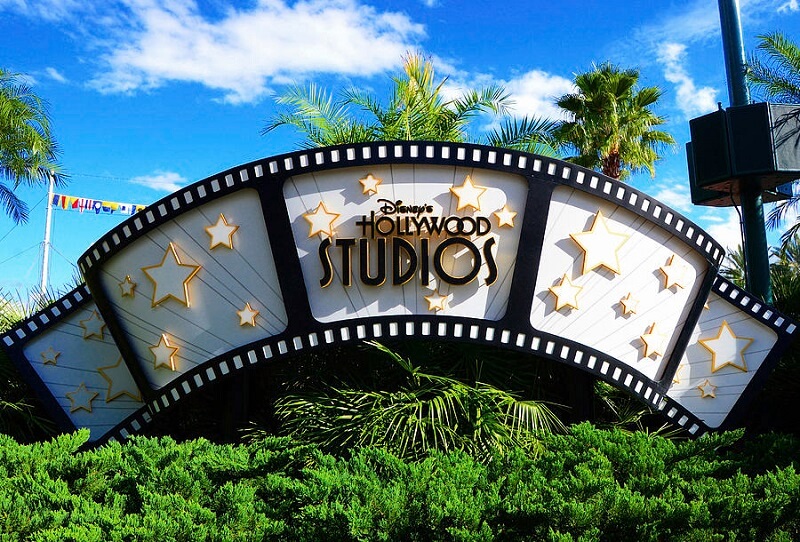 Buy your tickets to Orlando!
The cheapest and most practical place to buy your tickets is before you travel, with an accredited company. There are companies that have great prices, and you already travel with tickets in your hands. Because many people came to us to find out about the best tickets prices, we have partnered with one of Orlando's largest ticket operators. They even sell tickets to travel agencies and major travel sites. We were able to negotiate direct sales with them and at the best GUARANTEED price.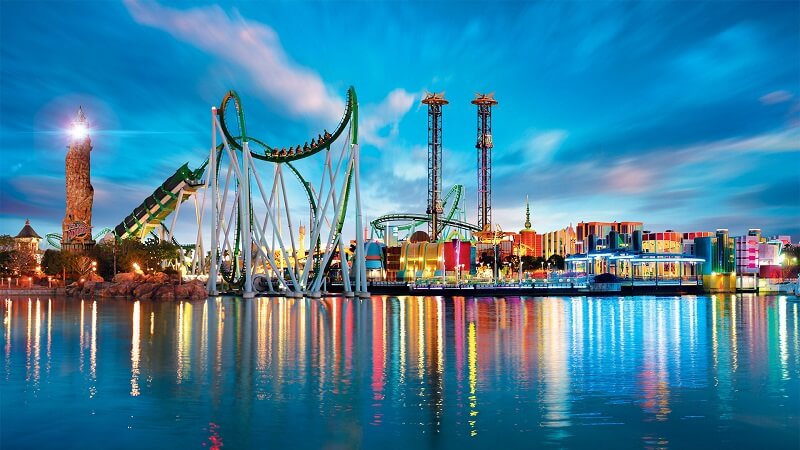 Clicking here on Orlando Tickets you can search for prices. It is one of the largest tour companies, one of the only officially accredited ones, and it has all tickets and combos from all Orlando's amusement parks.
Tips to make the most of your trip to Orlando
Now that you've seen everything about Disney's Hollywood Studios theme park in Orlando, a great tip that makes the difference on your trip is to choose the location of your hotel. Orlando is a big city, and it's so much better to stay in a region close to the main tourist spots.
See our article best areas to stay in your trip to Orlando to learn about the best regions to stay there and how to get a great hotel for an excellent price (and find good deals). You will stay in the best region, close to the parks and outlets, and enjoy even more your trip!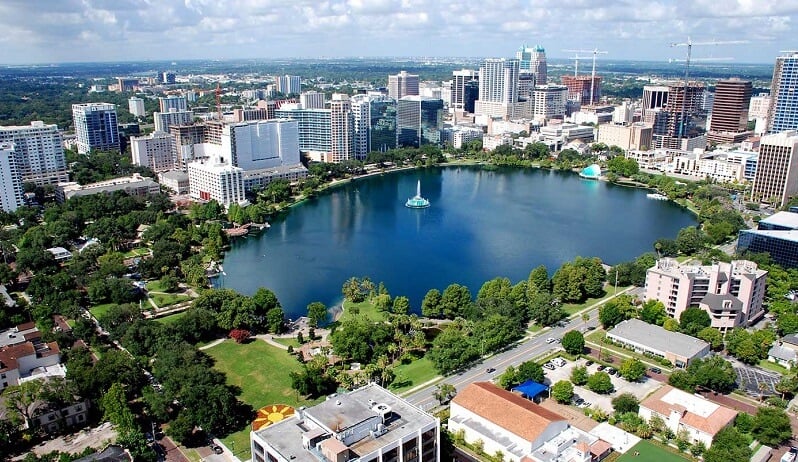 Orlando's parks, outlets and tourist spots are very far apart, which is why the tourists always choose to rent a car in the city. With a car, you will be able to enjoy your trip even more, visiting everywhere and shopping with peace of mind.
If you want, see our article how to rent a great and cheap car in Orlando, where we give you every information that you need to know about this subject, with tips about how to find unique prices using comparators. It 's much cheaper than people think, and it is worth it because Orlando is definitively a city to explore by car.
How can I use my phone in Orlando?
Being able to use your cell phone on your trip is something extremely useful. With it working, you can search about all the spots, access the discount coupons and park apps, check the weather and even use the GPS, saving the rent of this equipment for the car. Besides, of course, being connected to the various social networks!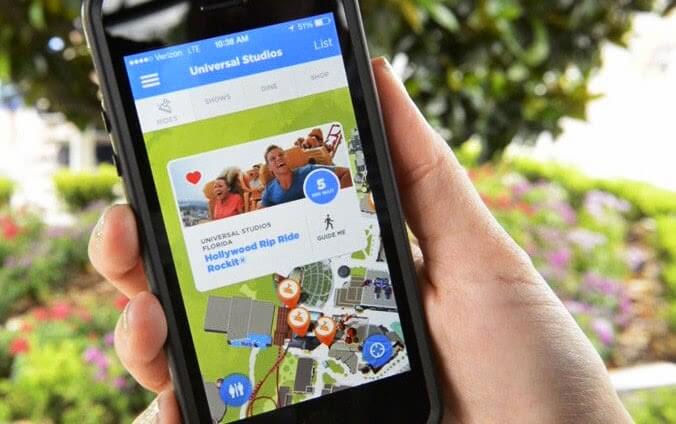 We have selected the best tips about how to use your phone in Orlando, in which we indicate the cheapest way to use it all day long and anywhere in the entire country. With the mobile internet, you can search everything about Disney's Hollywood Studios theme park in Orlando!
Where is the cheapest place to buy Orlando tickets?
Many people don't know where (and even when) to buy Disney and Orlando tickets. We've done a lot of research and find out where is the cheapest place to buy Orlando parks tickets. We always buy our tickets there! It's where you'll find the best prices and where you can buy all the tickets, for all the parks and attractions at once, in the same place.
Don't forget about the Travel Insurance for Orlando!
A very important tip is to have an International Travel Insurance before traveling to Orlando. No one should travel without it, so you can avoid major problems abroad! It ends up being cheaper than people think, and in our article of International Travel Insurance for Orlando you check everything you need to know about it: which are the best insurance companies, and tips for hiring excellent coverage for a lower price, saving a lot.
Must-see articles from Orlando: