Discover all about the The Wizarding World of Harry Potter theme parks in Orlando, one of the most visited attractions in the city. It is an area that covers two Universal parks (Universal Studios and Universal's Islands Of Adventure), and all of its attractions are based on the Harry Potter books and movies. Harry Potter World Park is lately the most sought-after attraction of all Orlando Parks and is making millions of children's dreams come true. Below, we explain everything about the Harry Potter World Park in Orlando and give lots of tips, but if you ever want to go straight to the website where you can buy your tickets to it with the best price, just click here.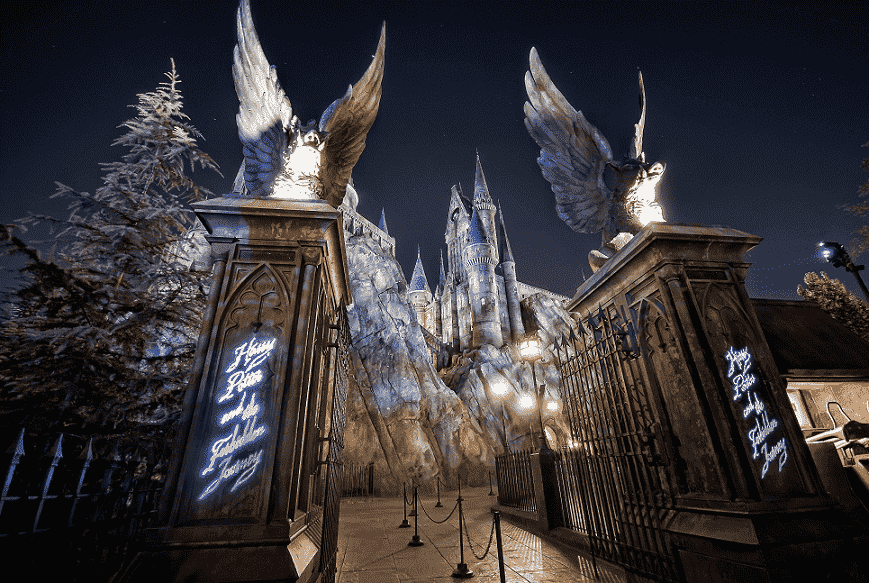 After reading this article, check out our tips about how to save a lot of money on your trip to Orlando. It is the most accessed article on our blog and will help you with all the trip planning. There are several unmissable tips that will save you A LOT of cash and set up your entire trip to Orlando.
The two areas of Harry Potter explicated
Many people confuse the Harry Potter areas. In 2010 the "The Wizarding World of Harry Potter – Hogsmeade" opened in Islands of Adventure Theme Park. With the success of it, Universal Orlando decided to create a new area of ​​the film in Universal Studios Theme Park, in 2014, called "The Wizarding World of Harry Potter – Diagon Alley". The parks are very close, and there's even an attraction called "Hogwarts Express Train" that takes visitors from one park to another, from both Harry Potter areas.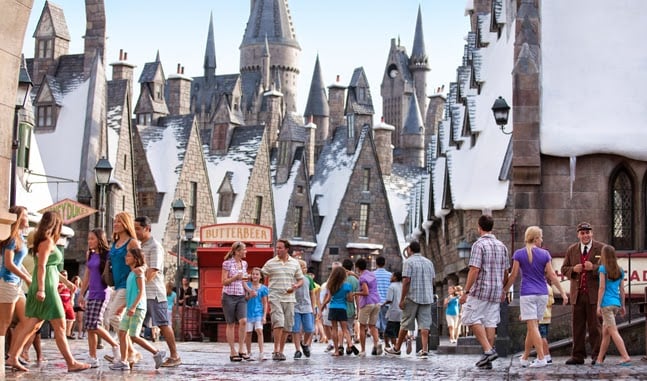 Have you ever imagined being able to be at Hogwarts, try the butterbeer at the Three Broomsticks bar or even know everything about the world of Harry Potter? With the creation of The World of Harry Potter parks, this whole fantasy come true. The park was built to be a real replica of Hogwarts.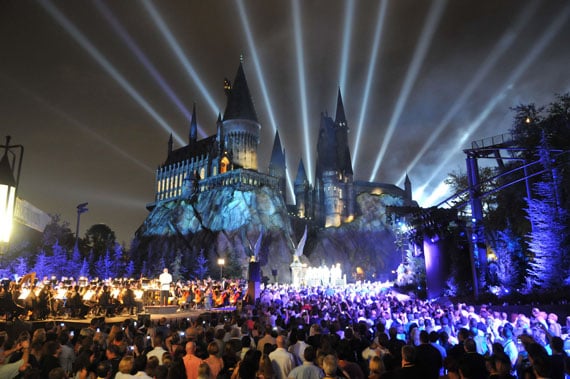 The Wizarding World of Harry Potter – Hogsmeade attractions
Hogsmeade Station: entrance to Orlando's Harry Potter World Park is via Hogsmeade Station, which is the way students arrived at Hogwarts. Don't forget to take a picture!
Hagrid's Magical Creatures Motorbike Adventure: is an attraction for the whole family, meaning everyone can enjoy it and have a lot of fun, as well as being quite radical and unlike anything you've seen, with lots of technology and, of course, with the Harry Potter theme. Hagrid's Creatures has seven launches, free fall and a length of 1.5 km.
Flight of the Hippogriff: the roller coaster that represents the animal described in Harry Potter books. It's kids-friendly!
Harry Potter and the Forbidden Journey: a high-tech ride, an amazing simulator where you travel on an adventure with Harry and his friends, passing through some iconic scenes of the movies. It's hyperrealistic! And in the queue, you already can see a lot of iconic scnarios, just like the Defense Against the Dark Arts room, the Gryffindor common room and Professor Dumbledore's office.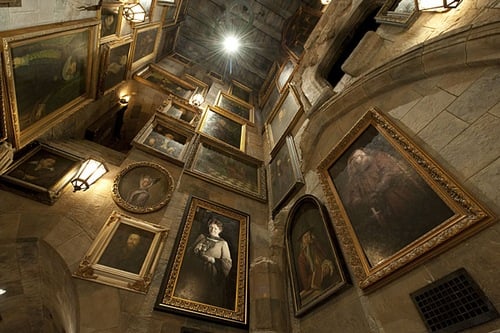 The Wizarding World of Harry Potter – Diagon Alley attractions
Gringotts Bank: Diagon Alley's main attraction is Gringotts Bank, the place where wizards keep their most valuable items and where a simulator recreates the escape of Harry Potter and his friends there. In addition, on top of the building where the Bank is, there is a gigantic dragon that breathes fire (a real one) and screams every 10 minutes, which can even scare those who are distracted. Even if you're not a fan of the Harry Potter stories, or have never read a book or seen a movie, you're sure to be impressed by the place.
Hogwarts Express: the train that takes people from the Harry Potter area of ​​Universal Studio Park to the Harry Potter area of ​​Islands of Adventure Park. Park visitors can travel between Diagon Alley and Hogsmeade aboard the famous Hogwarts train, and the entire route features movie scenes to make you feel a part of it. The setting inside the train is similar, and it also has the 9 3/4 platform with several employees dressed in character. It's worth riding the express at least once. To ride the train, you need a ticket that allows you to travel between the two parks in the Universal complex on the same day.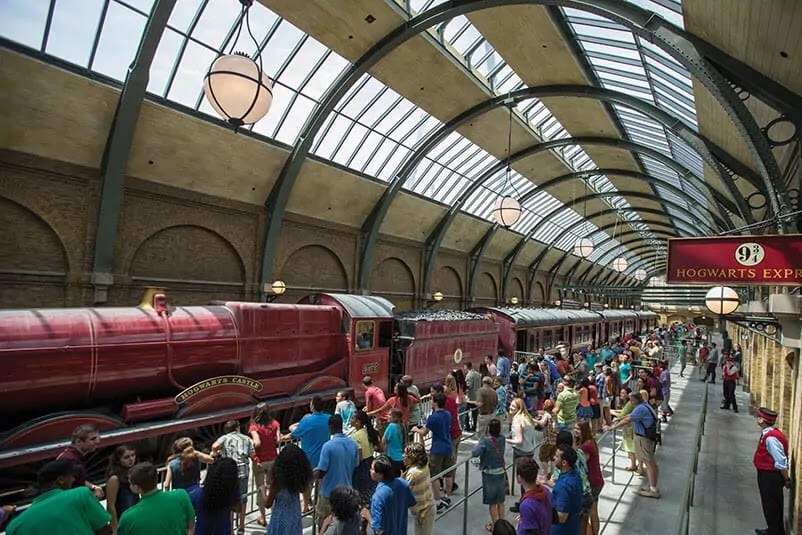 Harry Potter Shops at Universal Studios
The shops and restaurants of Harry Potter were all designed as described in the Harry Potter books. So you can go to Dedosmel and buy chocolate frogs and beans of all flavors or go to Ollivaras and look for a magic wand. There's also Dervishes & Banges, which is a Harry Potter accessories and magic items store that sells Sneakoscopes, Firebolt and Nimbus 2000 brooms, shirts, Quidditch balls and other products.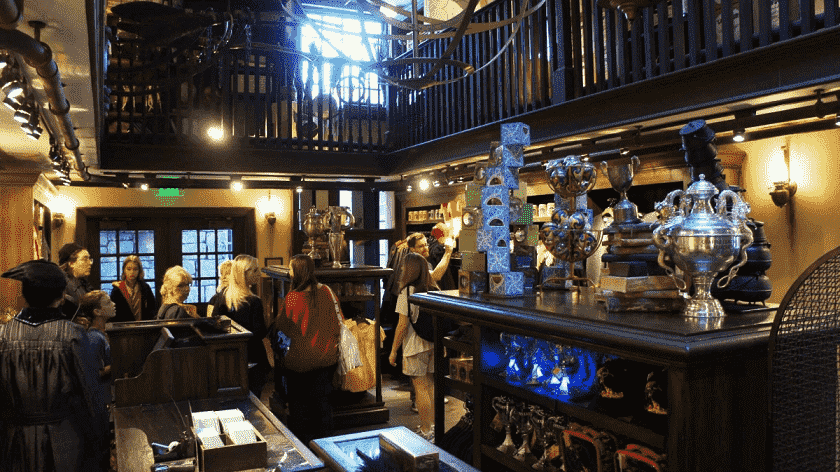 Tickets to Harry Potter Attractions
As the Harry Potter attractions are located inside Universal's parks, you just need to buy the regular park ticket. There are several options of ticket combos that give access to the two parks that are great and cheaper. It's perfect for anyone looking to visit the Harry Potter attractions at Universal's two parks. The tip is to buy tickets for both parks with the Park To Park option, to be able to use the Hogwarts Train and visit two parks on the same day.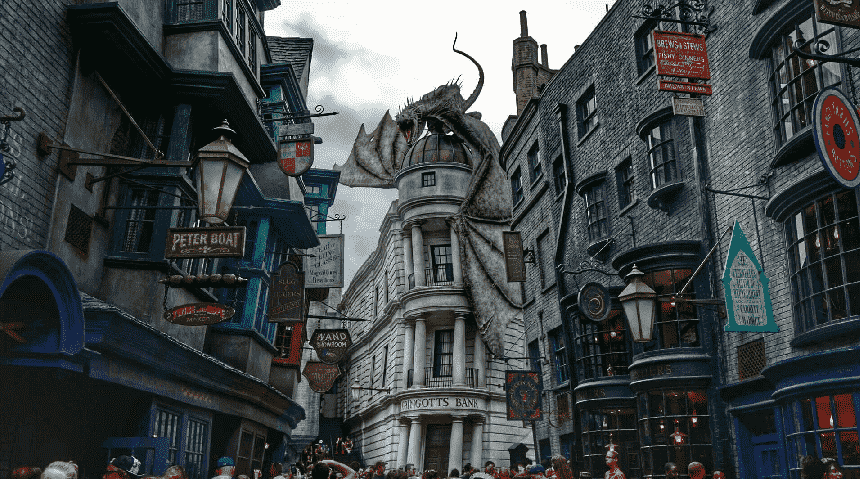 And we know that many people don't know where (and even when) to buy Disney and Orlando tickets. So we've done a lot of research and find out where is the cheapest place to buy Orlando parks tickets. We always buy our tickets there! It's where you'll find the best prices and where you can buy all the tickets, for all the parks and attractions at once, in the same place.
Tips to make the most of your trip to Orlando
Now that you've seen everything about The Wizarding World of Harry Potter theme parks in Orlando, a great tip that makes the difference on your trip is to choose the location of your hotel. Orlando is a big city, and it's so much better to stay in a region close to the main tourist spots. See our article best areas to stay in your trip to Orlando to learn about the best regions to stay there and how to get a great hotel for an excellent price (and find good deals). You will stay in the best region, close to the parks and outlets, and enjoy even more your trip!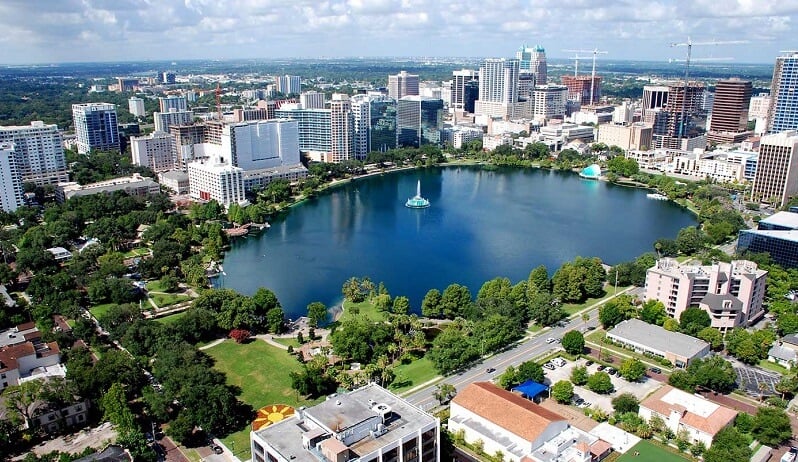 Orlando's parks, outlets and tourist spots are very far apart, which is why the tourists always choose to rent a car in the city. With a car, you will be able to enjoy your trip even more, visiting everywhere and shopping with peace of mind. If you want, see our article how to rent a great and cheap car in Orlando, where we give you every information that you need to know about this subject, with tips about how to find unique prices using comparators. It 's much cheaper than people think, and it is worth it because Orlando is definitively a city to explore by car.
How can I use my phone in Orlando?
Being able to use your cell phone on your trip is something extremely useful. With it working, you can search about all the spots, access the discount coupons and park apps, check the weather and even use the GPS, saving the rent of this equipment for the car. Besides, of course, being connected to the various social networks!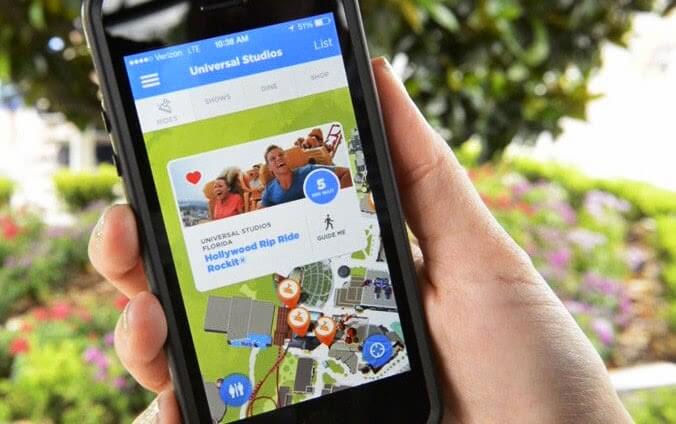 We have selected the best tips about how to use your phone in Orlando, in which we indicate the cheapest way to use it all day long and anywhere in the entire country. With the mobile internet, you can search everything about The Wizarding World of Harry Potter theme parks in Orlando!
Don't forget about the Travel Insurance for Orlando!
A very important tip is to have an International Travel Insurance before traveling to Orlando. No one should travel without it, so you can avoid major problems abroad! It ends up being cheaper than people think, and in our article of International Travel Insurance for Orlando you check everything you need to know about it: which are the best insurance companies, and tips for hiring excellent coverage for a lower price, saving a lot.
Must-see articles from Orlando: