Check out our list of five good and cheap Orlando hotels that offer the price, comfort, and safety you need to enjoy your trip. Hotels that are not in Orlando's theme park area tend to be much cheaper and, even so, offer a lot of comforts at a much better cost. We will share a good list below. Check out!
After reading this article, check out our tips on saving a lot of money on your trip to Orlando. It's the most popular article on our blog and will definitely help you with all your trip planning. You'll find many great tips that will save you A LOT of cash and get you great deals besides ways to easily set up your entire trip to Orlando.
Extended Stay America Lake Buena Vista Hotel in Orlando
The Extended Stay America hotel in Orlando is a great choice for those who like to save money. It's located in Lake Buena Vista, practically on International Drive, the city's main avenue. The location is great, just minutes from the theme parks, shopping malls, and outlets.
One of the advantages is the huge bedroom, which accommodates up to six people. It's very comfortable and spacious and has a full kitchen inside, which can be really practical.
Located just 10 minutes away from Walt Disney World, this hotel offers a free shuttle service to Disney and an outdoor pool with a hot tub. All rooms have free Wi-Fi. Parking is free for those renting a car, which is great. Click here for more photos, information, reviews, price, and availability for this hotel.
Lake Eve at The Bluegreen Fountains Resort in Orlando
Lake Eve Resort is another great hotel in Orlando. It's also well located on International Drive and has a nice swimming pool, which is a good option to relax and rest from the rush of the parks. The rooms are great and have options for multiple people.
An advantage of the hotel is that it also has a kitchen in the room, which helps to save on meals if you want. It's also one of the Orlando hotels that offer free transportation to the Universal Studios complex and the Disney World parks.
In addition to the great rooms for families, which can accommodate up to 10 people, the hotel has free Wi-Fi, a bar, sauna, a gym, a lounge, its own restaurant, and a 24-hour front desk in English and Spanish.  Click here to see more photos, information, reviews, price, and availability for this hotel,
Rosen Inn International Hotel in Orlando
The Rosen Inn International is a hotel well known for its price, which is usually one of the cheapest in Orlando. The large swimming pool draws attention to this accommodation, which is great for kids, adults, and groups of friends.
The hotel has an American buffet-style restaurant and the Fountain View Restaurant, with an à la carte menu for breakfast and dinner and with a view. It also has a beautiful garden, gym, free internet in all areas, parking, and other activities such as dart games, karaoke, and a game room.
This hotel has a mini-market inside, a Business Center, a souvenir shop, and a 24-hour front desk in English and Spanish.  Click here for more photos, information, reviews, price, and availability for this hotel.
The Florida Hotel in Orlando
Another great cheap hotel in Orlando is the Florida Hotel. It's located right next to the Florida Mall Shopping, one of Orlando's largest malls. The hotel is practical and even has a Starbucks inside the property. Parking is paid extra free, and as there is no free transport to the parks, we recommend you get a rental car to get around Orlando.
In addition to being great for shopping, the hotel has several benefits: it has three on-site dining options, a 24-hour gym, a day spa, a swimming pool, wi-fi, and a bar.  Click here to see more photos, information, reviews, price, and availability for this hotel,
Hampton Inn Lake Buena Vista in Orlando
The Hampton Inn Lake Buena Vista is another cheap Orlando hotel that is conveniently located in the Lake Buena Vista area, very close to the Disney World parks. It doesn't have a kitchen like the others, but its room is very comfortable, and there's great breakfast that is included in the accommodation, besides free parking.
It's one of the best hotels in Orlando when it comes to value for money!
Rooms at this hotel are comfortable and can receive up to four people. They have a whirlpool bath and free internet, while a swimming pool, gym, laundry, and 24-hour front desk are in the outdoor area. Click here to see more photos, information, reviews, price, and availability for this hotel,
How to save money on your hotel in Orlando
Many hotels are well located, close to the parks, and with good value. We will provide a few extra tips below to ensure you save money on your hotel in Orlando.
Use the hotel search: A great tip to find hotels with incredible prices in the region you want and save a lot on accommodation is to use this Hotel Search Engine in Orlando. We always use it, as it is the largest hotel booking site in the world.
Not to mention that it has all the hotels in Miami, Orlando, and the world in its searches, with unbeatable prices due to the strong negotiation they do. And there you can check the opinion of other tourists who have already stayed in hotels, which helps a lot when evaluating each one.
Free cancellation: Another very good tip is that this search engine has a very strong partnership with the establishments and offers free cancellation in almost all hotels. This is great because the factor that will save you the most in hosting is the advance.
The sooner you make the reservation, the cheaper you pay. So, you can book your hotel now to guarantee the lowest price, and if you find a better one afterward (or don't want to stay in it), cancel for free.
Save money by renting a home in Orlando
If you want to save a lot of money, especially if you are traveling as a group or with family, we recommend you stay in a vacation rental home in Orlando. There are hundreds of incredible condos near Disney, all of them in the best tourist areas.
The first advantage of renting a home in Orlando is the price: if you are traveling with more than four people, renting a house is equal to what you would pay for hotel rooms – but with the privacy and benefits of the space just for you. And the more people there are, the cheaper it is. If you have more than six people at your party, it is MUCH cheaper than a hotel.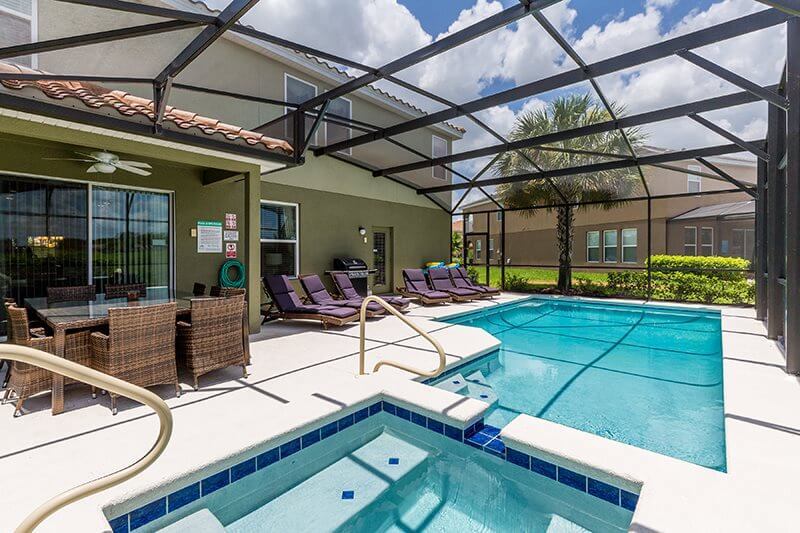 Renting a house in Orlando is great and can save a lot compared to hotels. If you want to look, see this website we always use. It's the largest and best home rental website in the United States. It has the best houses in Orlando, the best condos, and the best prices.
When you enter that website, the Kissimmee region will open to you, which is where all the Orlando vacation homes are located and is next to Disney (5 minutes by car). There are many condos to choose from, but the ones we liked the most are Windsor At Westside (the best of all, with the best houses) and Paradise Palms (which is the cheapest but also very well located).
Tips to make the most of your trip to Orlando
Now that you've read everything about the best cheap hotels in Orlando, it's important to know that the city's main attractions are very far apart, so tourists always choose to rent a car in the city. It's the best way of transportation. With a car, you can enjoy your trip at its best, visiting all parks, malls, tourist spots, and even nearby cities. Miami is just 4 hours away!
Check our article about renting a great and cheap car in Orlando. We provide you with all information you need about renting vehicles in Orlando, with tips on finding amazing prices using comparators. It's much cheaper than people think, and it is worth it because Orlando is a car-driving city.
Using your phone in Orlando?
Being able to use your cell phone on your trip is something vital. With a functioning SIM card, you can search for all the spots and attractions, access discount coupons and parking apps, check the weather, book restaurants, and even use map apps in Miami. And, of course, stay online on all your social media accounts!
We selected the best tips for using your phone in Orlando, where we indicate the cheapest way to use it all day and anywhere in the country. With mobile internet and a SIM card, you can search for everything about your trip.
What is the best way to get the cheapest Orlando tickets?
An essential part of your trip planning is figuring out where (and when) to buy tickets to Disney, Universal Studios, and other Orlando tickets. We've done much research and found the cheapest place to buy Orlando park tickets. We always buy ours there! It's where you'll find the best prices and where you can buy all the tickets for all the parks and attractions. It saves you money and time since you'll book everything on the same site.
Don't forget about the Travel Insurance for Orlando!
A crucial tip is to have International Travel Insurance before traveling to Orlando. No one should travel without it so that you can avoid significant problems abroad! It ends up being cheaper than people think. In our article on International Travel Insurance for Orlando, you can check everything you need to know about it: the best insurance companies, tips for hiring excellent coverage for a lower price, and ways to save a lot.
Must-see articles from Orlando: