See all the best things to do in Key Biscayne, near Miami! Key Biscayne island is connected to Miami via the Rickenbacker Causeway, which is the 6 km suspended road, which passes over the sea, and which we mentioned in the previous item. The island is full of beautiful beaches that are worth visiting! See all of them: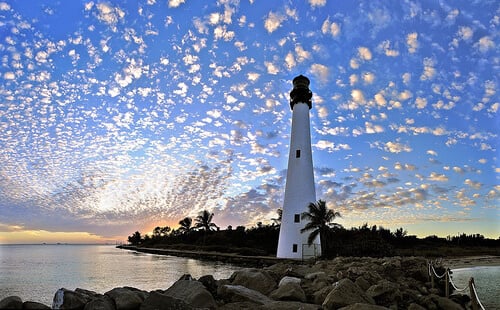 After reading this article, check out our tips about how to save a lot of money on your trip to Miami. It is the most accessed article on our blog and will help you with all the trip planning. There are several unmissable tips that will save you A LOT of cash and set up your entire trip to Miami.
Bill Baggs nature park in Key Biscayne
One of the most popular places in Key Biscayne is the Bill Baggs natural park, which has incredible nature and a super beautiful beach. It is one of the best places for scuba diving in Miami. This is also where the famous Cape Florida Lighthouse is located, which is a huge lighthouse that was built in 1825 and is considered the oldest building in South Miami.
A part of Bill Bags beach is very empty and nature prevails, but with the growth of the region, it is already possible to see a lot of buildings and condominiums being built. The closer you are to the lighthouse, the Bill Baggs beach becomes emptier. There aren't even stalls selling food, so plan ahead and take some snacks and drinks with you. The sea on this beach is great to get in. If you have diving goggles, you will even be able to see some fish.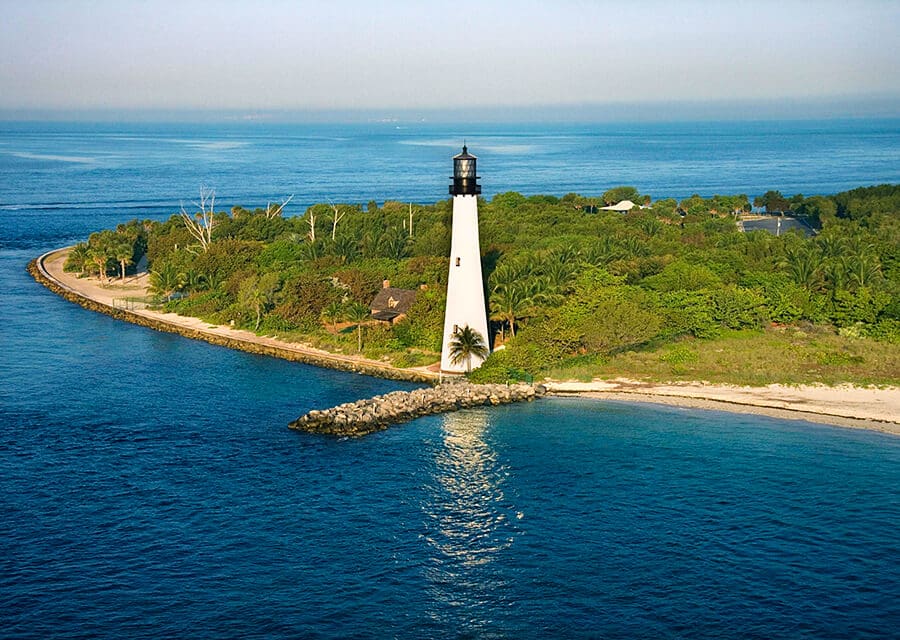 The landscape of Bill Baggs is beautiful, being surrounded by dunes and sea turtle nests everywhere. It also has tables, chairs and even barbecues to make a nice picnic or barbecue, which is very common in the United States, especially in Florida. To get there, you will first enter Key Biscayne Island, where you will pay US$ 1.75 and then just go straight for another 10 minutes to the end of the island, which you will arrive at Bill Bags beach.
Just put Bill Baggs State Park on the GPS and it'll take you there. To get to Bill Baggs's beach, you'll have to pay US$ 8 per car, but it's worth it. Once there, just park your car and enter the beach through one of the 7 entrances. It has a shower, dressing room and a nice restaurant there, which is great for those who are going to spend the day. A beautiful beach that is worth visiting!
Miami Seaquarium
Miami Seaquarium is the largest aquarium in Florida and has several attractions and shows of aquatic animals, such as whales, dolphins, seals and even alligators. It is located within Miami's Key Biscayne National Park, within the islands of Miami Bay, about a 30-minute drive from the center. It is an aquarium full of marine animals, where in addition to their shows, you can pay a little more and have direct contact with them, as with the dolphins that are the favorites of visitors. The Miami Seaquarium is like a Sea World, a very cool tour to do in Miami, especially for those who are traveling with children.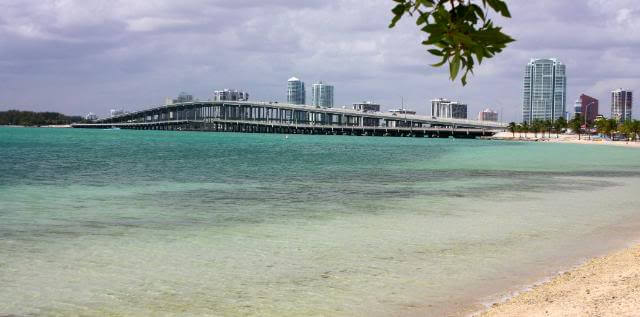 Hobie Beach and Crandon Park in Key Biscayne
Another nice beach to visit in Key Biscayne is Hobie Beach, which is right at the beginning of the island. It is a very nice place, full of trees and picnic tables. The sand is white and the water is crystal clear. In the northern part of Key Biscayne, also at the entrance to the island, there is Crandon Park in Miami, which is a natural park with a beach full of trees, animals and even tennis courts.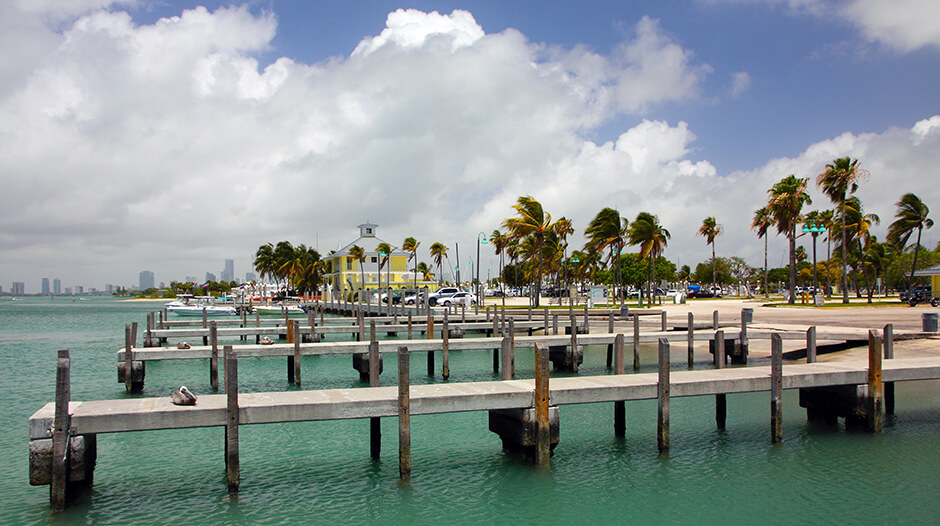 Crandon Park has many dunes and mangroves, which sea turtles, shrimp, crabs, sea stars and other animals. It is one of the main beaches in Miami and some of the main tennis tournaments in the world are held there. Knowing these two beaches in Key Biscayne is a great way to relax and break the Miami shopping itinerary.
Jungle Island in Key Biscayne
Jungle Island in Key Biscayne is a zoological park like a safari, opened in 1936. It is one of the main attractions that include animals in Miami, being a perfect place for children, as well as adults. The park is famous for having wild animals that you don't find in many places in the world, such as macaws, white lions, parrots, lemurs, penguins and even the Liger, which is a 400 kg animal that was born from the crossing of a tiger with a Lion. The cool thing about Jungle Island is that it works as a safari, because the animals are in open areas, as if they were in nature, and the experience is even more interesting.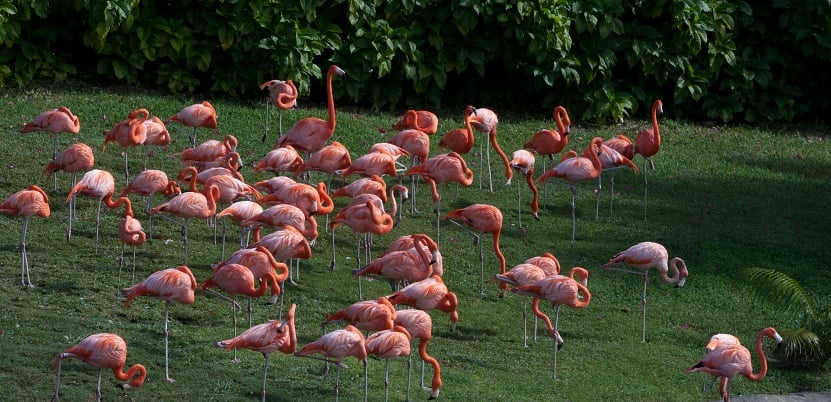 Other cool beaches in Miami
Miami has several beach options, and each has a different style. If you prefer something more peaceful and like nature, you will like the beaches of Key Biscayne Miami, and also those of Key West and Matheson Hammock Park. If you prefer more popular beaches, there are the beaches of Fort Lauderdale, Hollywood Beach and Boca Raton. These are the best beaches in Miami and they all impress tourists with their beauty and different styles.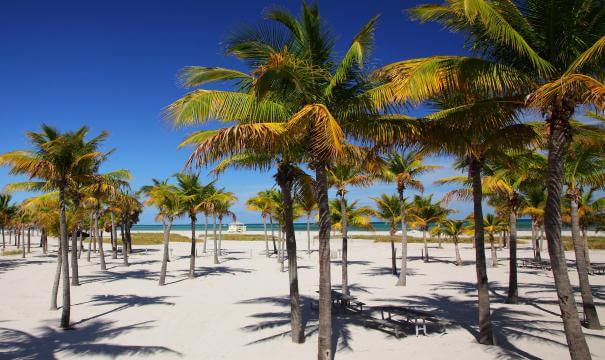 And it is worth remembering that Miami's beaches, shopping malls, outlets and tourist attractions are far away, and to enjoy your trip much more, to be able to visit everywhere and shop with peace of mind, the tip is to rent a car. If you want, see our incredible tips on how to rent a cheap car in Miami with everything you need to know about it and how to find unbeatable prices using amazing price comparators. It is much cheaper than people think and it is very worth it.
Miami Beach Tips
Miami has the most beautiful beaches in Florida, so make a good plan to get to know all of them. They are practically a free trip (you will only spend to eat). It's nice to stop by Walmart or Target supermarkets before going to any beach, and buy several snacks, soda, water and food to take away (so you don't have to buy them at the beach stalls, which sell everything for much more).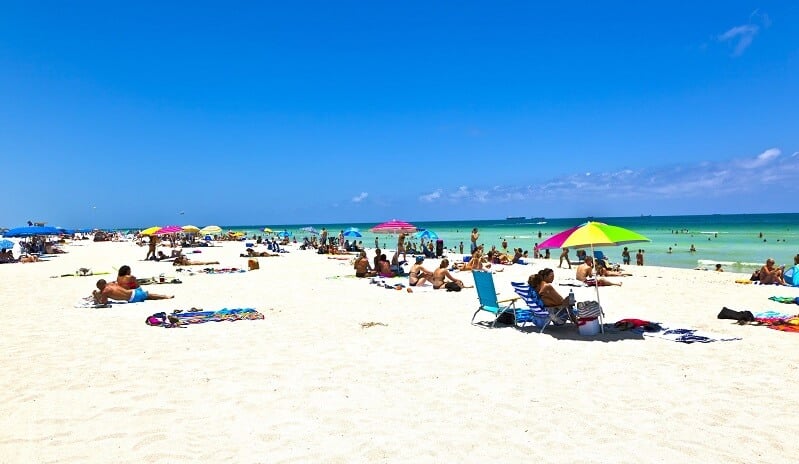 Another cool tip to save money on your trip to Miami is to buy an umbrella and a large beach towel, which are very cheap items in supermarkets, because if you are going to rent one of them on the beaches of Miami, you will pay more than US$ 20 just for a chair and an umbrella, for a day. With this money, you can purchase these items to use throughout the trip. It is a good economy!
Save 55% of money on attractions using GoCard Miami
GoCard Miami is the main ticket combo in the city. With it you have access to more than 27 attractions and tourist points in Miami and save up to 55% of what you would spend if you bought the tickets separately. It is very worth it and, in addition to saving a good amount of money, you also save a lot of time that would be necessary at each ticket office of each attraction, since you already travel with the tickets to them all in your hands.
If you want it, click here on GoCard Miami. Their website is very good and explains everything perfectly. It works per day, so you can buy the option 1, 2, 3 or 5 days, but it doesn't need to be used at days in a row. If you want to buy the 3-day card, for example, you can use it on 3 different days of your choice within a 14-day period (it starts counting from the day you use it for the first time).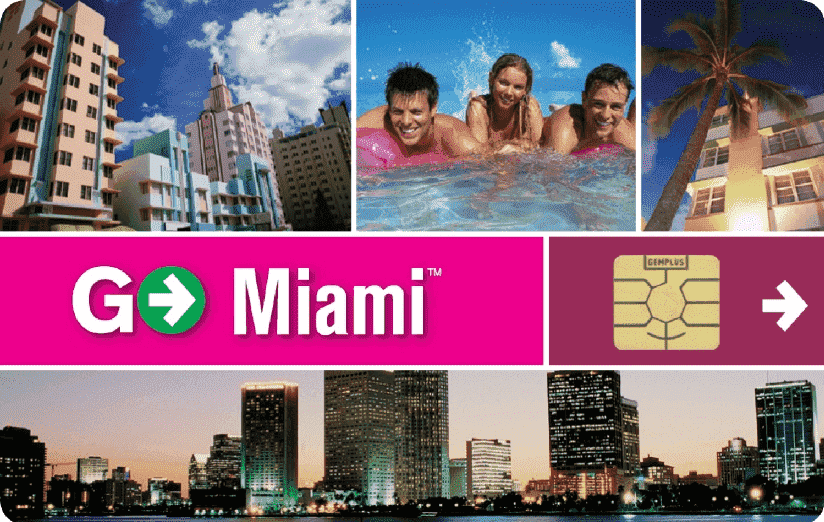 On each day, you can go to as many attractions as you want. The moment you buy it on the website, you already receive the digital card on your cell phone and just show it at the entrances of the venues. The best places included in the card are the Miami Seaquarium, Jungle Island, boat trip through Key Biscayne, boat trip through South Beach, ride on a mini boat through the Everglades (a natural park of alligators), Miami Zoo and Viscaya Museum. Also included are some great remaining attractions in Orlando, such as the Kennedy Space Center (NASA Park), WonderWorks, and Fun Spot Park. They are very good tour options and the card is really worth it and makes your trip much easier.
Tips to make the most of your trip to Miami
Now that you've seen everything about the best things to do in Key Biscayne, Miami, a great tip that makes the difference on your trip is to choose the location of your hotel. Miami is a big city, and it's so much better to stay in a region close to the main tourist spots. See our article best areas to stay in your trip to Miami to learn about the best regions to stay there and how to get a great hotel for an excellent price (and find good deals). You will stay in the best region, close to the beaches and shoppings, and enjoy even more your trip!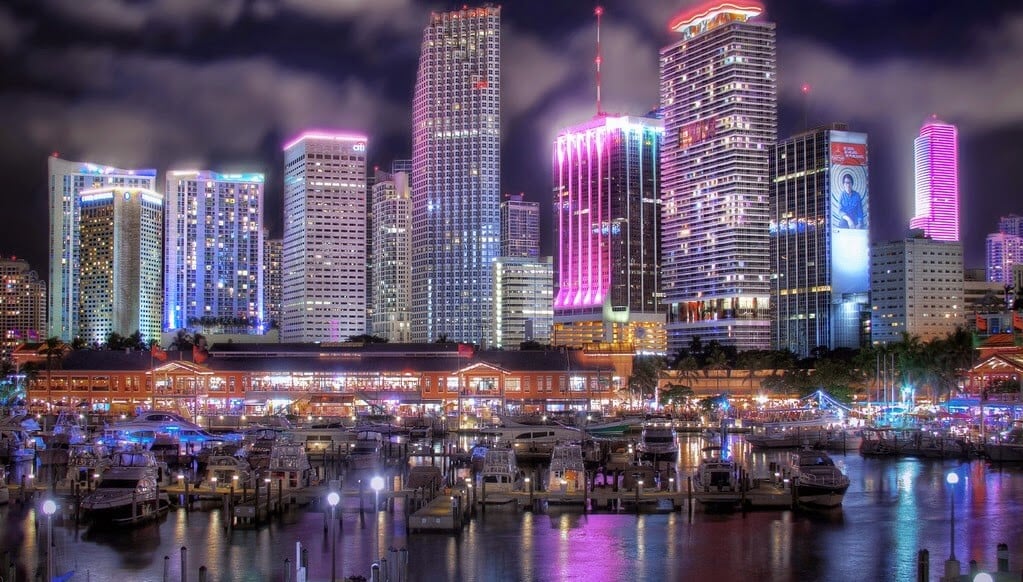 Miami's beaches, parks, shoppings and tourist spots are very far apart, and that's why tourists always choose to rent a car in the city. With a car, you will be able to enjoy your trip even more, visiting everywhere and shopping with peace of mind. You can even drive to Key West island! If you want, see our article how to rent a great and cheap car in Miami, where we give you every information that you need to know about this subject, with tips about how to find unique prices using comparators. It 's much cheaper than people think, and it is worth it because Miami is definitively a city to explore by car.
How can I use my phone in Miami?
Being able to use your cell phone on your trip is something extremely useful. With it working, you can search about all the spots, access the discount coupons and park apps, check the weather and even use the GPS, saving the rent of this equipment for the car. Besides, of course, being connected to the various social networks!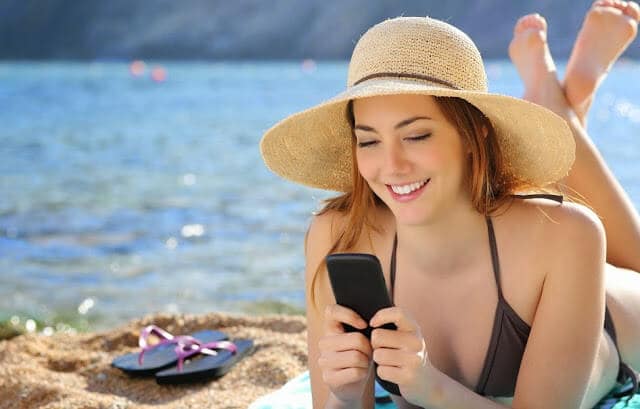 We have selected the best tips about how to use your phone in Miami, in which we indicate the cheapest way to use it all day long and anywhere in the entire country. With the mobile internet, you can search everything about the best things to do in Key Biscayne, Miami!
Don't forget about the Travel Insurance for Miami!
A very important tip is to have an International Travel Insurance before traveling to Miami. No one should travel without it, so you can avoid major problems abroad! It ends up being cheaper than people think, and in our article of International Travel Insurance for Miami you check everything you need to know about it: which are the best insurance companies, and tips for hiring excellent coverage for a lower price, saving a lot.
Must-see articles from Miami: